Margie Shindler
Margie Shindler is the wife of former Minnesota Vikings and Arizona Cardinals coach, Dennis Green. Her former husband sadly passed away yesterday at age 67.
It has been revealed Green passed away Thursday night from complications of cardiac arrest.
Margie Shindler was married one of the most memorable NFL figures of the 1990s. Green is well known for building up the moral, character and integrity of his players. Many times described as "a man who really, really cared."
Green was born on February 17, 1949, in Harrisburg, PA; he played for the BC Lions in Canada in 1971 before beginning a coaching career as an assistant at Dayton in 1973. He's coached in parts of the past five decades, including at Iowa, Stanford and the 49ers.
After three seasons coaching on Bill Walsh's staff, Green became offensive coordinator at Stanford in 1980, which led to an offer to become the second African American head coach in NCAA Division I-A at Northwestern in 1981. Green would later take over the Vikings.
Dennis Green spent 17 years as an NFL coach, compiling a 113-94 regular-season mark, with a 4-8 record in the postseason. His 113 wins place Green 33rd on the NFL's all-time list.
Along the way, Green coached and developed a star-studded list of quarterbacks and skill players including Cunningham, Daunte Culpepper, Kurt Warner, Warren Moon, Cris Carter, Randy Moss, Emmitt Smith, Edgerrin James, Larry Fitzgerald and Anquan Boldin.
Named as the fifth coach in Vikings history in 1992, Green became just the second African American head coach in the NFL's modern era following Art Shell.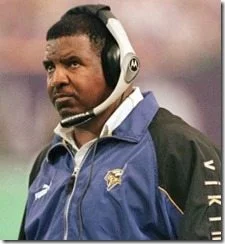 Green was a coach beloved by his players and assistants, his unforgettable personality is well remembered for his 2006 postgame meltdown as coach of the Cardinals.
He was named "Big Ten Coach of the Year," 1982; Sports Illustrated, Coach of the Year, 1998; World Sports Humanitarian Hall of Fame, Community Coach of the Year, 2001.
Before making it as a coach, Dennis took a full-time job driving a truck for a sheet metal business in order to support wife Margie and their children. By 1973 he landed a paying post within collegiate football.
Margie Shindler and Dennis met while attending high school. They became husband and wife at age 18.
Margie's husband was often perceived as a workaholic. Margie Shindler told the San Jose Mercury News about her then husband:"he thinks sleep is a waste of time, and he only does it because he needs to."
Margie became the mother of the couple's two children, daughter Patti and son, Jeremy.
Green is also survived by his second wife, Marie Green –whom she met when she was working as a flight attendant on a Vikings team charter flight. The couple married in 1995. Dennis and Marie Green also produced two children, Vanessa and Zachary.
Margie's and Dennis' son, Jeremy is a former sports columnist and NFL studio analyst, who hosted the daily American football podcast "Football Today".