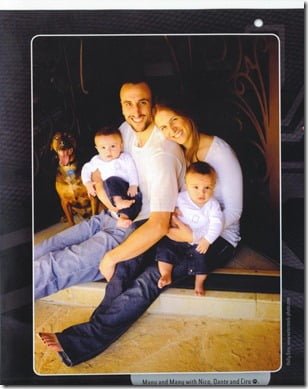 This is how the thing looks like before the big game fellas! We hope to see our great Manu Ginobili makes us all including Marianela Oroño proud!
Spurs Defensive Efficiency
This Postseason
Net eff<<
Kawhi Leonard
6.5
Manu Ginobili
3.1
Tiago Splitter
2.8
>>Pts diff. per 100 poss.
Southamerican Manu Ginobili comes from a basketball family. His eldest brother played as a prof in their native Argentina, as his younger brother played professionally in Spain. His dad coached in Bahia Blanca at the same time as also helping Manu discover to play the sport. Manu is the only Ginobili to bring his game to America, where he"s also brought his wife.
Manu Ginobili and his wife Marianela (previously Oroño) got married in the summer of July 2004 in Bahia Blanca, Argentina. It seems that the Spurs are the maximum wedding gift givers of all time, as just days after; Manu signed a 6 year, $52,000,000 contract extension.
Manu and Marianela had their first kids on May 16, 2010. Marianela was the happy mother of two twin boys, Dante and Nicola.
Currently Marianela is busy raising these two cute boys and encourages her husband to continue growing on his professional career.
We are sure that the first words these kids will be able to spell is NBA hahah! Coming from such a passionate of BKB family, we don't doubt that these two will influence in their kids as for becoming professionals once they grow up. They got the uncles, the grandpa and daddy…. It is just a physics law that this will eventually happen.
Anyways, we desire the best of lucks for Marianela's hubby in the next game!
You can check more Marianela's pics .