Meet Olga Sanchez
NFL mom, Olga Sanchez is the proud mother of Quarterback, former golden boy, Mark Sanchez. Mark currently a free agent, started his professional career with the New York Jets, who selected him in the first round (5th overall) in the 2009 NFL Draft.
Olga Sanchez gave birth to Mark –the youngest of three –on November 11, 1986.
Mark graduated from Mission Viejo High School –where he had a lights-out junior season in 2003, throwing for 2,600 yards and 29 touchdowns. After being named one of the nation's top QB, he received offers from Notre Dame, Ohio State, Texas and Nebraska. The school Mark was dying to attend was also in the mix, USC.
Sanchez was drafted in 2009 by the New York Jets. The Broncos acquired Olgas' son, from the Eagles for a conditional 2017 late-round draft pick.
Sanchez was raised in Orange County, Calif. His grandparents on both sides had immigrated to Los Angeles from Mexico.
Mark came from a football family. Father Nick, a firefighter, had been a star quarterback in high school and college. He went on to become a trainer for the powerhouse Santa Margarita High School football team. Mark served as a ball boy for a squad that produced blue-chip prospects Carson Palmer and Chris Rix. Palmer was one of his heroes.
Nick and Mark's mother, Olga Macias, were divorced in 1989 when Mark was a young boy, but both stayed heavily involved in their sons' lives. Both parents speak fluent Spanish and tried to pass the language on to their sons, who also spent many days with Olga's mother. The couple had three children together, Nick Jr. and Brandon Sanchez.
All three boys stayed with their father, while Olga Sanchez remained involved in their upbringing.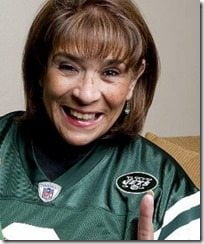 Olga's three sons played football in college, but it was Mark who made it to the NFL. Olga Sanchez, maiden name, Macias, told the NY Daily News, she attends most of her son's games with his father and the quarterback's two older brothers. The proud mama also spoke oh how proud she is of her son's success saying
"It has all panned out. To see it all happen, wow, there are no words. I don't know what to say, I want to cry. "Happy tears."
Her oldest son, Nick went to Yale and later USC Law School and is an attorney, while son Brandon attended DePauw University and works as a mortgage broker.
During an interview in 2010, Olga Sanchez shared she always gets nervous when watching Mark play. She revealed his favorite meal is when she cooks for him, chorizo and eggs.
Olga Sanchez currently resides in Dove Canyon, California.