Christine Arians
Christine Arians is the loving and incredible wife of Coach Bruce Arians; the NFL coach of the Tampa Bay Buccaneers and former offensive coordinator and interim coach for the Colts when coach Pagano was diagnosed with leukemia during the 2012 season, like Chuck Pagano Coach Arians is a cancer survivor.
Bruce Arians
Christine Arians' husband Bruce Charles Arians was born in Paterson, New Jersey, and raised in York, PA.  He is the son of Catherine Arians (nee. Smethers), who appeared next to her son and his family in the NFL Network documentary AFootball Life, in December 2015.
Bruce Arians' dad Lambert C. Arians born on August 7, 1927, passed away at the age of 78, on March 28, 2006. Coach Arians has four siblings; sister Kathy Ariana Hanks and brothers, John, Lambert II, and Dennis Arians.
Coach Arians attended York Catholic High School and subsequently graduated from William Penn High and York Catholic High School where his love for football first started.
Bruce Arians a quarterback at Virginia Tech was voted MVP his senior year; he finished his college football record with 78 completions on 174 attempts for 1,270 yards, six touchdowns, and eight interceptions, rushing for 539 yards and 14 touchdowns on 135 carries.
What Kind of Hat Does Bruce Arians Wear?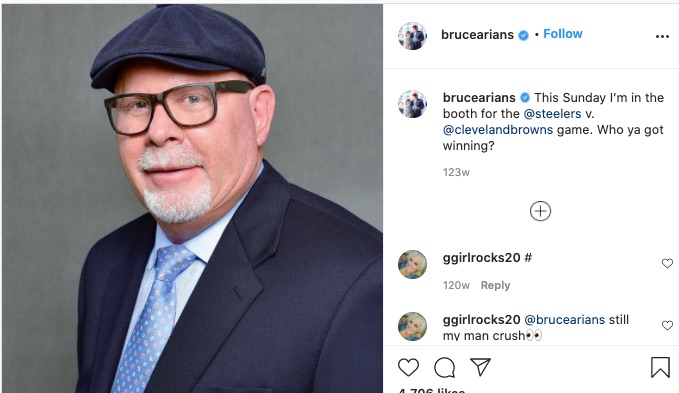 Bruce Arians' hats are called newsboy hats, other people also called them the Kangol Cap, Gatsby Hat, Duckbill Hat, and flat Hat. Arians' signature hats are never missing on his wardrobe options, he has tons in every color.  He even created his emoji wearing a newsboy hat.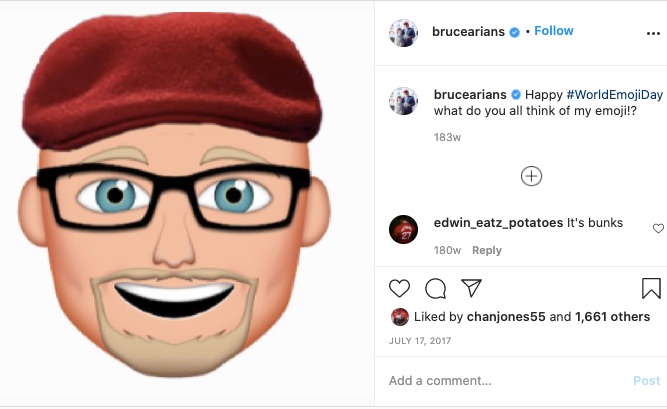 These hats are for sale everywhere, but if you are interested in a very special one, then you should definitely get the Bruce Arians/ Tampa Bay Buccaneers Hat available on the Arians Family Foundation, you are going to look Arians cool and you will be helping an amazing foundation. Buy it here.
Bruce Arians Record
You are probably wondering about Bruce Arians coaching record, but we think his records as a football player is worth knowing, as a high school quarterback had the record of most rushing touchdowns in a single season.
While he was the quarterbacks' coach with the Indianapolis Colts Coach Arians went 9-3; 13-3 in the regular season as head coach for the Arizona Cardinals in 2015. Two-time AP Coach of the Year finished his career with the Cardinals with a record of 49-30.
Since arriving in Tampa Bay Bruce Arians has a record of  18-14-0.
Bruce Arians Hospitalized
Luckily, Coach Bruce Arians hasn't been hospitalized recently; he was though hospitalized in November 2016, after complaining of chest pains after the Cardinals' loss to the Minnesota Vikings.
"After returning home from Minnesota, Cardinals head coach Bruce Arians was experiencing discomfort and not feeling well during the night. His wife took him to a local hospital to be evaluated," the Cardinals said in a statement. "All tests conducted so far have come back favorably. He remains in the hospital for continued evaluation."
He believed he had a kidney stone, back on August 16, that same year, and had to be hospitalized in san Diego after doctors found he was suffering from Diverticulitis. In 2013, while he was coaching the Colts, had to be hospitalized due to an ear infection and spend some time in the hospitals after experiencing horribles migraines while he was the head coach at Temple University
How old is Bruce Arians?
Standing at  5'10 and weighing 230 lbs. Bruce Arians is 66 years old; he was born on October 3, 1952. The current head coach for the Tampa Bay Buccaneers is widely known for wearing a hat and encouraging aggressive play and risk-taking which is why he likes to use the slogan "No risk-it, no biscuit."
When the Buccaneers hired him in January 2019, at the age of 66, he became the oldest
Bruce Arians Past Teams Coached
After he came out of college in 1975, he became an assistant to the football team at Virginia Tech who then named him their running backs coach.
Three years later, he served as wide receivers and running backs coach at Mississippi State's, working under coach Paul Bear Bryant at the SEC to Alabama.
Subsequently, in 1981, a running backs coach at Crimson Tide;  later appointed head coach at Temple University in 1983.
In 1988, after he left Temple University, coach Arians was hired by the Kansas City Chiefs as their RB coach; in 1992 Mississippi State hired him to be their offensive coordinator and became a tight end coach for the Patriots in 1996.
A year after that he returned to Crimson Tide as offensive coordinator at Alabama, another year later the Indianapolis Colts hired him as their QB coach.
Coach Arians became offensive coordinator for the Cleveland Browns in 2001 and wide receivers coach for the Steelers in 2004, three years later the Steelers named him their offensive coordinator.
He returned to the Colts coaching staff as their offensive coordinator and interim coach in 2012, before he was named head coach of the Arizona Cardinals in 2013.
He announced his retirement after five seasons with the Cardinals in January 2018; a year later he came out of retirement and agreed to four years with a one-year options contract with the Tampa Bay Buccaneers.
Bruce Arians Book
Bruce Arians built such a magnific reputation as a quarterback coach that writing a book about was a non-brainier, his book titled The Quarterback Whisper published in July 2017, was a total hit. You can get it at Amazon.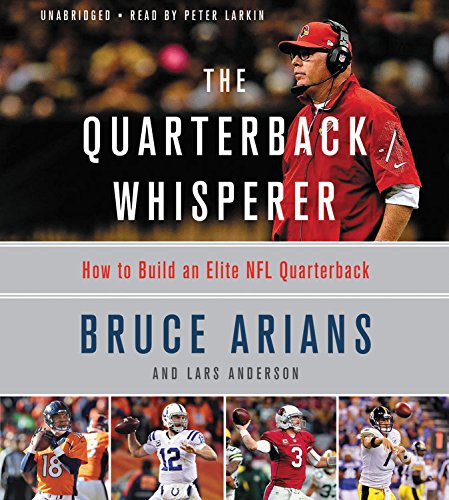 Bruce is gonna love you when you need some loving, but he's gonna jump on you when you're not doing right." — Peyton Manning

"He coaches the way players want to be coached." — Ben Roethlisberger

"Coach Arians made players comfortable around him and let everybody have their own personality. He didn't force anybody to be someone they weren't. It may sound a little corny or cheesy, but there's merit to that. I felt comfortable being myself and I felt he had my back." — Andrew Luck

"We're a resilient group. It trickles down from the head coach. I think good teams, really good teams, and hopefully great teams take on their coach's mentality. I think that's what B.A. brings . . . " — Carson Palmer
 Bruce Arians wife Christine Arians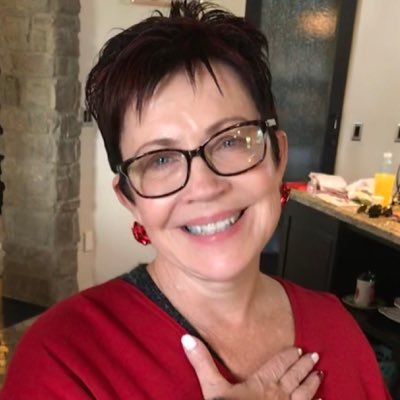 Christine A. Arians was born on February 15, 1952, in Pennsylvania. Christine met him in York, Pennsylvania when she was 14, and offered to help him with French.
"You do know I've known him since we were 14, right?" Christine said. "We were in the same grade, the same homeroom. He was so shy. I don't remember talking to him the whole first year. I talked to his buddy Mike all the time, but (Bruce) never joined the conversation.

"Sophomore year, he sat behind me in homeroom. I had French. He'd had French the year before. He figures that's something I can talk to her about. I'll offer to help her with French. Now, understand, I'm the straight 'A' student and he's the 'Oh, I can get a 'C' without working too hard' kind of guy. But I let him help me. He was kind of cute."
They were high school sweethearts, Christine graduated from York Catholic in 1971, while Bruce attended York High before graduated from William Penn High.
Christine was a 17-year-old sophomore when she and Bruce kissed for the first time; she and a group of friends went to her friend Joan's house after a football game.
I can tell you about that first kiss, that would have been sophomore year, after a football game," Christine said. "My friend Joan's house had an alley behind it. I stood on a cinder block, because I'm a lot shorter than him. But that first kiss was memorable. We've been married 47 years. We still remember that first kiss.
Virginia Polytechnic Institute and State University with a bachelor's degree in general biology in 1978. She received her Juris Doctor of Law from Temple University – James E. Beasley School of Law in 1986.
Mrs. Arians and the Virginia Tech graduate have been married for over four decades and have two children together. Bruce Arians and his wife Christine tied the knot in June 1971, during Coach Arians' freshman year at Virginia Tech.

Since 2013, Christine Arians has been a director for the Arians Family Foundations; she volunteered for over a decade for several Court Appointed Special Advocate (CASA) programs. Before all of that, Mrs. Arians was a law attorney for 15 years, her personal motto is "While I can't change the world, I can help, one child at a time."
Bruce Arians Children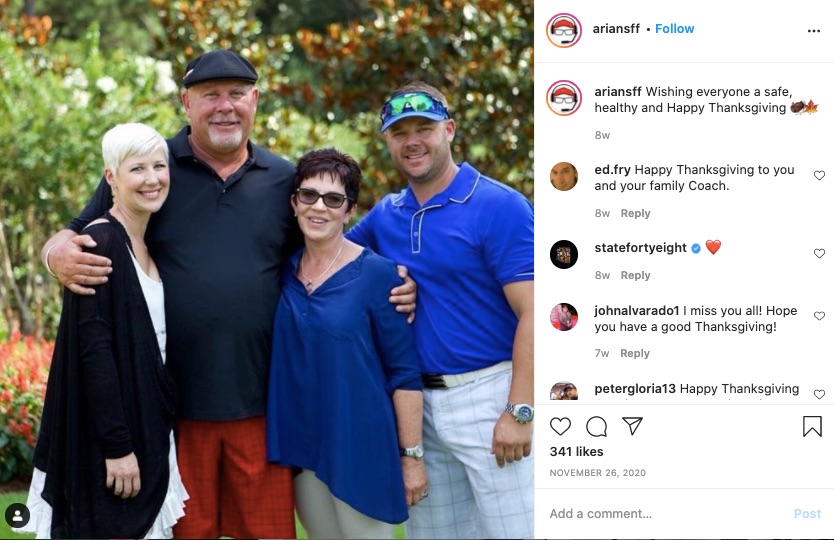 Jake Arians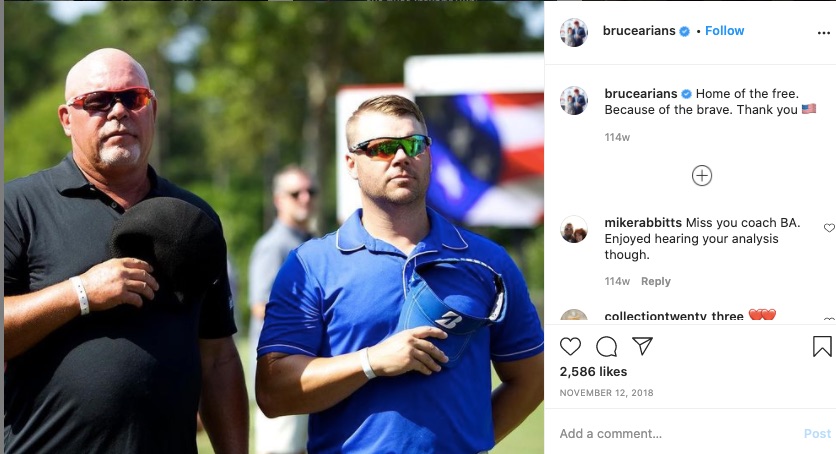 Mrs. Arians welcomed their son Jake, Jacon Bruce Arians on January 26, 1978. First let me tell you that their son, Jake Arians was a placekicker for Alabama-Birmingham; a field goal kicker for the Buffalo Bills in 2001.
Jake is the president at the Arians Family Foundation, owner of Veritas Medical in Phoenix, Arizona, and part-time host for The Draft Network since July 2019.
Jake Arians and his ex-wife Traci Blake had one pretty daughter named Presley Arians, who graduated in 2013 from Hoover High and in 2017 from Arizona State University with a Bachelor's Degree in communications.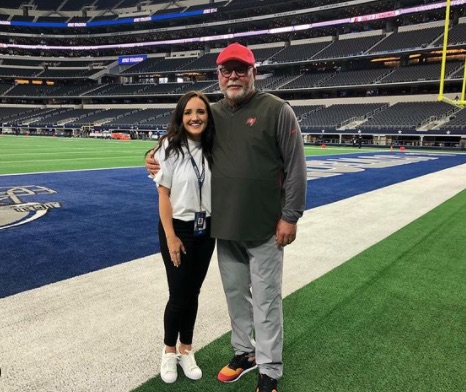 Bruce Arians' granddaughter Presley is the content strategist for the Dallas Cowboys; prior to that, she was a social media marketing intern for the Arizona Rattlers, Phoenix Mercury, Arizona Diamondbacks,  and the Phoenix Suns; she also did an internship in the NFL back in 2015, according to Presley she was responsible for managing NFL Total Access' social media outlets (Twitter, Instagram, Facebook, Snapchat), supporting daily activities in digital communications – graphics creation, videos and GIFs for NFL Total Access and producing weekly analytics reports for all social media platforms.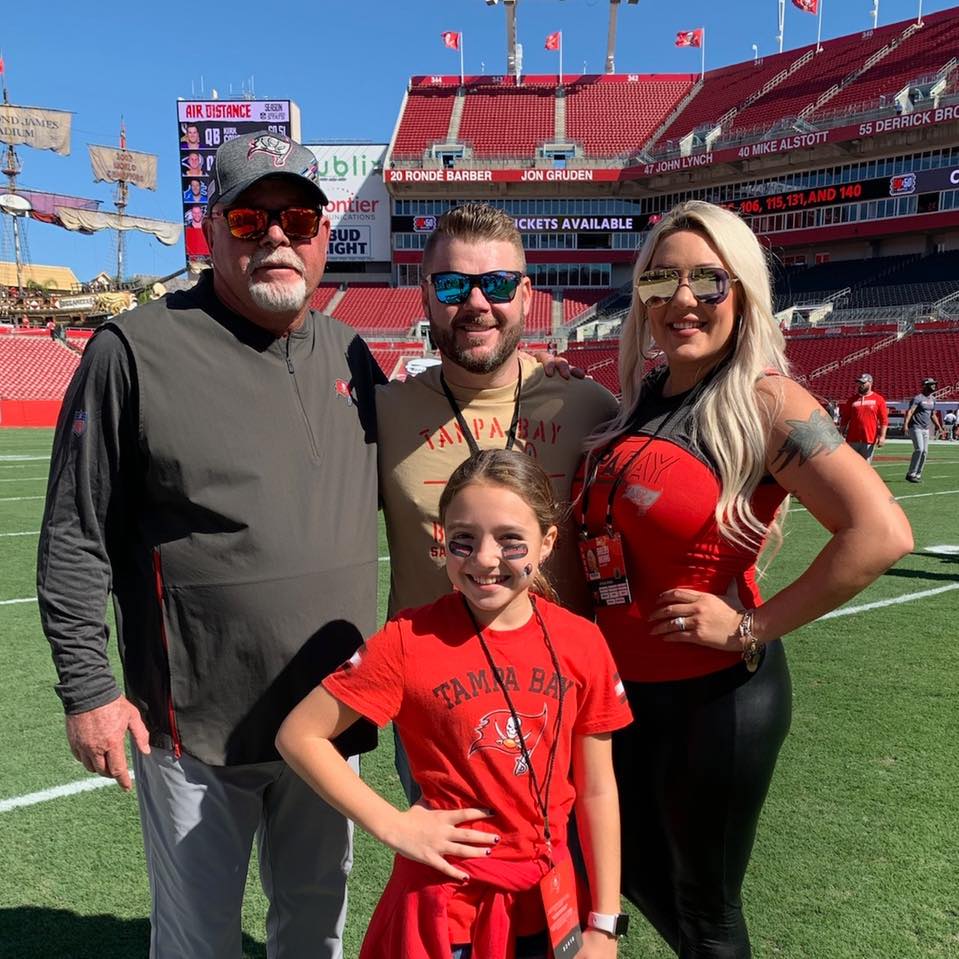 Jake and Traci divorced and he and his second wife Shelby Arians (nee. Manister) on May 18, 2019. Shelbi has been working in the Arians Family Foundation since January 2018.
 Kristi Arians
Christine and Bruce Arians welcomed their daughter Kristi Anne Arians on December 15, 1980.  Not only this pretty gal holds a master of science in Interior design from the University of Alabama (2004), but she also was a designer at Bodine in 2005; before becoming a sales representative for the Reply Group.
In 2009, worked as a sales associate for Ai Corporate Interiors and a sales presentation with Designtex; after leaving Designtex in 2012, Kristi Arians became a sales executive for Office Environments, Inc.
She married Blake Freeman on February 7, 2015, in Birmingham, Alabama. They have two gorgeous sons.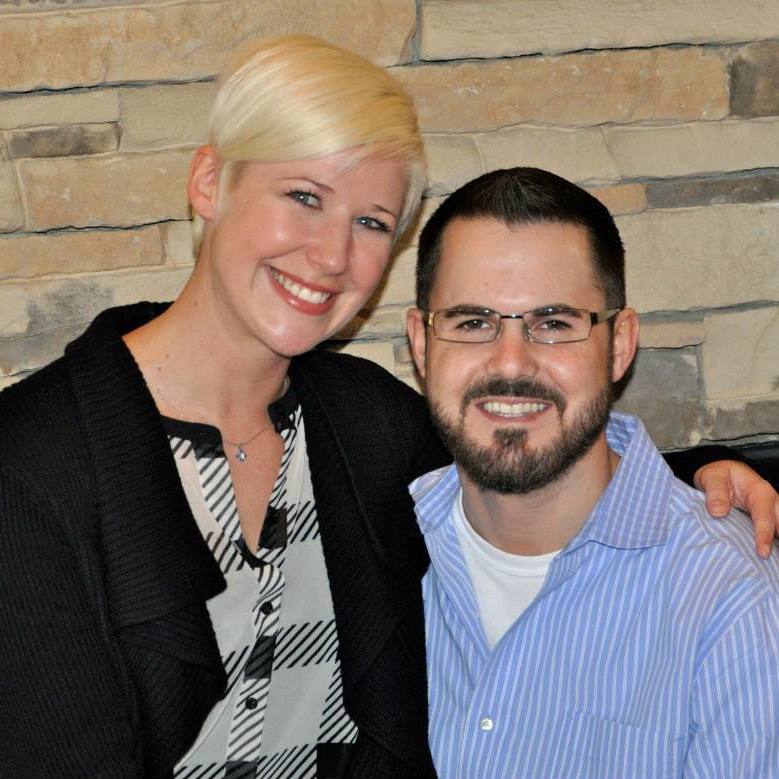 Kristi has been a sales representative with Humanscale since 2016 and principal at Catori Design House since April 2018.
Arians Family Foundation
Christine worked as a family law attorney for 15 years before she co-founded the Arians Family Foundation AFF in 2013. The Arians Family Foundation develops and supports programs to prevent and ameliorate the abuse and neglect of children.
"The Arians Family Foundation (AFF) was created in 2013 by Bruce and Christine Arians for reasons dear to their hearts. Christine worked for years as a family-law attorney, or as she describes, a "broken-family" attorney. She began working with CASA (Court Appointed Special Advocates) to help ensure that children who are involved in the court system, as a result of abuse or neglect by their families, receive the help they need. The Arians Family Foundation seeks to continue helping others in their life journeys. AFF embodies the vision of a better future for children to live in where they feel safe and loved."