Dee Devlin
Have you met Dee Devlin? She is the gorgeous longtime girlfriend of Conor McGregor, the Irish mixed martial arts fighter, businessman famously known in the UFC as Notorious!
Thе UFC announced thаt thеу hаd signed McGregor tо a multi-fight contract in February 2013. His debut саmе оn оn April 6, 2013, аt UFC оn Fuel TV 9 аgаinѕt Marcus Brimage, whо hе defeated bу TKO juѕt оvеr a minute intо thе firѕt round.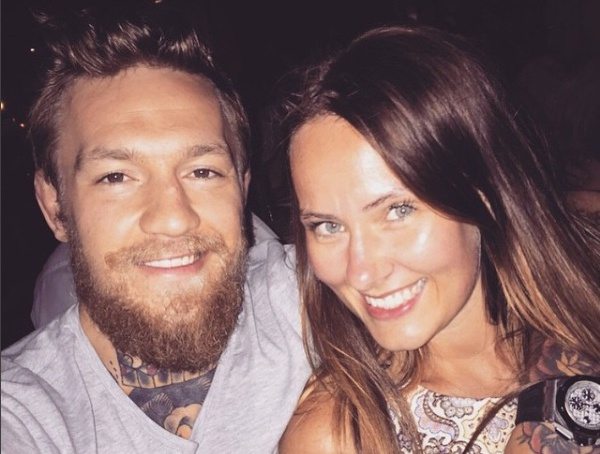 Conor McGregor Parents
Conor McGregor born in Crumblin, Dublin on July 14, 1988, one of three children brn to Margaret and Tony McGregor, a former boxer an cancer survivor (testicular cancer back in 2010) who still recalls Conor's fists when he was born.
"His fists were clenched coming out of the womb so he was ready to fight," Tony laughs. "The midwife said, 'This fella is going to be a boxer.' It was an easy birth as Margaret was only in labour for an hour, so Conor was in a hurry to make himself known."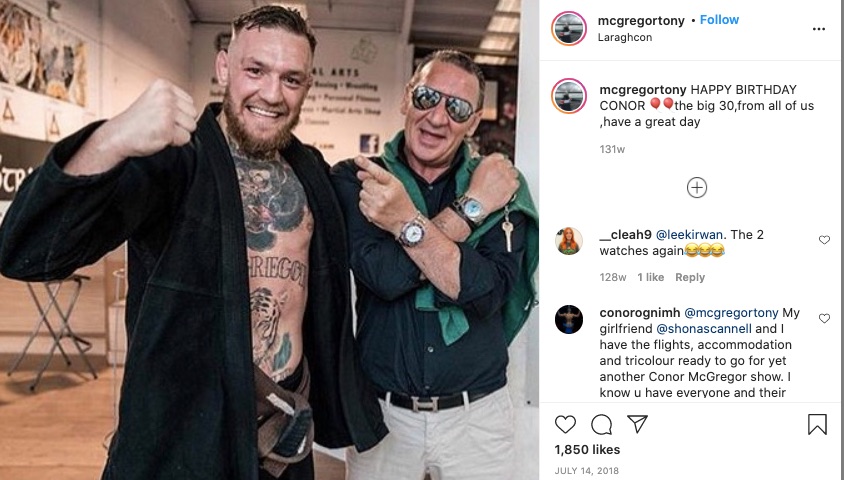 Liverpool born Tony McGregor, 60, the son of Patricia and retired officer with the British Merchant Navy Christoner McGregor. He and Margaret were 21 years old when they tied the knot in 1980. they initially lived in Dublin 2 and three years later they moved to Crumlin in Dublin 12.
"That was what you did as a working-class person," Tony explains. "You didn't go to university or college – you got married and had kids and became a man early on in life. I drove a taxi for 26 years, which I loved, although I worked nights around the clock so I was like Dracula.
Conor McGregor Sisters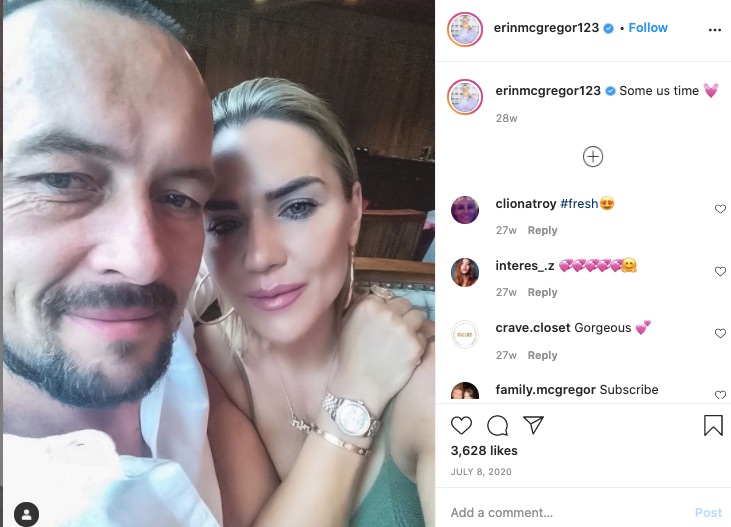 Conor McGregor has two beautiful older sisters, Erin and Aoife. 36-year-old Erin McGregor, Conor's eldest sister is a former hairdresser, a reporter for Xpose, mother of Taylor and Harry born from his relationship with longtime boyfriend, courier and ring announcer Terry Kavanagh who back in 2018 competed on the third sesaon of Dancing With the Stars Ireland. Erin admires her brother, she considers him, her inspiration.
"He (Conor) literally rolls with all adversities…he gives me inspiration to do things for me and to not listen to the negative thoughts coming into my head. He helps me to conquer my own fears."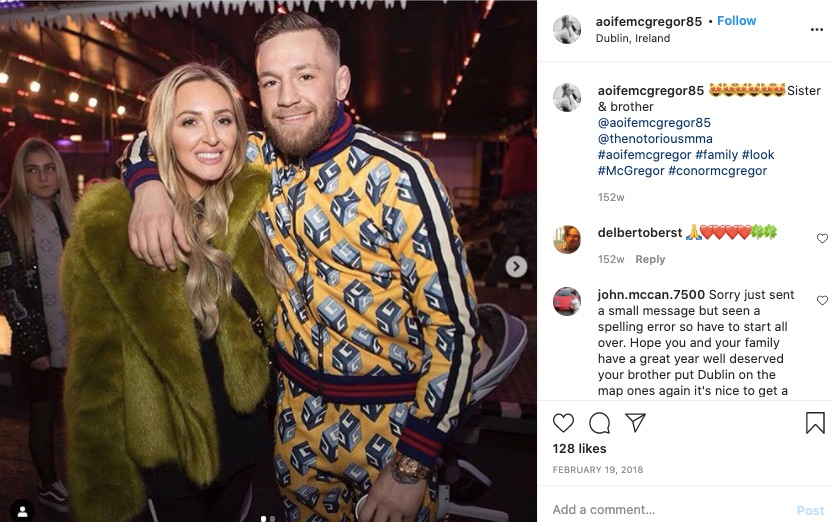 Aoife married Mark Elliott at St Mary's church in Enniskerry in January 2017; they have an excavation business.
How Tall is Conor McGregor?
The Irish MMA fighter's height is 5'9 (1.75m); he weights 77kg (170lbs). Conor'sreach is 74 inches. Notorious has a UFC fighting record of 10 wins (1 by KO, 7 by TKO), 2 losses. Prior to the UFC, he competed in the London-based MMA promotion Cage Warriors.
Conor McGregor Net Worth
According to Celebrity, Conor McGregor's net worth has been estimated at $130 million, $32 in annual salary and $16 in endorsements. McGregor took home $85 million from his fight with Floyd Mayweather, receives $5 million from Reebok; he also has endorsement deals with Monster Energy, Bud Light and Beats by Dre
From his Proper Twelve Whiskey Conor said that generated over $1 billion in 2019. "Over $1b generated in Whiskey sales in my first year! Like it or not, there is a new King in town! Proper Whiskey, liquid sunshine!"
Conor doubled his net worth after he sold his Proper 12 Whiskey stakes and those of his manager and partner Audie Attar early in March to Becle beverage company. McGregor's current net worth could be around $300 million.
Conor McGregor Tattoos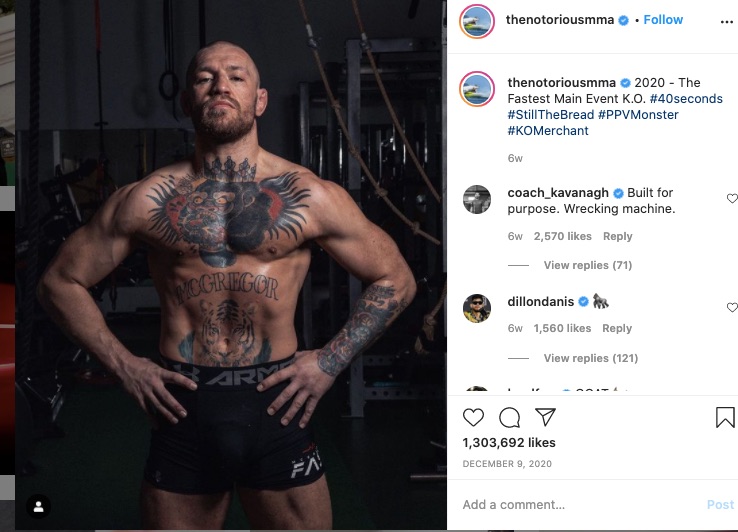 Conor has eight tattoos, a crucifix on the nape oof his neckone of the most notorious, is the eating heart gorilla with a crown on his chest, which is the logo of the gym he used to train, called Straight Blast Gym-Ireland; a clock showing 3:35 sitting in a rose bush, a dagger on a red rose, and man wearing a top hat and on top on it all has 'SLOW IS SMOOTH, SMOOTH IS FAST'  inscribed on his left forearm, a horny Helix on his back and down his spine.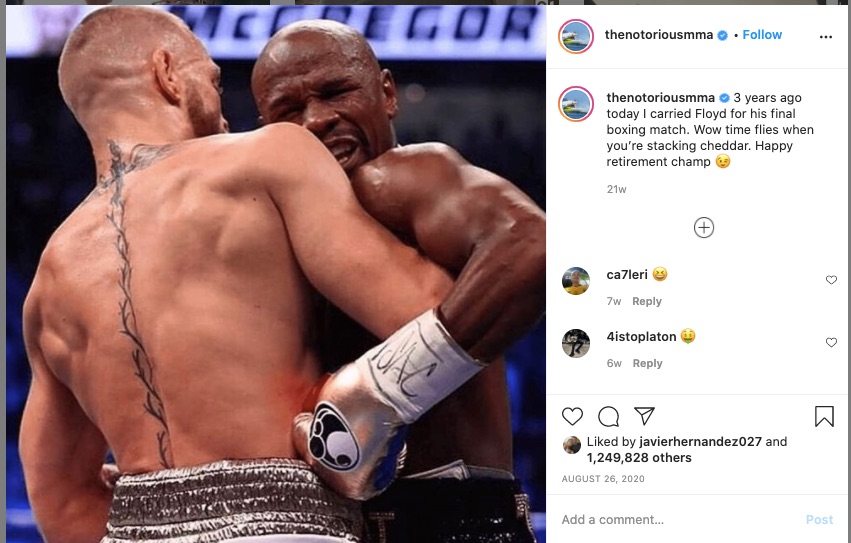 His tiger tattoo on his stomach, which he got in 2015, means the animal movements Conor likes to incorporate in his trainings, me added his last name on top of the tiger and Notorious above it. He said he got a tiger because he considers to be courageous.
The Tiger has been jumping out at me sometimes. It feels like it almost means something. I think Tiger is a courageous animal. So I like the Tiger and I decided to go and get it.
Conor McGregor Whiskey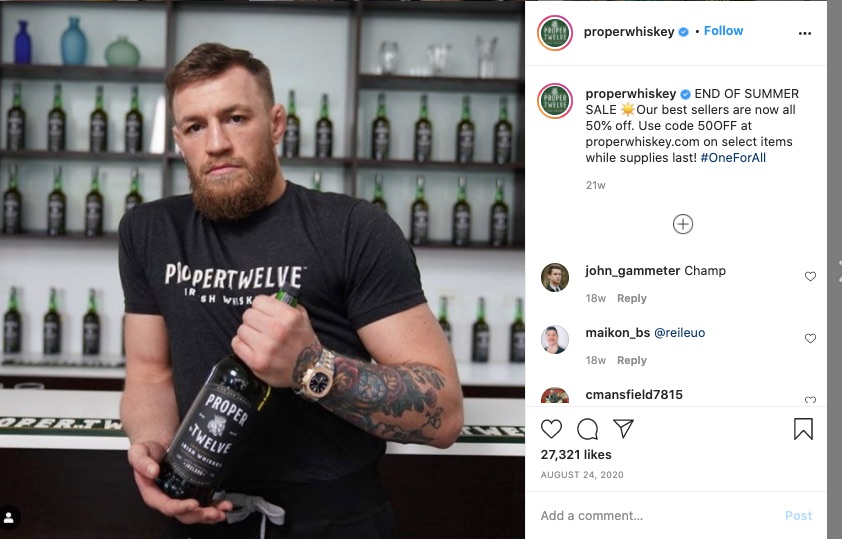 Conor McGregor launched his own brand of whiskey Proper Twelve Whiskey (named after Crumlin's area code) in September 2018. McGregor's Proper Twelve Whiskey first started selling in Ireland and the United States; the following year its sales expanded to Canada, Australia, Russia, United Kingdom, and New Zealand.
"I come from a place called Crumlin, in Dublin 12. It's a place dear to my heart. It's where I learned how to fight; it made me who I am today. It's a place I'm still very much a part of every single day of my life. So, that's where the name came from. It's proper Irish whiskey and twelve is my hometown.

He adds: "Growing up on the streets of Dublin 12, I learned the values of loyalty and hard work. I respect other Irish whiskeys, but I am coming in strong, with passion and with purpose. I am the founder of this company and I am going to give it my all."
Conor McGregor Walk
Conor McGregor's walk has been called the Irish Walk, Billionaire strut and the Power walk, many people think he copied his walk from WWE wrestler Vince McMahon who became known for doing a very similar walk; but in our opinion, Conor does a better job doing the billionaire strut, but why don't you judge it yourself.
Conor is not the only one who can brag about the billionaire, McGregor's own Proper Twelve Whiskey is trying it too.
View this post on Instagram
Conor McGregor Wife
You could say Conor McGregor's wife is Dee Devlin because they have been together for so long and share two beautiful children together; however, they are not married at least not yet. They are currently engaged and expecting their third child together. Conor finally popped the question on Dee's 33rd Birthday!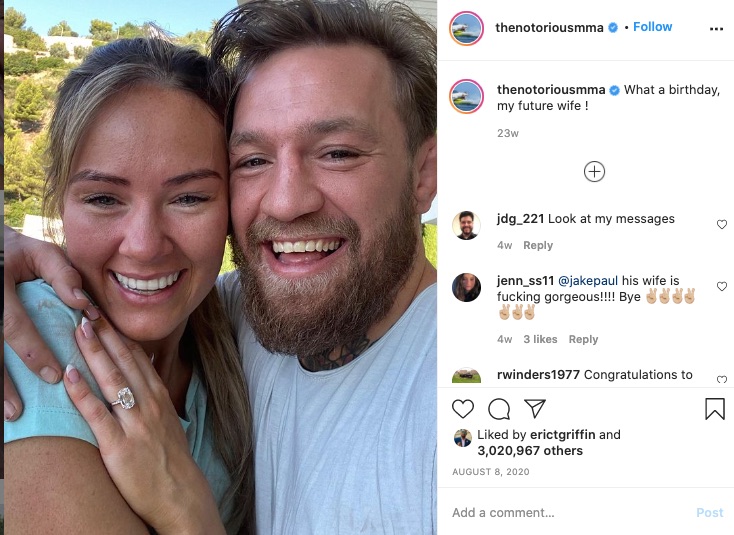 Conor and Dee made the third baby announcement on Instagram over Christmas along with their two children, daughter Croia and son Conor Jr. the latter had an ultrasound image in his hands.
Dee Devlin Biography
Conor is dating Ms. Dee Devlin, like her beau, Dee was born in the suburb of Dublin called Walkinstown. Dee who lives with Conor, helps him watch over his diet, something he finds quite hard to take care of.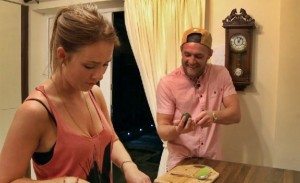 Ms. Devlin was born on August 8, 1987; she is currently living in Dublin, Ireland. Conor and Dee have been dating for more than a decade; as a matter of fact, these two started dating in 2008, and she has been his pillar of strength in good and bad times.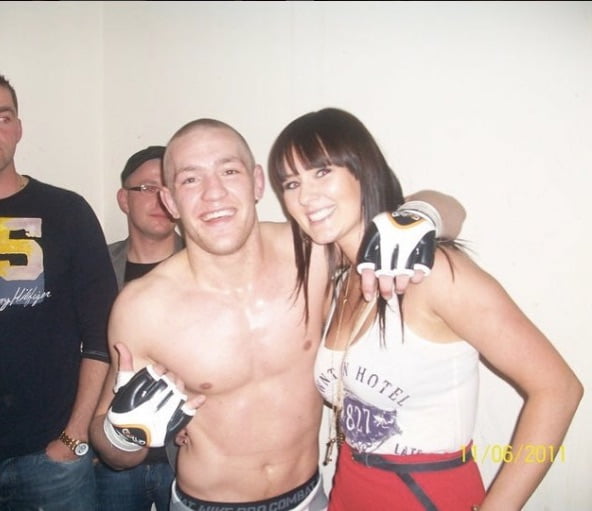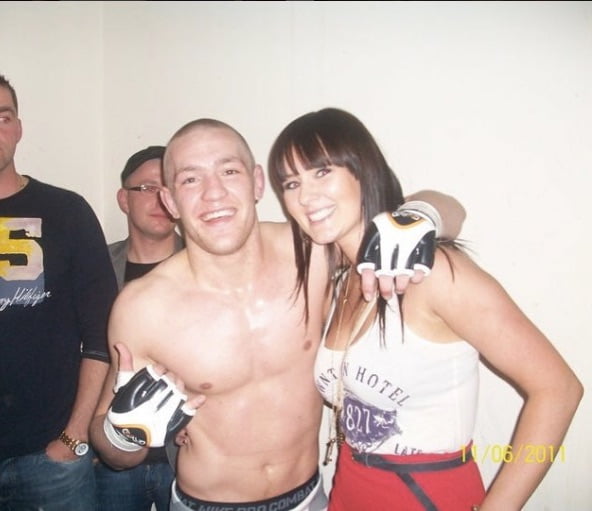 "My girlfriend worked very hard throughout the years and stuck by me when I had essentially absolutely nothing.

"I only had a dream that I was telling her.

"For me to be able to take her out of work, give her everything she's ever wanted and to travel the world with her fills me with pride. It keeps me going."

"My girlfriend has been there since the start. She has helped me throughout this career

"If It wasn't for her, I probably wouldn't be where I am today."

"She'd drive me to the gym, and she'd listen to all my dreams. I wouldn't be doing this if it wasn't for her.

"I'm doing all this for her."
She knew Conor was born to be successful.
He's always been super confident, we always knew this was going to happen – it was nearly like we were predicting the future.

"It's weird for me to say but we just always knew he was going to get to this level and every few months it just keeps going and going and going and the sky is the limit."
Ms. Devlin quit her job not just to be close to her man, but also to join his team, Dee manages his finances.
She does not work anymore, I hired her to the business. She works for me now and collects the cheques."
Conor McGregor Children
The Notorious fighter and his soon-tioo-be wife Dee welcomed their first child together, Conor Jack McGregor Jr. on was born on May 5th,, 2017.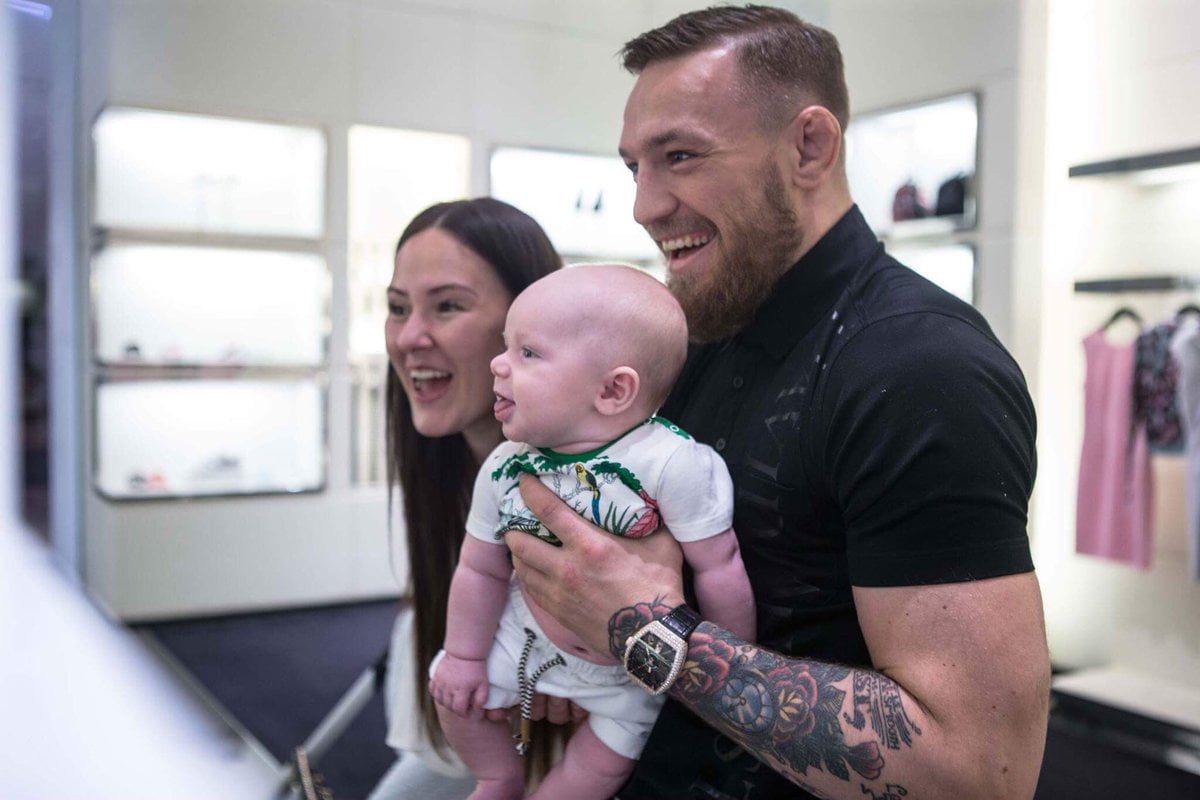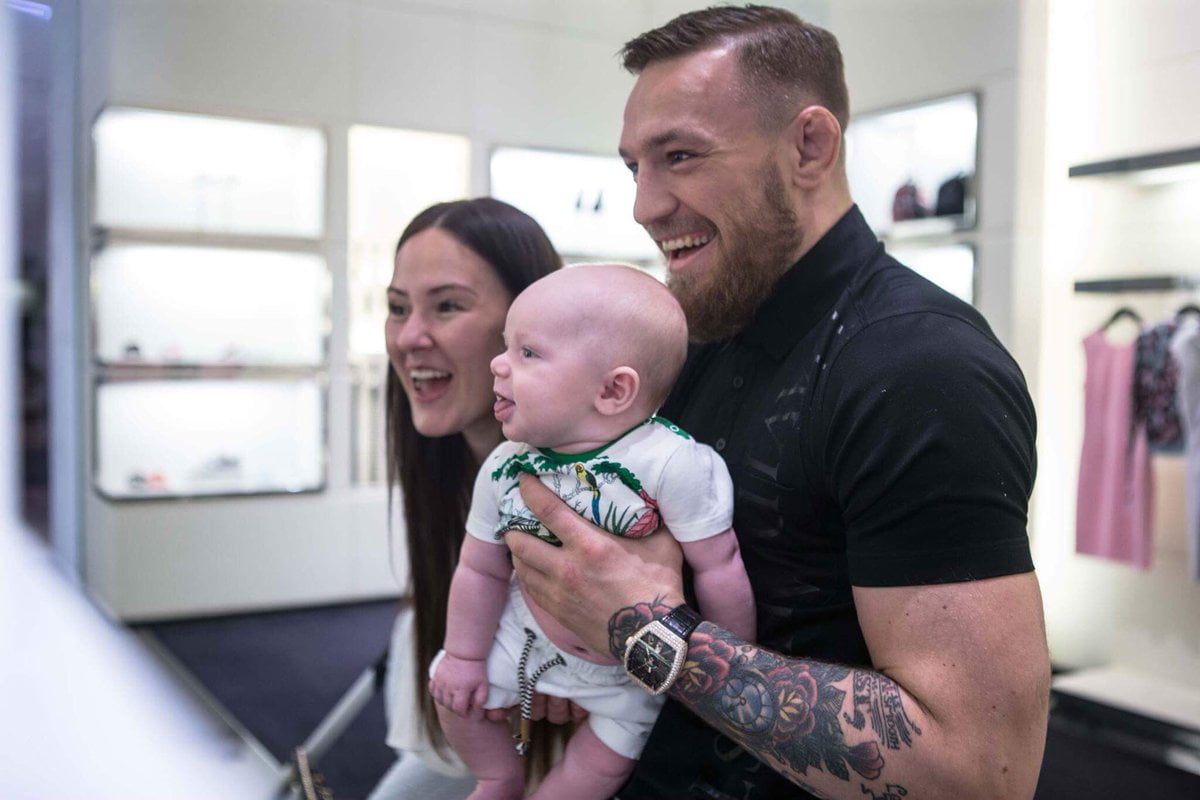 Conor McGregor is already following hhis father's footsteps and you can tell he inheretated his champion genes; the younger McGregor has his own Instagram already with 2540K followers.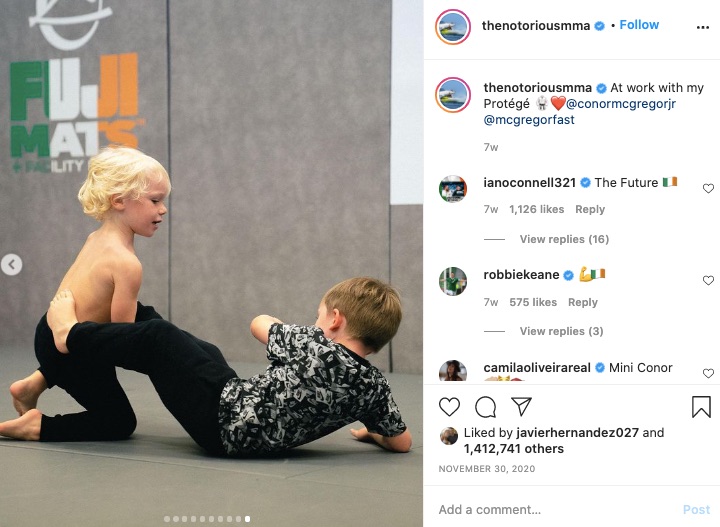 Dee Devlin and Conor welcomed their adorable daughter Croia on January 4, 2019. This little gal is a little version of her momma!! they even dress alike, something Conor likes to do with Conor Jr. as well.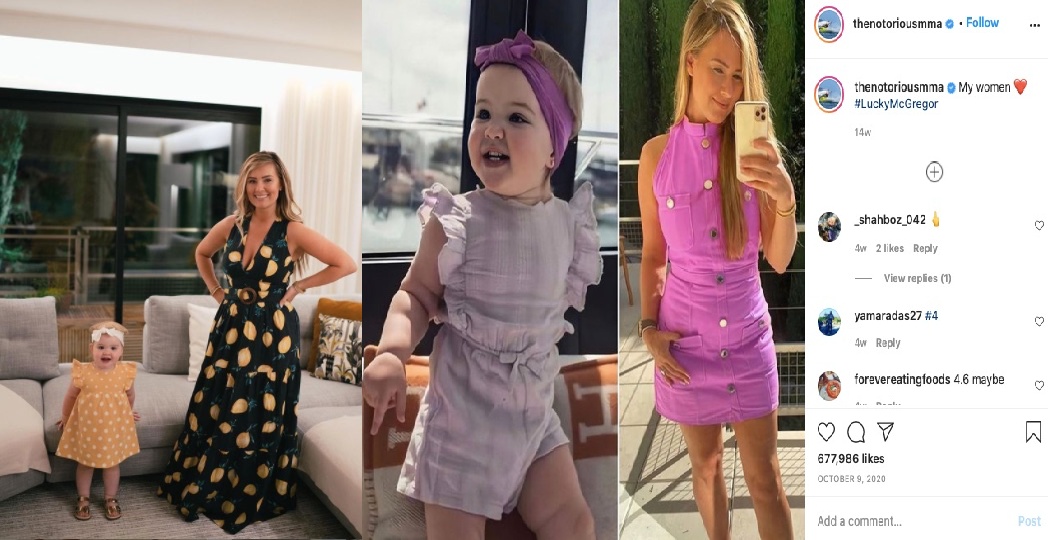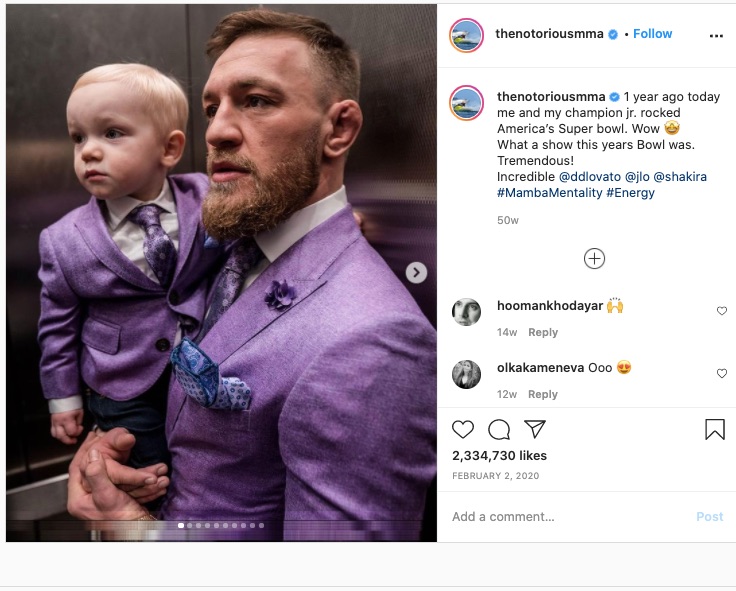 Furthermore, you can find Conor McGregor's girlfriend Dee Devlin on Instagram