Tania Victoria Marin Carrizo
This drop-dead gorgeous gal is Tania Victoria Marin Carrizo aka Tania Marin; the Venezuela stunner is the wife of Venezuelan MLB player Gerardo Parra, the 5'11" outfielder for the Washington Nationals known for making Baby Shark his walk-up song.
Tania's stud made his MLB debut with the Arizona Diamondbacks on May 13, 2009;  he signed with the Milwaukee Brewers in 2014 and with the Baltimore Orioles a year after that.
In 2016, he joined the Colorado Rockies; subsequently, played with the San Francisco Giants in 2019. Joined the Washington Nationals on May 9, 2019, after agreeing on a one-year contract.
Firstly, you need to know that 5'7″ Tania Victoria Marin Carrizo was born in Venezuela, on July 10, 1990. In 2011 became Miss Sports at the Lake Fair in her hometown of San Francisco Edo. Zulia in Maracaibo, Venezuela.
She holds a degree in industrial engineering and is nowadays a wife, mom, model, and brand ambassador.
Furthermore, she and Gerardo started dating on May 5, 2013; finally after five years dating, they tied the knot on November 28, 2015, in the Península de Paraguana in Falcón Venezuela. They flew to Indonesia for their honeymoon.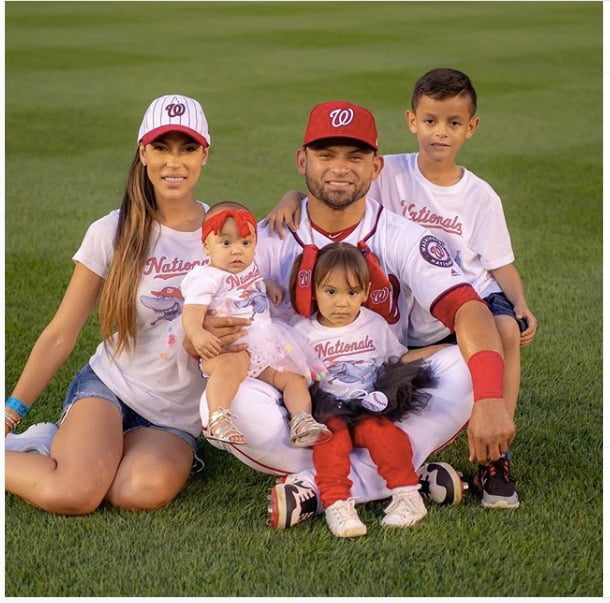 They welcomed their daughter Aaliyah Victoria Parra Marin on April 14, 2017, and to Emma Luna on December 2018. In addition to Aaliyah and Emma, Gerardo is the proud father to his eldest 8-year-old son Gerardo Andres.