Liza Barber
Meet Liza Barber aka Liza Fitzpatrick; she is the wife of NFL player Ryan Fitzpatrick. The talented veteran quarterback for the Washington Football Team, who previously played for the Miami Dolphins, Cincinnati Bengals, Houston Texans, Buffalo Bills, Los Angeles Rams and the Tampa Bay Buccaneers. Prior to the NFL, Fitzmagic, played college football with the Harvard Crimson Football team at Harvard University where he also met his wife Liza.
Ryan Fitzpatrick Parents
Fitzmagic was born Ryan Joseph Fitzpatrick on November 24, 1982, in Gilbert, Arizona. He is one of four sons born to Michael Stevens Fitzpatrick and his beloved wife Lori Sue Fitzpatrick (nee. Londbloom). Lori was diagnosed with Stage IV Lung cancer in June 2019, she died after fighting bravely cancer on August 29, 2020, at the age of 62.
Lori faced treatment after treatment with a positive attitude, never losing her optimistic outlook on life. She faced her last days with smiles and laughter as she continued to play games, barbies, and dinosaurs with her grandkids huddled around her. Lori was proud of the life she had lived and the boys she had raised. An inspiration to us all, Lori was always giving of herself to others. She believed in the power of positivity and the idea that a kind word and a hug could make a difference.
Ryan's parents met while his mom attended Arizona State University and married on November 28, 1980. They welcomed four amazing sons, Brandon, Jason, Ryan and Shaun. Lori earned her Master's in Education in 1996, from ASU, after that she over a decade teaching elementary education in the Gilbert School District.
Ryan Fitzpatrick Harvard
After graduating from High School in Gilbert, Arizona, Ryan Fitzpatrick studied economics at Harvard University, where he also joined the Crimson football team first as a backup for Neil Rose, earning the starting position during the 2003 season. In his first season, he recorded 1,770 yards, 16 touchdowns, eight interceptions in seven games, recorded  430 yards and six rushing touchdowns.
During the 2004 season, he recorded 986 yards with 13 touchdowns and six interceptions; that same year Ryan won the George H. "Bulger" Lowe Award and was named Ivy League Player of the Year, Ryan and the Crimson Team won the Ivy League Championship. His senior year, recorded 1,487 yards.
Ryan Fitzpatrick Height & Weight
Ryan Fitzpatrick's height is 6'2 (1.89 m), weighs 105 kg. (232 lb). his overall pre-draft measurables are: 31.13 inches (arm), 0.75 inches (hand), his scores in the NFL combine are: 4.87 seconds in the 40-yard dash, 2.84 seconds (20-yard split), 1.72 seconds (10-yard split), 4.07 seconds (20-yard shuttle), 7.09 seconds (three-cone), 105″ (broad jump).
Ryan Fitzpatrick Wonderlic test
The Wonderlic Test consists of 50 questions in a 12 minutes-duration test divided into three sections; motivation, cognitive ability, and personality. Ryan's actual score is unknown, some said he scored 50 others 48, which is still pretty impressive; but he did say he left at least one question blank, what we known for sure is that he did the test in nine minutes.
Ryan Fitzpatrick NFL
The Los Angeles Rams, then St. Louis Rams selected Fitzpatrick in the 7th round (250th overall) in the 2005 NFL draft. He made his debut against the Houston Texans on November 27, 2005. The Rams traded him to the Cincinnati Bengals on September 1, 2007, in exchange for a seventh-round pick in the 2008 NFL Draft.
He joined the Buffalo Bills during the 2009 season, made his debut with the Bills against the New York Jets on October 18, 2009, but it was until November 18, he got the starting QB position. They released him on March 12, 2013, a day before he was expected to get a  $3 million bonus.
Ryan joined the Houston Texas on March 18, 2014, named starting quarterback on June 17th; The Texans traded him to the New York Jets on March 11, 2015. He made his debut with the Jets against the Cleveland Browns on September 13, 2015.
Fitzpatrick signed with the Tampa Bay Buccaneers on March 19, 2017. Replaced Jameis Winston during Week 6 against the Arizona Cardinals. He joined the Miami Dolphins in March 2019, replaced Josh Rosen in Week 1 against the Baltimore Ravens.
After the 2020 season ended, Ryan agreed to a one-year deal with the Washington Football team, news of his new contract was revealed on March 15, 2021.
Ryan Fitzpatrick NFL Stats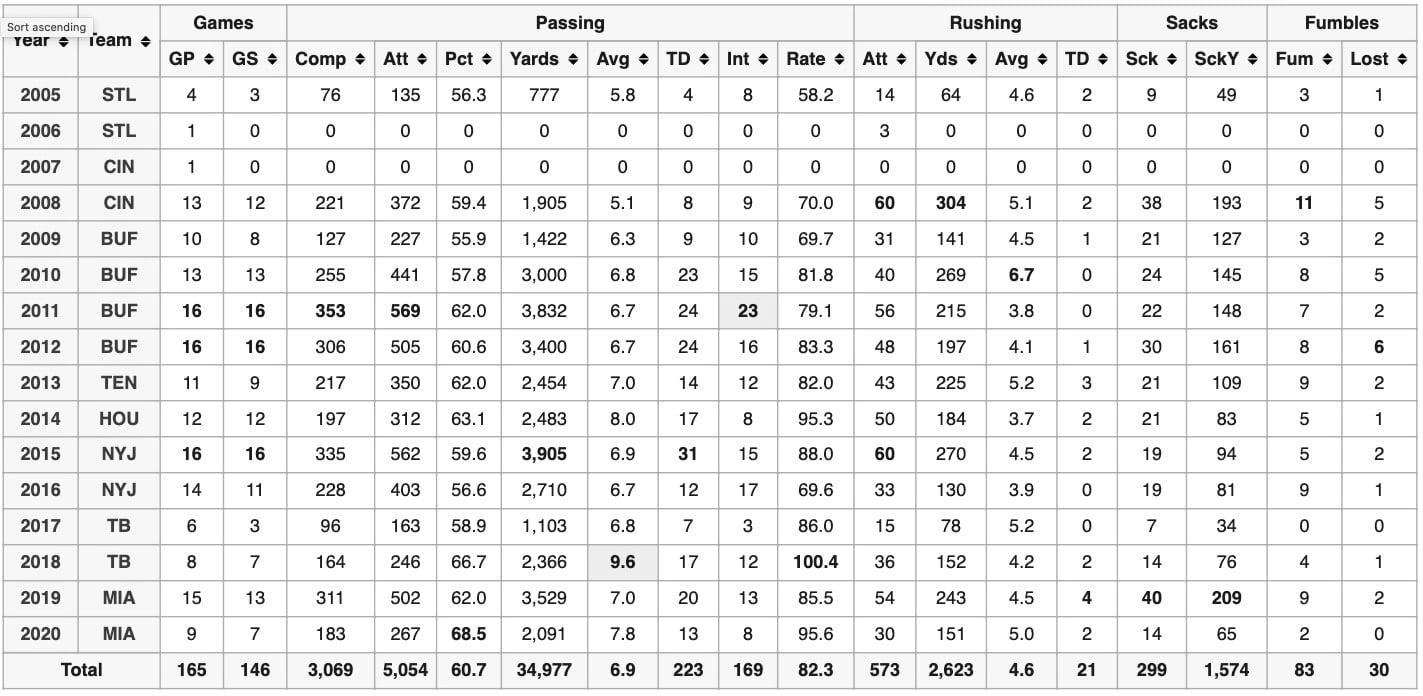 Ryan Fitzpatrick Net Worth and Salary
As of March 2021, Ryan Fitzpatrick's net worth has been estimated at $18 million. He recently agreed to a one-year contract worth $10 million that included $2 million in incentives with the Washington Football Team. His annual salary will be around $12 million.
Ryan Fitzpatrick Contract
Let's go to the very beginning when Fitzmagic signed a three-year, $953,000 contract with the Rams on July 18, 2005.
On April 17,  2008, then a restricted free agent signed his one-year tender offer from Cincinnati; however, we don't know how much was the contract worth.
Ryan agreed to a 3-year $7.405 million contract with the Buffalo Bills on February 27, 2009.
On October 28, 2011, signed a six-year,  $59 million deal that also included a $10 million signing bonus with the Buffalo Bills.
On March 18, 2013, signed a two-year, $3,250,000 million contract with the Tennessee Titans.
He signed a two-year, $4 million contract with the Houston Texans on March 18, 2014.
On July 27, 2016, Ryan agreed to a one-year fully guaranteed $12 million contract with the New York Jets.
In March 2017, signed a one-year, $3 million contract with the Tampa Bay Buccaneers, and a contract extension on March 9, 2018, earning $6,975,000 when his contract expired.
Ryan signed a  two-year contract for $11 million with the Miami Dolphins on March 18, 2019.
On March 15, 2021, Ryan signed a one-year contract worth $10 million with the Washington Football Team.
Ryan Fitzpatrick Wife
Liza Barber
Liza Barber or Liza Fitzpatrick was born in West Des Moines, Iowa Liza Kay Barber on May 5, 1983. Lovely Liza and her QB have been married for almost 10-year. The couple met while attending Harvard; Ryan was working on his economics major at Harvard, before joining the Crimson  Women's soccer team, Liza a defensive player played at Valley High School in Iowa.
The couple shares a funny story about how he proposed.
According to Ryan, on the same day he purchased her engagement ring with money from their shared bank account, a cashier at the Gap thought Barber had been double-charged for an item.
So when she said that she would check her bank balance later, Fitzpatrick, with the ring hidden in his car, knew he had to propose before they got home.
"So I knew she was going to notice the amount of money that was missing," Fitzpatrick said. "So I was like, 'Oh, man.' I had to figure out from the Gap to my house how I was going to propose to her. Luckily, the ring was in the car.
"We drove by all these fancy places," Fitzpatrick explained to the Los Angeles Times. "I asked her if she wanted to grab some dinner and sit by the lake. It was November, and she was like 'Why would I do that? It's freezing outside!' All she wanted was McDonald's. My relationship with my wife, and knowing her, it was just the perfect setting.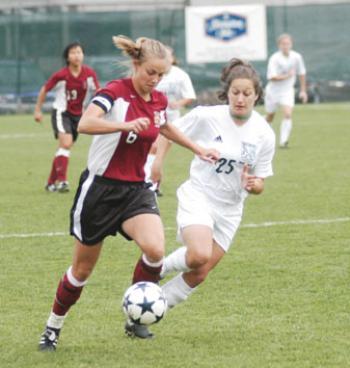 "I asked her when she was between her third and fourth Chicken McNugget. She had sweet and sour all over her face." He said.
Liza and Ryan tied the knot in June 2006, a year prior to her graduation from Harvard –where she was an All-American soccer player.
Ryan Fitzpatrick Children
Liza Barber left the soccer days behind her and became a wife and mom of SEVEN, and all born in different states. Liza and Ryan Fitzpatrick's children are Brady (13), Tate (11), Lucy (9), Maizy (7), Zoey (5) and Ruby (3), and Jake born in January 2019.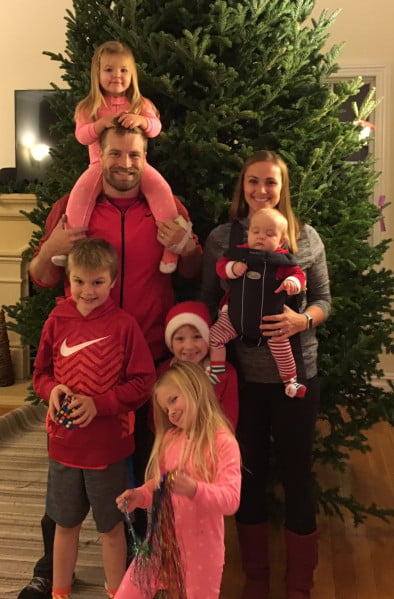 During an interview her hubby said about her:
"Liza has been an amazing wife and someone I have been able to share this whole experience with from the very beginning."
Her hubby is known for never removing his wedding ring, not even for games.