Former UFC fighter now a WWE wrestler Ronda Rousey had a brilliant career with the UFC until she lost two fights against Amanda Nunes and Holly Holm; after that, she has done some acting and joined the WWE in 2018. What is Ronda Rousey's net worth this year and how is she making her money?
Ronda Rousey Net Worth
Ronda Rousey's net worth in 2021 has been estimated at $12 million, one of the wealthiest MMA fighters in the globe, according to Wealthy Gorrilla's Top  20 Richest MMA Fighters in the world article, Ronda placed #14, certainly, Conor McGregor's $110 million net worth put him in their first place.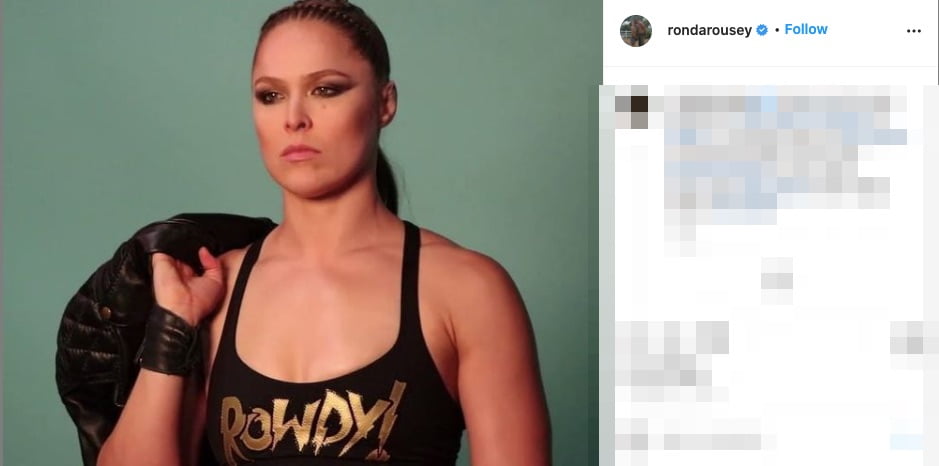 Here is WG's full list:
Conor McGregor $110 million.
Rorian Gracie $50 million.
Khabib Nurmagomedov $30 million.
Georges St. Pierre $30 million.
Brock Lesnar $28 million.
BJ Penn $22 million.
Anderson Silva $18 million.
Fedor Emelianenko $18 million.
Wanderlei Silva $18 million
Randy Couture $17 million
Tito Ortiz $15 million
Chuck Liddell $14 million
Quinton Rampage Jackson $12 million
Ronda Rousey $12 million
Frank Mir $11 million
Chael Sonnen $10 million
Jon Bones $10 million
Junior Dos Santos $10 million
Jose Aldo $9 million
Michael Bisping $9 million
Ronda Rousey UFC
Famous for her deadly armbar, prior to joining the UFC in 2012, Ronda started training judo, competed at the  2004 Olympic Games in Athens, 2004 Pan American Championship in Isla Margarita, Pan American  Champ. in Caguas in 2005, and Pan American in Buenos Aires in 2006, 2007 World Judo Championships and the 2007 Pan American Games in Rio and Pan American Championship in Montreal, 2008 Olympics in Beijing; overall she won three gold, two silver and two bronze medals.
After the Beijing Olympics, Ronda quit judo and started her MMA training at Gokor Chivichyan's Hayastan MMA Academy. Her MMA debut came on August 6, 2010, at CFL – Ground Zero, where she defeated Hayden Munoz by Armbar.
She won her next two fights by armbar at Tuff-N-Uff – Future Stars of MMA in November 2010 and Tuff-N-Uff – Las Vegas vs. 10th Planet Riverside in January 2011. She joined Strikeforce in August 2011, feated Sarah D'Alelio at Strikeforce Challengers: Gurgel vs. Duarte by armbar on August 12; she used that same technique to defeat Julia Budd at Strikeforce Challengers: Britt vs. Sayers on November 18, Miesha Tate at Strikeforce: Tate Vs. Rousey on March 3, 2012, and Sarah Kaufman at Strikeforce: Rousey vs. Kaufman on August 18, 2012.
Rousey signed with the UFC in November 2012, her debut against Liz Carmouche was at UFC 157 on February 23, Ronda won the won by armbar in the first round. reunited with Miesha Tate at UFC 168, and applied her armbar once again, defeating Tate in the third round.
She won her fights against Sara McMann by TKO at UFC 170, at UFC 175 knocked out Alexis Davis in the first round, and Beth Correia by KO at UFC 190. Returned to her armbar technique at UFC 175 when she defeated Car Zingano in the first round.
Ronda's last two fights, her first loss was against Holly Holm, at UFC 193 by KO in the third round on November 15, 2015, and at UFC 207 by TKO, against Amanda Nunes on December 30, 2016.
Ronda Rousey Tattoos
Ronda Rousey has seven tattoos; starting from her right foot, a tattoo that reads very second;  the logo for the Olympics 2004 and the Olympics motto "Citius, altius, fortius" on her right ankle, Olympic Rings, and a cursive ink that reads "Protected by God, hated by many, respected by all" on her left ankle, Kodokan flower tattoo on her right wrist and her most recent addition done at Deer's Eye Studio Rousey got her stats from all of her victories with Strikeforce and the UFC done onto her wrist.
Why did Ronda Rousey Retire?
Back in 2018, Ronda opened up about why she retired from MMA, some people said her two losses became too much of a burden, but Ronda said near the end of her career with the UFC, her heart hadn't been fully committed to that anymore.
"In judo and MMA, there were times when the process was fun and the results were fun. And there's a time when things run their course. You fall in love, you fall out of love and you find a new love.
"There was a while when I was just looking for an honorable way out [of the UFC]. I felt satisfied that I'd proven everything I need to prove, but I didn't feel anybody else felt that way, and I wasn't sure if the women's division could survive without me. I felt obligated to do more than what I actually wanted to. But I also have no regrets, and I'm so happy I fulfilled those obligations. And I really feel the women's division can hold their own."
Ronda Rousey Sponsors
Ronda Rousey has had lucrative sponsor deals with Monster Headphones, Carl's Jr., Reebok, Metro PCS, Buffalo David Bitton, Iconix, Proctor & Gamble, Fanatics, and  Xyience. Since last year, Ronda has been working with the sporting goods company Mizuno, based in Norcross, Georgia.

Ronda Rousey Investment and Philanthropy
Ronda has been involved with several charities that deal with hunger and mental illness, Rousey lost her father Ron to suicide in 1995 when she was eight. S0me of the charities she has been involved with are the Didi Hirsch Mental Health Services and FreeRice.
Ronda Rousey WWE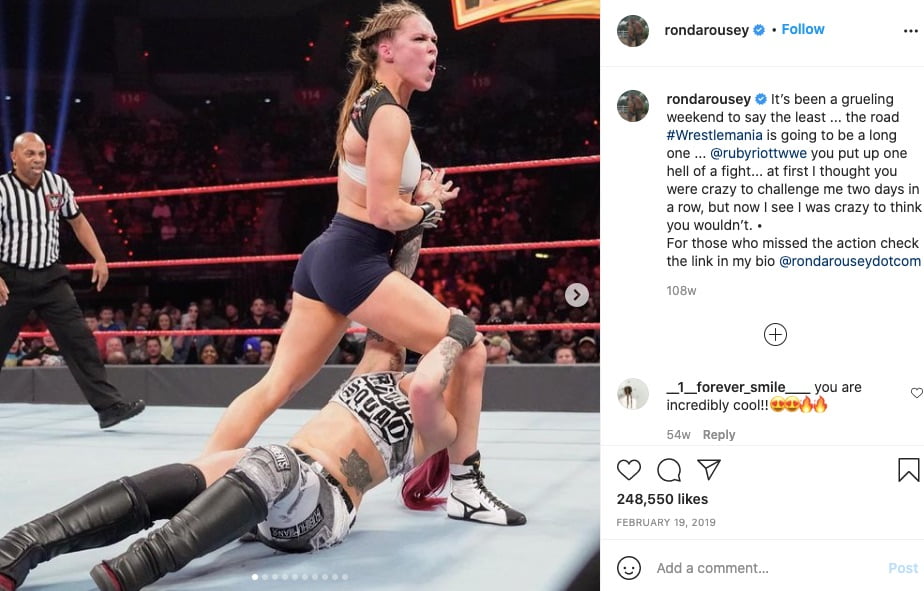 Ronda joined the WWE in 2014, with Rick Flair and Arn Anderson's blessing, Rousey, Marina Shafir, Shayna Baszler, and Jessamyn Duke became known as the Four Horsewomen. They started a feud with Rick Flair's daughter Charlotte, Sasha Banks, Becky Lynch and Bayley who are also known as the Four Horsewomen; after signing a deal with the WWE in 2017, Ronda appeared in Royal Rumble in January 2018; made her in–ring debut at WrestleMania 34 on March 5th, with Kurt Angle against Triple H and Stephanie McMahon, she won the fight after submitting Stephanie to her famous armbar.
Ronda experienced her first WWE loss against Becky Lynch on March 25 at WrestleMania 35, in a  triple threat match with Charlotte Flair.
Ronda Rousey Films
Rousey made her acting debut in the 2014 film The Expendables 3 alongside Sylvester Stallone, Jason Statham, Wesley Snipes, Harrison Ford, Antonio Banderas, Arnold Schwarzenegger, Mel Gibson, Jet Li, Dolph Lungren. The following year appeared alongside Vin Diesel, Dwayne Johnson, and the late Paul Walker in Fast and Furious 7. Made a cameo in Entourage and played Sam Snow in Peter Berg's film Mile 22; Ronda played a fight instructor in the 2019 film Charlie's Angels and opened up about her story in the 2019 documentary Through My Father's Eyes: The Ronda Rousey Story.
In television, Ronda made a cameo in the series Honoo-no Taiiku-kai TV in 2011; starred as Gallus Mag in one episode of Drunk History. She also appeared in one episode of Blindspot in 2017; played Lena Bosko in the series 9-1-1 and was a guest in Game On! the game show hosted by Keegan-Michael Key.
Is Ronda Rousey Vegan?
Yes, Ronda Rousey is Vegan! and she has been vegan since 2008, right after the Summer Olympics in Beijing. A couple of years later she described her diet as a combination of The Paleo and The Warrior diet, one thing never missing is Coffee. Here is an example of what Ronda eats in one day.
Breakfast has been and forever will be her favorite meal of the day, so she likes it to be a big breakfast, a bowl of chia seeds, hemp seeds, oats, agave nectar, almond butter, raisins, and cinnamon. "
"I wake up, make myself this Ezekiel wrap with almond butter, honey, and banana… and then go right back to sleep," she says.
For lunch toast (uses grass-fed butter for the spread) with scrambled eggs, red peppers, tomatoes, spinach, avocado, mushrooms, and turkey bacon.
Snacks and drinks during the days consist of sweet potato yam chips, very strong coffee, green tea, and coconut water.
At dinner time, she jams 6 ounces of ground turkey, red and green bell peppers, avocado, hemp seeds, beans, cayenne, and chili pepper. Yummy!!
Ronda Rousey Browsey Acres
Life on a farm with Travis is her happy place, Ronda once said she could be happy living in the mountain with her goats and chickens and live happily ever after.
"I could very happily be in some house in the mountains and never see anyone again, hang out with my goats and chickens," Rousey told ESPN. "It would have to be something as great as the WWE to make me this happy, to pull me away. Otherwise, no one would hear from me. I would live in the woods and be happy. That's all I really want."
And that is Browse Acres, her and Travis's  2.4 acres farm in California where they have all kinds of farm animals and grow vegetables and fruits.
Check out Browsey Acres below.
Ronda Rousey Family
Ronda Rousey was born Ronda Jean Rousey on February 1, 1987, in Riverside, California. She is the younger daughter born to Ronald Rousey and jukoda and tech executive AnnMaria de Mars. Her sisters are Jennifer Rousey, Maria Burns-Ortiz and Julia DeMars born from her mom's second marriage to Dennis De Mars, CTO and co-founder of 7 Generation Games.
RELATED STORIES: RONDA ROUSEY'S FATHER RON ROUSEY,
RONDA ROUSEY'S SISTER JULIA DE MARS
Is Ronda Rousey still married to Travis Browne?
Yes, Ronda Rousey is still married to Mixed Martial Arts fighter Travis Browne; they started. dating in August 2015, at the time Browne was still married to wife #2 Jenna Renee Webb who has accused of domestic violence that same year.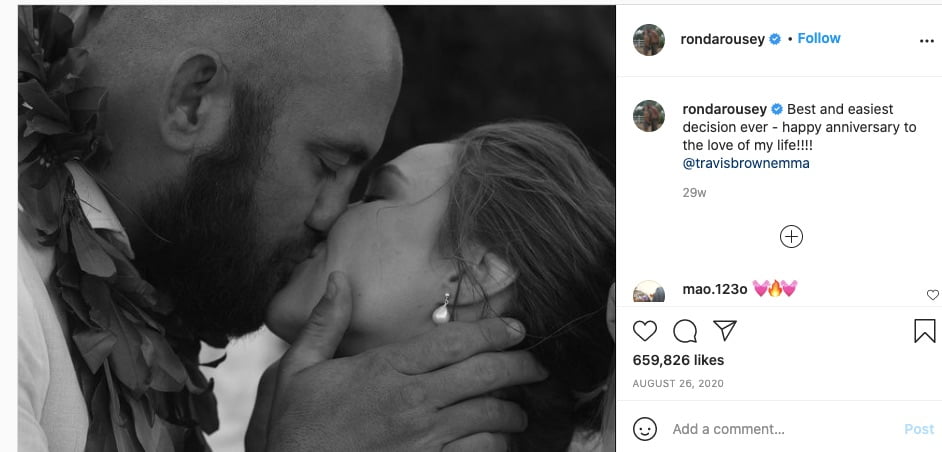 Ronda and Travis confirmed they were dating in October 2015, and announced their engagement on April 20, 2017, while they were in New Zealand. They married at Travis's home in Hawaii on August 28, 2017. First marriage for Ronda and third for Browne, Erin Browne his first wife from 2001 to 2009 and Jenna Renee Webb a fitness model from January 2015 until February 21, 2016.
Ronda Rousey Children
Ronda Rousey doesn't have any children just yet, she is stepmother to Travis's two sons Kaleo and Keawe born from his marriage to first wife Erin. Kaleo and Keawe were with Travis and Ronda at the 2018 Nickelodeon Kids' Choice Awards on July 19, at Barker Hangar.
Ronda Rousey Instagram
Ronda Rousey is pretty active on all her social media accounts, she has over 13 million followers on Instagram, 3.5 million on Twitter; you can see what she's been up to on Facebook and a more intimate look at her life on her YouTube Channel which has 1.32 million subscribers. Another interesting Instagram account that we think you'll want to check out is Ronda and Travis' Browsey Acres, their 73.500 followers get a look at their lives on their farm and their farm animals as well as their doggies.