Meri Manziel
Meri Manziel, the stunning little sister of NFL player Johnny Manziel is not so little anymore. We've got some Manziel news coming for ya, only this time it involves his sister Meri, for a change.
Meri and her now infamous brother are the only children of Paul and Michelle Manziel. The 21-year-old grew up with her brother and parents in Texas. The siblings are used to a life of luxury throug money from oil.
It was her brother who made the family famous, but it seems Meri is more than ready to take on the star torch. Meri has earned a reputation as a fashionista and by being there for her brother, we've all come to love her for being the supportive little sister.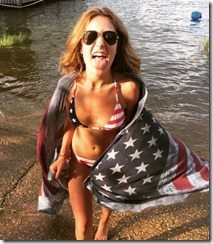 Johnny set a number of records during his collegiate career, including college football records for freshman quarterback rushing yards and total yards in a season.
He was named the Senior Athlete of the Year by The National High School Coaches Association after a standout campaign at Tivy High School.
The former star Texas A&M quarterback nicknamed Johnny Football, became the first freshman in history to win the Heisman Trophy in 2012. He was selected 22nd overall in the 2014 NFL Draft by the Cleveland Browns and he signed a 4-year, $8.25 million contract with the Browns in June 2014.
Meri's brother –also a former standout baseball player in high school –has gone on to become one of the most talked about NFL players, with fans interested in both his game and his troubled lifestyle. Her 23-year-old bro got the boot from the Cleveland Browns and was called a druggie by their own father.
Hot Meri Manziel seems to be more protective of her brother. She told Maxim, "I know who he is as a person, and I've never been concerned or worried about anything he's ever done."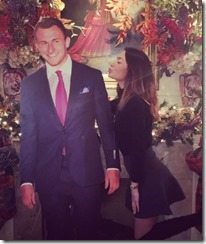 Meri definitely shines with her own light. All she needs to say is her last name and people will fall to her feat. The gal has over 16K followers on Instagram and all we can say is, life as Johnny Manziel's little sister is pretty good.
From lavish partying in Vegas to trips to the beach, the brunette has gone on to steal some of her bro's spotlight.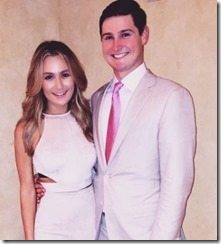 Though her bro –who she calls her best friend –has had a rough time recently, she often posts about how proud she is of the disgraced Heisman Trophy winner.
The petite brunette currently lives with her grandmother in Tyler, Texas. She is studying to get her associate degree in business. As much as we'd like to tell you she is single, the fashionista is dating her high-school sweetheart, Ty Malechek.
You can find Meri Manziel on Instagram here.