Jason Simpson
Jason Simpson is the overjoyed husband of Olympic middle-distance and steeplechase runner, Jenny Simpson. His 29-year-old wife made history at the Rio Olympics by snagging the bronze medal in the women's 1500-meter race.
It is the first time the U.S wins an Olympic medal in that event and it came courtesy of Jason's wife. Simpson placed third with a time of 4:10.53. The medal comes as the missing peace in a long list of accomplishments for Jenny.

Jason's wife was born Jenny Barringer on August 23, 1986 in Webster City, Iowa. The blonde set the American record in the 3000m steeplechase with a time of 9:12.50 and took ninth place in the event at the 2008 Olympics in Beijing. In 2011 Simpson won the Mile and 3000m championships at the USA Indoor Track and Field Championships and a surprise 1500m victory at the World Championships, with a time of 4:05.40. Simpson qualified for the 2012 Olympics by placing third in the women's 1500m.
According to her website, training hard on the trails around Boulder, CO. just doesn't cut it. Jenny's mental toughness and positive outlook are key elements to her method. That's where Jason Simpson comes in. They were truly made for each other.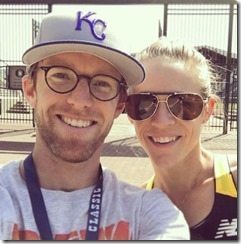 Jason Simpson has provided a great level of support and understanding for Jenny in a crazy world of professional running. He happens to be a Talented runner himself, so he is able to train with her. Can you imagine how cool it is to have a training partner at home!
According to an interview, the couple train together once or twice a week. Their long days vary from 10 to 16 miles, often on smooth trails at 7,000 feet.












Jenny has described Jason's calm demeanor as a great asset to have. Professionally, he understand the pressure of the world Jenny lives in. He posted on Facebook following his wife's triumph:
Sooo proud of Jenny Simpson. She ran as well as we possibly could hope for! It looked from where I was sitting she ran the fastest 800m of her life… at the END of the 1500 Olympic final. I'm inspired, blessed, incredibly proud and in love with her. So thankful for all the support we've been given from all over the US and the world. She always says she doesn't run to prove people wrong but to prove the people right who believe in her. Thank you all for believing! We're humbled by your encouragement and love.
Jason Simpson is a former NCAA Division II runner who's become a 2:32 marathoner. The couple tied the knot on October 2010. The couple settled in the community of Monument. According to social media info, Jason Simpson hails from Liberty, Missouri.
You can check out supportive husband, Jason Simpson on Instagram here.