Sarah Wacha
This stunning young lady is Sarah Wacha, wife of MLB player Michael Wacha; her husband is the talented pitcher for the Tampa Bay Rays. Wacha previously played for the St. Louis Cardinals.
Michael Wacha Family
Michael Wacha was born on July 1, 1991, in Iowa City, Iowa, one of four children born to Thomas Joseph Wacha and his wife Karen Wacha (nee. Siefken). Michael has two brothers Charley and Lucas and one sister, Brette.
His brother Lucas played college football at the University of Wyoming, while his sister Brette (b. May 16, 1998) played volleyball at Southern Arkansas University.
Michael Wacha Education
Michael Wacha attended Pleasant Grove High School in Texarkana, Texas, where he played under coach Craig Jones, in addition to baseball he excelled in basketball and football; Michael earned district MVP and first-team all-state honors. He later played college baseball for the Aggies at Texas A&M.
His freshman year, Michael posted a 9-2 record in 10 starts, with  97 SO, 22 BB,  2.90 ERA in 105 IP. During his sophomore year, Wacha posted a 9–4 record in 16 starts with 123 SO and just 20 BB and a 2.29 ERA in ​129 IP. The following season posted a 9-1 record with  116 SO and 20 BB and a 2.06 ERA in 113 IP.
Michael Wacha MLB
The St. Louis Cardinals selected him in the first round (19th overall) in the 2019 MLB draft. He was subsequently assigned to the Gulf Coast League Cardinals, later promoted to play with the Palm Beach Cardinals and then with the Springfield Cardinals. Wacha was finally invited to the Cardinals' spring training camp in 2013 and included in their roster on May 30, when the Cardinals played against the Kansas City Royals.
He joined the New York Mets on December 13, 2019, and with the Tampa Bay Rays on December 16, 2020.
Michael Wacha Net Worth & Salary
According to Spotrac, Michael Wacha's net worth has been estimated at $10 million. He has a $3 million annual salary, from his one-year contract with the Tampa Bay Rays. Michael signed a one-year, $3 million contract with the Mets that included $8 million in performance bonuses. He signed his first major league contract with the Cardinals worth $1.9 million on June 14, 2012.
Michael Wacha Wife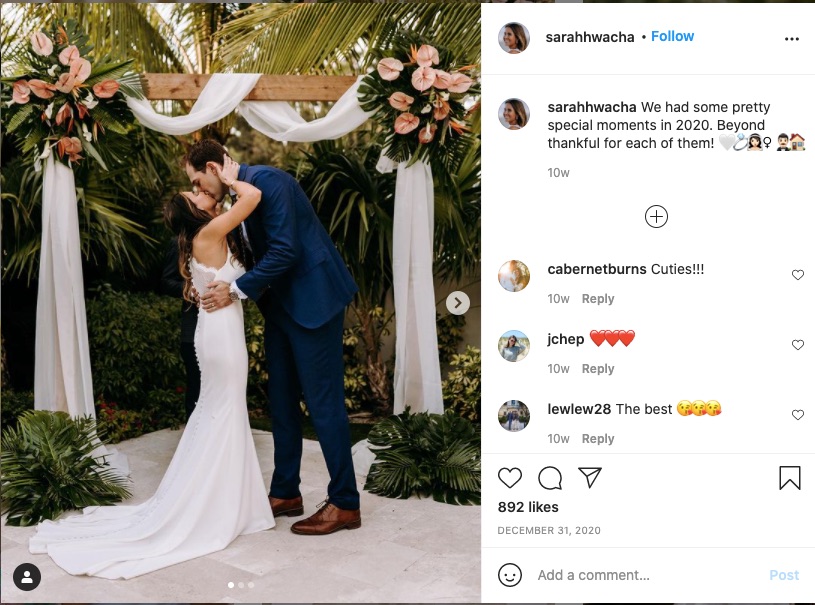 Michael Wacha's wife is Sarah Wacha, they got married in St. Louis, Missouri on November 28, 2020, in Jupiter, Florida; actually, in their backyard, they initially had planned a big wedding in St. Louis, their intimate yet beautiful wedding was officiated by her dad, Michael dad read bible verses and other friends had the opportunity to take a look at that special moment on Zoom.
"Our change of plans led to the most perfect wedding and weekend," Sarah states. "We had 15 of our closest family and friends. It was our parents, siblings and their significant others, my very best friend since preschool and Michael's nephews. We really wanted our grandparents to be there, but it was too risky with COVID."
"The wedding ended up being everything we could have asked for and more. It could not have been more different than what we originally planned on doing (probably around 300 people at a country club in St. Louis) but it was so US (low-key, intimate, with our favorite people on Earth minus a few, of course). There was no pressure. We actually got to talk to our parents, talk to each other. It was perfect."
Sarah Wacha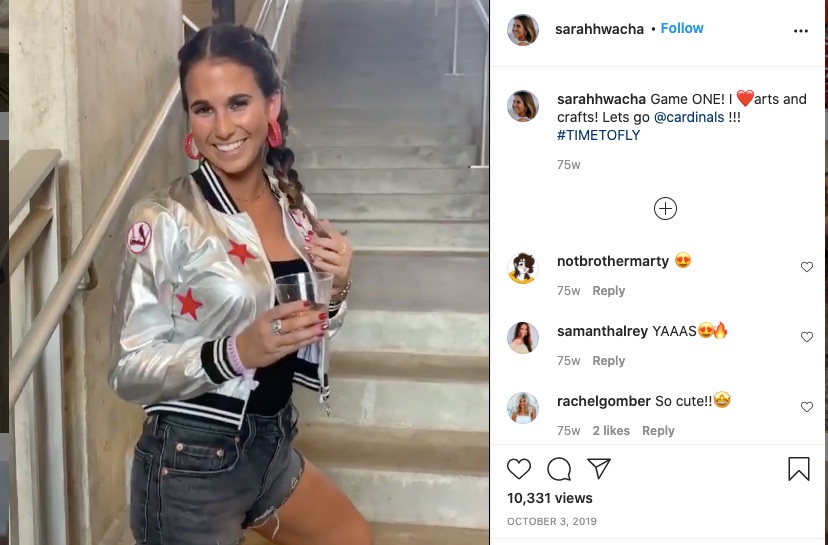 Sarah Wacha is formerly known as Sarah Hoffman is one of two children born to John and Susan Hoffman, her mom,  University of Missouri graduate has been a teacher with the Parkway School District since 1982. Sarah's twin brother Johnny Hoffman graduated from Mary Institute and S. Louis Country Day School before attended the University of Missouri.
Mrs. Wacha grew up in St. Louis, she graduated in 2015, with a degree in elementary education from the University of Arizona at Tucson School of Education, she completed 200 hours of observation in second, fourth, and sixth-grade classrooms in Tucson, Arizona, before getting a job teaching English as a Second Language (ESL) in St. Louis.
Sarah and Michael met at Hair of The Dog a bar in St. Louis, Missouri in May 2014.
He was such a gentleman when we parted ways for the night. I happened to be leaving for a cruise with my family the next day so I wasn't exactly sure what would happen. I thought it was a really fun night but definitely didn't think I had just met my husband. However, my parents bought me Wi-Fi on the cruise, and we ended up talking nonstop. The day we got back from the cruise, he left tickets for my brother and me. Michael and I went to dinner that night, and the rest is history!"
After six years of dating, Michael asked her to marry him on January 29, 2020, in Dallas. You can see more of the lovely Sarah Wacha on Instagram