Michelle Beadle
Michelle Beadle, the lovely blonde whom you know as a sports reporter on ESPN, is being dropped from NBA Countdown.
Beadle who nearly a year ago, was also taken off ESPN's morning show, "Get Up!" -is being replace by new talent, Rachel Nichols and Maria Taylor.
Earlier this year, reports surfaced saying ESPN was in a bind with Beadle, who has several years and double-digit millions of dollars left on her contract, but had ceased being a capable leader for ESPN's flagship NBA program.
Michelle Denise Beadle was born October 23, 1975 in Italy; to Bob Beadle and Serenely Paladino; however she and her two younger siblings were raised in Texas.
Michell began her college career at the University of Texas-Austin. After taking time off from school, she received her undergraduate degree from the University of Texas at San Antonio.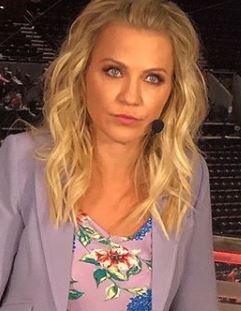 She and Colin Cowherd co-hosted SportsNation, an ESPN2 program that premiered in 2009. She made an appearance in the 2015 movie Sharknado 3: Oh No! She also hosted Winners Bracket on ESPN from 2010 to 2012, and has had her own podcast.
The lovely TV host and sports reporter hosted The Crossover with Michelle Beadle, a 2013 NBC Sports Network program. In addition, she and Marcellus Wiley co-hosted the ABC/ESPN sports program, Winners Bracket.
The 43-year-old had been in a relationship with Steve Kazee however, we all know how their relationship ended. The two dated for several years before splitting in late 2016. Kazee is now dating Jenna Dewan.
Since her breakup with Kazee Michelle who is pretty active on social media, seems to be enjoying the single life. By taking a quick glance at her Instagram its safe to say she prefers enjoying her quality time with family in the absence of a boyfriend. In addition, she filled her Twitter continuously with the perks of singlehood.
Find Michelle Beadle on Instagram here.