Meet Brittany Westwood
Brittany Westwood is the lovely girlfriend of MLB player, Tyler Clippard. Her 30-year-old boyfriend is currently a pitcher for the Mets, so you know what that means? World Series in on for the night for pretty Brittany Westwood.
Tyler who is in his 8th year, has come a long way. He debuted in major league while pitching for the Yankees against the Mets on May 20, 2007, at Shea Stadium.Clippard originally was drafted by the Yankees in the ninth round in 2003. He spent one season in the Bronx before getting traded to the Washington Nationalson Dec. 4, 2007.
He joined the Mets last July in a trade with the Oakland Athletics. Clippard said he is grateful to have served as Oakland's closer during his half-season there. He went 1-3 with a 2.79 ERA and had 17 saves.
But let's get to the fun part.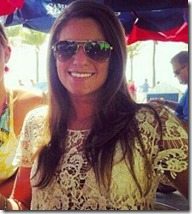 Brittany Westwood is one of those wags who just seems like a really, really nice girl. She has a degree, a decent job, and just appears to be she could be your very best friend, heck! You could even ask her for a cup a sugar and she would give you two instead! So that's what we think, but here are some true facts about her.
According to her LinkedIn page, Brittany Westwood is a clinical pharmacist. She has been working in a hospital for a little over a year. She currently works at St. Joseph's Hospital.
Pretty Westwood was previously a resident at St. Joseph's where she conducted pharmacological research.Brittany Westwood attended University of Florida from 2007 – 2009, she gained a Associate's Degree, Pre . From 2009 – 2013 she studied for her Doctor of (PharmD) graduating Magna Laude. According to her Facebook page, she is originally from Tarpon Springs Florida.
According to PlayersWives.com the couple are said to have been together for quite some time, though it is not clear exactly how long. Can you hear wedding bells for these two?
Thought they both have active social media accounts, it appears they are quite hush hush about their relationship. Clippard seems to be a fan of Twitter, sharing personal things as well as Mets-related tweets. However is he not that big on sharing about romantic stuff.
We wish these two the best!