Meet Eleanor Duda
Eleanor Duda is the lovely mom of MLB player, Lucas Duda. It's a good time to be somehow related to a Mets player, so who better to tell you about than the mother of one of the baseballers defending the Mets in the fall classic –starting  tonight!
Eleanor Duda 62, is without a doubt a proud momma. Her 29-year-old son made his MLB debut in 2010. Lucas Duda, who's family hails from California, attended the University of Southern California (USC) and played college baseball for the USC Trojans.
Eleanor's son was selected by the New York Mets in the seventh round (243rd overall) out of the University of Southern California in the 2007 First-Year Player Draft.
We all know Lucas Duda is a reserved person, a private guy. He is not interested in fame, it appears he's not a fan of social media either. That makes it quite hard to know accurately if he is currently dating, but we assume he isn't. However, there is one constant in his life, his family.
As far as we know, Eleanor Duda and her husband, David Duda are still together. They live in Riverside, California.
Records online show Eleanor Duda worked as a Special Education Assistant at Frank Augustus Miller Middle School. She is also related to William Duda, Justin Duda and Mark Duda. Eleanor's husband worked at an engineering firm.
Lucas is Eleanor's and David's youngest child.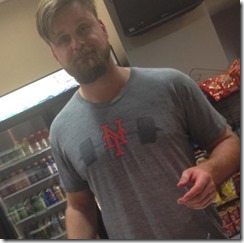 According to a 2012 article, Lucas didn't say much when at the age 4, he would stay next to his father to watch a game. But he was focused. He became interested in the sport as his older brother played. He got his chance growing up and never looked back. His father reveals, Lucas even declined relatives invitations to go skiing or ride motorcycles.
His father coached him early in his baseball career. He preached balance: Enjoy the game. Respect the game. Understand that the game can confound you.
2015 has been a huge year for Duda. He had his seventh multi-homer game of the season, when he hit two in a Mets loss. Will he manage to do it again? Maybe tonight?!