Monica Culpepper
Monica Culpepper is the proud wife of former NFL player turned lawyer, and reality TV contestant, Brad Culpepper. Together they appeared on the 27th season of Survivor Blood and Water; Brad also participated in the 34th season of  Survivor Game Changers.
Brad Culpepper Family
Monica's husband was born John Broward Culpepper on born May 8, 1969. The Florida native is the son of Philip Bruce Culpepper. and his wife Pep Culpepper. His father an attorney with over  45years of trial experience. graduated in 1963 from the University of Florida and in 1965, received his J.D. from the University of Florida Levin College of Law. He also was the president of the Gator Boosters and captain of the University Football Team.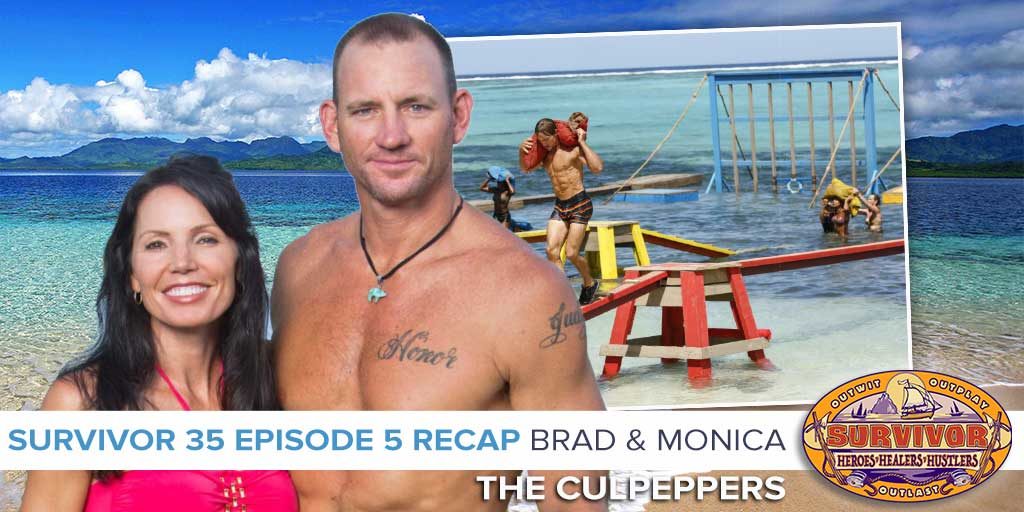 Brad's uncle play fullback for the Florida Gators and his grandfather John Broward Culpepper was the Director of the Florida Board of Control, became the first Chancellor of the State University System of Florida in 1954.
Brad Culpepper NFL Career
6'1 Brad started playing football at a young age, continue to play while he attended Leon High School and later at the University of Florida, where in 2001 was inducted into the University of Florida Athletic Hall of Fame as a "Gator Great." As a defensive tackle with the Gators, Brad was named into the First-teal All-Sec and Consensus All-American in 1991 and the recipient of the Drafddy Trophy, he recorded  227 tackles, 18 Quarterbacks sacks, 47.5 Tackles for Loss, 5 fumbles recoveries. 5 forced fumbles, and 4 four pass breakups.
The Minnesota Vikings selected him in the tenth round (264th overall) in the 1992 NFL Draft. He joined the Tampa Bay Buccaneers in 1995 and the Chicago Bears in 2000; finished his playing career with 316 tackles, 34, sacks, six forced fumbles in 131 games, 83 in which he started.
Brad Culpepper Law Firm
Brad had an impressive NFL career, and his experience as a law attorney is very remarkable, his clients had just the best things to say about his work. Culpepper graduated with a bachelor's degree in 1991, from the University of Florida in Gainsville. He subsequently received his Juris Doctor from the University of Florida College of Law in 2001, with honor we must add; that same year, he obtained a master's in sports administration from UF. Brad is a member of the Florida Bar since 2002. He was named Florida Trends Legal Elite in 2011, 2012, and 2013.
Something we all look for when looking for a service is other people's reviews, we found some that you'll find helpful.
Culpepper and Kurland hard work with my case was exceptional. Their staff served my best interest and advised with respect and professionalism. Ms. Angie definitely made this entire process less stressful by always being available to me. If you're looking for a great team, contact this office you will not regret it.
This is the best Law Firm in Tampa Bay. My family has used them a total of three times. They are very professional and caring individuals. Ms. Angie and Ms Bernice is the best!!! They will answer all of your questions and make sure that you understand. We have been satisfied with each outcome. Thank Culpepper and Kurland for all of your hard work. I would definitely recommend this firm to everyone.
Excellent service and results. All of the lawyers on TV talk smack about these guys b/c they don't take their cases to court…think about it…if we wanted to go to court Culpepper Kurland would gladly do it, but there is no need with the results they offer. And they don't need cheesy commercials with dogs taking vacations or owning cars to tell you how good they are. I would recommend Culpepper Kurland to all of my friends.
They are a great firm of Warriors Aggressive and Honorable enough said.
Son excelentes abogados, se los recomiendo, muchas gracias, una experiencia de 5 estrellas, muchas gracias Bernis.
Culpepper and Kurland
In March 2007, after 5 years of working at Morgan & Morgan, P.A., Brad opened up his own law firm, Culpepper Kurland, in Tampa, along with former the University of South Carolina athlete Brett Kurkland who is married to Brad's sister Blair. Brad's dad Bruce Culpepper joined the firm later on.
Brad and Brett Kurland founded their firm after gaining a wide variety of experiences. According to the website, they formed Culpepper Kurland to be able to deliver the personalized attention and precise legal services they firmly believe their clients deserve. They specialize in auto accidents, personal injury, and premises liability.
Imagine you are driving along minding your own business when a semi hits a median after crossing three lanes of traffic, blocking your lane. Unable to stop in time, you strike the truck's cab with your much smaller vehicle. We don't have to imagine that scenario because one of our clients lived it. Though he was unable to walk away from the crash without injury, we were able to help him walk away from the incident with a settlement that will make things easier for him and his family. Quoted from one of their client's stories.
Culpepper and Kurkand Law Firm is located at 101 East Kennedy Boulevard Suite 2300Tampa, FL 33602, you can give them a call toll-free at 866-500-6107, their other phone number is 813-217-5647. If you want to search on social media, they are on Facebook, Twitter, and their profile on LinkedIn.
Brad Culpepper Wife
Brad Culpepper is the beautiful Mrs. Monica Culpepper, his partner in crime, mother of their three children, and soul mate. They met while they were sophomores at the University of Florida in 1990, they started dating and by 1992, they were married, just a few weeks after the Minnesota Vikings drafted Brad. They have since welcomed two sons and one daughter.
Monica Culpepper
Mrs. Culpepper is a former NFL Wag, mom, homemaker, and reality TV contestant. Monica Culpepper was born Monica Brooke Frakes on June 15, 1970. She attended the University of Florida –where she was named Homecoming Queen in 1991. Monica graduated with Honors from the University of Minnesota Physical Therapy School.
Monica is a former Survivor contestant. She was cast for the 24th season of the CBS reality television show. In 2013, for season 27th of the show, Monica and Brad participated together, Brad came in 15th place while Monica was the season's runner-up.
When asked, what was the reason she returned to the show to play with her husband, she said
I wanted the chance to redeem myself from my early exit on One World and there is no better way to do that than with the love of my life and lifelong tribe mate, Brad. He's my guy and having my "shield" out there is an adventure in itself.
Her children were not surprised when she was brave enough to eat worms and cow eyeball during the competition.
"My mom, she's just a badass," Judge Culpepper said. "… She might be tougher than my dad, and that says a lot."
She and her husband currently reside in Florida.
Brad Culpepper Children
As previously noted, Brad and his wife Monica Culpepper have three amazing and gorgeous children; in case you are curious are of the Culpwpper children all athletes. Both their sons Rex and Judge play college football, and their only daughter Honor is an outstanding basketball player. Let's meet these remarkable kiddos, who are not kids anymore but who cares.
Rex Culpepper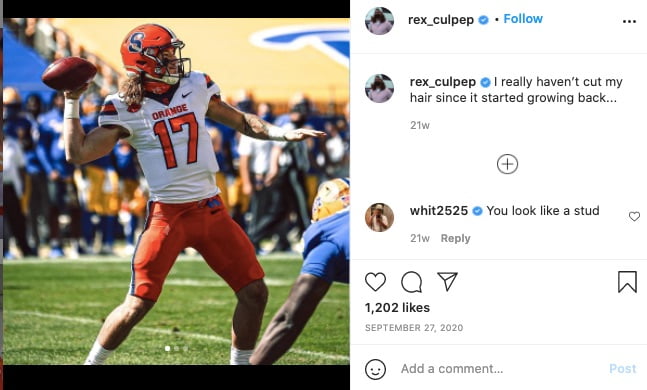 The eldest child of Brad and Monica is 6'3 Rex O. Culpepper born on August 17, 1997, in Tampa, Florida. This brave young man, was diagnosed with testicular cancer in March 2018; after undergoing four one-week rounds of chemotherapy Rex defeated cancer on June 1, 2018. He was honored with Syracuse's inaugural Jim Darin Award for courage
View this post on Instagram
Like his father Rex is a football player, a quarterback at Plant High School in Tampa later at Syracuse, eventually switched to tight end and back to quarterback his junior year. Averaged 139-for-266 for 1,546 yards and 11 touchdowns in his career. Rex Culpepper graduated from Syracuse in 2020 with an undergraduate degree in advertising and a master's degree in instructional design, development, and evaluation.
Judge Culpepper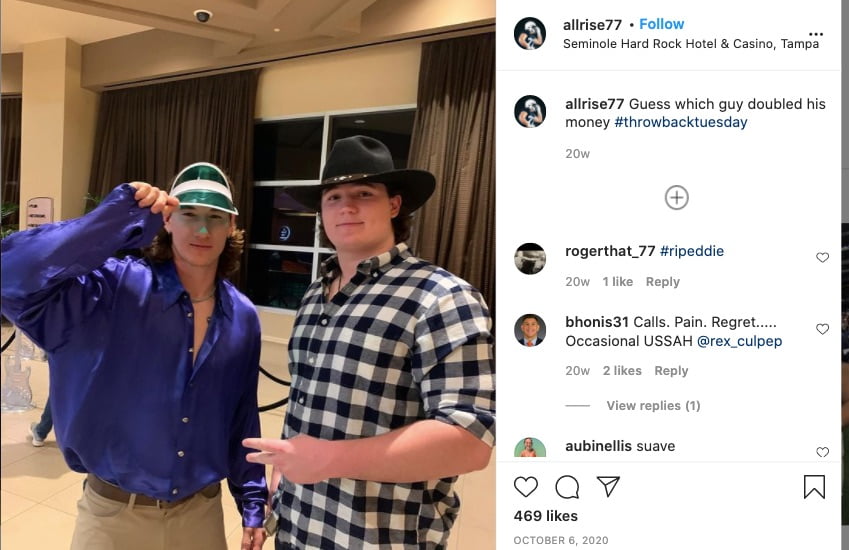 6'4 Defensive tackle Judge Broward Culpepper was born on November 24, 1999, in Tampa; Judge a Four-time letterman, two-time team captain, Tampa Bay Times All-Tampa first team as a senior in High School where he averaged 20 tackles and two touchdowns as a sophomore; 56 tackles, including 30 TFL and eight sacks his junior year; 84 tackles and 13.0 tackles for loss, including 8.0 sacks, his senior year.
Judge Culpepper later played college football at Penn State where he is pursuing a major in history.
Honor Culpepper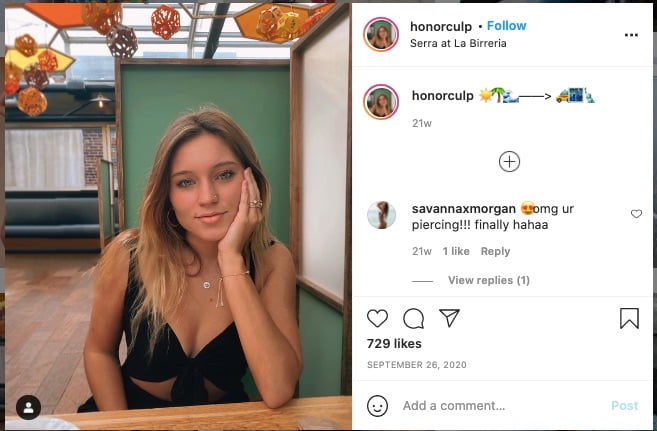 5'8 Honor Culpepper is a guard basketball player, she played at Plant High School before committing to play at New York University. Her parents named her after Honor Blackman, the British actress who played Bond girl Galore in Goldfinger along with Sean Connery in 1964.