Natalie Peverly  is the lovely and very beautiful wife of the NHL player Rich Peverley currently a player with the Dallas Stars, who recently collapsed on the bench and had to be taken to the hospital, luckily he is good shape and Natalie didn't have to worry that much more.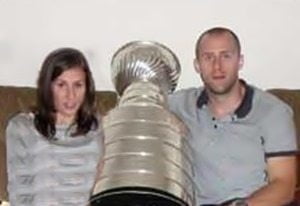 31-year-old Rich Peverley had a procedure to correct an irregular heartbeat prior to the season, it was a frightening scene for his teammates ad filmy to know that he collapsed on the bench in the first period he game against the Columbus Blue Jackets. He was brought back to the hallway where he was treated for a cardiac event, he regained consciousness and was  taken to UT Southwestern's St. Paul University Hospital. He missed last Tuesday's game in Columbus because of a problem with his heartbeat and was adjusting his medication.
It was pretty scary for his Dallas Stars teammates, can you imagine how much scarier it was for Peverly's wife Natalie? Poor girl!, She saw the  entire thing and accompanied him to the hospital, she has been by his bedside the whole time.
Lourdes Catholic High School Sadly there is much information about Peverley's wife Natalie, expect that like him she attended Lourdes Catholic High School  in Guelph, Ontario, at that time Mrs. Peverley a stunning French/ Canadian people knew her by her maiden name Natalie MacNeil; after some time she became a physical education teacher at Lourdes Catholic.
Natalie and Rich are the proud parents of their adorable 4-year-old daughter Isabella