Natalie Szczur
Natalie Szczur is the lovely MLB wife of Chicago Cubs player, Matt Szczur.
Her Cubs utility player hubby might not be on postseason roster yet, but that doesn't mean, the 27-year-old isn't being supportive and even helping his team making some great plays in order to win.
According to reports, Matt's bat served as a good luck charm for teammate Anthony Rizzo who helped the team win 10-2 in game four.
Not only that, Matt then let Addison Russell, use his underwear (leggings); as a result, in the two games since, Russell recorded five hits, including two home runs.
Matt was born Matthew Francis Szczur on July 20, 1989. Matt who hails from New Jersey, signed with the Cubs in 2011, after playing college baseball at Villanova University.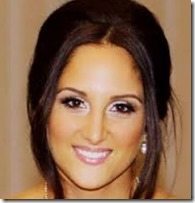 Natalie Szczur is more than a pretty face. She is a former Music Inter at VH1 and published writer. She has a journalism degree from East Carolina University. She gained her master in journalism at the New York Institute of Technology in Manhattan.
Our MLB wag in question is also the writer and author of eBook short story "Flying Lessons" published by Untreed Reads Publishing. Natalie also has experience working in TV production in NYC. Accoridng to her LinkedIn, she was employed by Wildwood Magazine in her native North Wildwood, NJ, as a writer/columnist.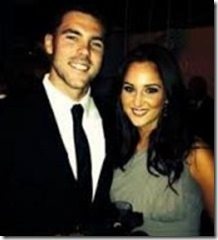 Natalie Szczur is originally from North Wildwood, New Jersey. She tied the knot to her hubby on November 21, 2014. Mrs. Szczur currently runs a personal blog called Szcz The Day.
She calls her blog 'her baby' in it, we can defenitley get a taste of the kind of supportive wife Natalie is. She begins by talking about her wedding day and her undeniable love to Matt.
She then talks about her hubby some more by sharing the story how Matt donated his bone marrow to save a baby girl. She finalizes by inviting people to take a peek into her life.
She pretty much shares her own perspective on life with her hubby.
You can find Natalie Szczur on Instagram here.