Nette Smith
Nette Smith is the pretty girlfriend of Carl Edwards Jr., not the NASCAR car driver, but the talented MLB pitcher for the Chicago Cubs. C.J is known as The String Bean Slinger.
While Edwards' life is way interesting, I bet you really want to know about his pretty girlfriend. Ms. Nette Smith? Keep reading, and don't miss their photos below.
Nette's MLB beau Carl was born on September 3, 1991 in Prosperity, South Carolina. Prior to his draft selection by the Texas Rangers ( 48th round) in 2011 MLB Draft, Edwards played at Mid-Carolina High School in his hometown and then for the Charleston Southern Buccaneers.
Carl played for several minor league teams such as the Arizona League Rangers, Spokane Indians, the Hickory Crawdads.
In July, 2013, Edwards alongside Mike Olt and Justin Grimm were traded to the Chicago Cubs. The Cubs consequently him to the Daytona Cubs where he was named MiLB pitcher of the year in 2014.
Nevertheless, on September 7, 2015 he made his major league debut with the Chicago Cubs against the St. Louis Cardinals.
With that noted, are you prepared to meet Carl Edwards Jr's gal?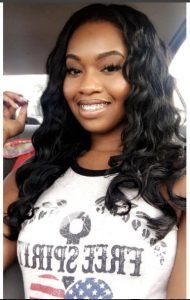 Nette Smith was born Anquinette Smith on September 27, 1991 in Newberry, South Carolina. One of the children born to U.S Army veteran Danny Lee Smith.
Nette like her old man got into the Army, she works in the Department of National Defense. Carl Edwards and his lovely fiancee Nette Smith are the proud parents of their adorable daughter Ava, born in August, 2015.