Corrie Adamson Coghlan
Corrie Adamson Coghlan is the lovely wife of MLB player, Chris Coghlan. Her Chicago player hubby will be making his way into Right Field for the Cubs in game one of the World Series against the Indians on Tuesday night.
The news comes as a surprise since Coghlan will start ahead of fellow left-handed hitter Jason Heyward and will bat seventh. Coghlan is hitless in four postseason at-bats, while Heyward is 2-for-28.
Born June 18, 1985. Chris attended East Lake High School in Tarpon Springs, Florida. He was selected by the Arizona Diamondbacks in the 18th round (546th overall) of the 2003 Major League Baseball draft, but did not sign. He opted instead to attend the University of Mississippi to play college baseball for the Ole Miss Rebels.
In 2006 he was selected by the Florida Marlins in the first round (36th overall) of the Major League Baseball draft.
Coghlan was the National League Rookie of the Year in 2009.
He first arrived to the Cubs in 2014. Earlier this year the Cubs traded him to the Oakland Athletics.
The Cubs reacquired Coghlan last June. Coghlan hit a career-high 16 home runs for the Cubs last season and had some clutch moments during the team's second-half surge. He hit just .146 for the A's before being dealt back to the Cubs for minor leaguer Arismendy Alcantara.
Mrs. Adamson Coghlan
We bet his wife, Corrie Adamson Coghlan is very proud of her man after making the Cubs lineup.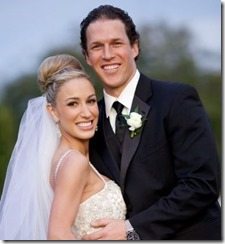 2016 has been an interesting year for the couple. Her hubby wasn't only traded twice in the same year, he also celebrated his first father's day. The couple who has been married since 2011 and decided to adopt a baby last offseason using Lifeline Children's Services. They welcomed Timothy Judge Coghlan into their home last December.
Just in case you didn't know, Corrie happens to be a former The Bachelor contestant. Corrie Adamson from Birmingham, appeared in the popular TV show in season 14.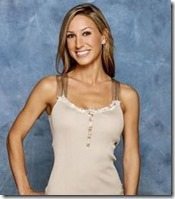 She is a professional wardrobe consultant and has strong religious beliefs. She presented herself to bachelor Jake Pavelka as a virgin saving herself for marriage.
Corrie has spoken openly about her TV experience saying she would absolutely do it again. Adamson did quite well in the show as she made it all the way to the final five women after Pavelka.
Corrie who is a gifted speaker speaks to parents groups and women's groups as well, sharing how her Christian parents raised her and her sisters to be so strong in their convictions. She and hubby Chris share the same beliefs. They started a blog called cogz4Christ years ago.
Corrie Adamson Coghlan grew up in Florida and attended Auburn University.
You can check her out on Facebook here.