Defensive End Derek Wolfe, played college football at the University of Cincinnati and was selected 36th overall by the Broncos in the 2012 NFL Draft.
Wolfe who grew up in the rural town of Negley, Ohio and attended Beaver Local High School in East Liverpool, is the only player in the school's history ever to be drafted by the NFL.
Wolfe lettered three times as a defensive end, outside linebacker, tight end and offensive tackle at Beaver Local High School in Lisbon, Ohio, where he finished his prep career with 205 tackles. He collected 78 tackles and seven sacks as a senior in 2007 to earn Division III All-Ohio, All-Ohio Valley Athletic Conference, All- Eastern District and All-Ohio Valley Class AAAA first-team honors. He competed on the school's powerlifting team and qualified for the state finals as a junior and senior.
Derek majored in criminal justice at Cincinnati and was named to the Big East Academic Honor Roll as a senior.
While in college, Wolfe played 45 career games, starting his final 38 contests and totaling 161 tackles (89 solo), 19.5 sacks (126 yds.), two passes defensed, three forced fumbles and three fumble recoveries.
He finished fourth on the school's all-time sack list. Wolfe was named Big East Conference co-Defensive Player of the Year and a second-team All-America selection after totaling 70 tackles (37 solo), 9.5 sacks (66 yds.), two forced fumbles and one fumble recovery as a senior. He ranked fifth in the nation with 21.5 tackles for a loss—a total that represented the fourth-most in school history and the most by a Football Bowl Subdivision defensive tackle in 2011.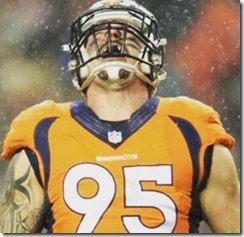 In 2012, Wolfe opened all 16 regular-season games as well as Denver's postseason contest to join Barney Chavous (1973) as the only defensive linemen in Broncos history to start every game as a rookie. The following year, Wolfe started the first 11 games for Denver and placed on injured reserve. In 2014 he started all 16 regular-season games for the second time in his career.
Wolfe is the founder of the Wolfe Pack Foundation, that aims to tackle underprivileged and at risk youth disadvantages in CO and OH one project at a time. Derek himself suffered abuse as a kid, he grew up with an alcoholic mother and a stepfather that beat him. At 15 he emancipated and moved with the family of his best friend.
You can find Derek, who appears to be single, on Instagram here.