Brittany Burns
Brittany Burns was the girlfriend of former Clemson football player Tony Steward who is currently a linebacker for the Buffalo Bills. Brittany Burns was diagnosed with a rare form of ovarian cancer last December, they got engaged a few days later, sadly Brittany has lost her battle with cancer at the age of 26.
Brittany Burns' boyfriend/ fiancé was born in Hastings, Florida on September 19, 1992. He attended Pedro Menendez High School and Clemson University from where he graduated with a degree in parks, recreation & tourism management. Steward was selected by the Bullalo Bills with the 188 overall in the 6th round of the 2015 NFL Draft.
Read: Damar Hamlin Mother Nina Hamlin 
Tony Steward met his lovely and brave girlfriend Brittany Burn at Clemson University where both where star athletes. Brittany was born on October 3rd, 1989 in Davidson, North Carolina. She attended at North Macklenburg High School where she was captain of the swimming team. Ms. Burns attended Clemson University and joined the rowing team.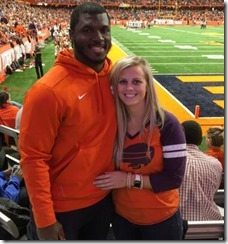 Pin
According to Brittany Burns' biography at Clemson, she rowed with the second Novice 8+ her freshman year, she stroked the Third Varsity 8+ in win over Eastern Michigan's Third Varsity 8+, rowed in the stroke seat of the Second Varsity 4+ that finished third at Clemson Sprints during her junior year and rowed the bow seat in the 4th Varsity 8 that finished 32nd in the Head of the Hooch 8+ Championship division and finished 15th in the 8+ Open division during the fall season during her senior year. Brittany graduated from Clemson in 2010.
Read: Dawson Knox Mother Rachel Knox
Just weeks ago, Tony proposed to Brittany Burns. She posted the photo of the moment when the NFL player is down on one knee, adding: "This is our forever! I love you with my whole heart for my whole life@tony_thetiger7! ∞"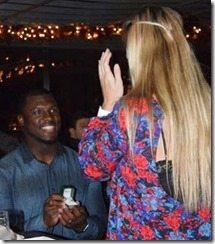 Pin
According to her LinkedIn, the blonde graduated from Clemson University with a Parks, Recreation and Tourism Management degree.
She worked as an Intern in Development at Duke Children's Hospital and Health Center in Durham, North Carolina for seven-months. In 2013 she landed a job at Extended Stay Hotels in the Charlotte, North Carolina Area, as a Business Development Specialist. Most recently she worked, as a Public Relations Coordinator for Elite Integrated Therapy Centers.
After Brittany Burns was diagnosed she and Tony began an organization to help other women facing a similar situation. The couple's campaign was named Fight like a Girl and could become a fully functioning charity organization.
Tony who has yet to comment, last posted to Instagram weeks ago, a picture of him with Brittany. He added to the picture of the couple:
Without a doubt one of if not the strongest, bravest, big hearted women I know. I'm lucky to have her as my life partner. Stay strong @bburnskeep #fightinglikeagirl and you will beat this with no problem. I love you so much and can't wait to be with you next week.
We send our condolences to Tony and the rest of Brittany's family and friends.