Nichole Thomas
Nichole Thomas is the lovely wife of former NBA player Etan Thomas. Her hubby spent over 10 seasons in the NBA and is now a published author and speaker.
Etan who spent the majority of his career with the Washington Wizards and is known as the "The Activist Athlete" caught the attention of media outlets after he posted to his Facebook page, a story of how a white woman refuse to share his seat with him while riding the train.
Now, 21st century and all, he told a young white woman, lied to him and said the seat was already taken after Thomas 'politely' asked her if he could take it. Thomas said in his post, he found a seat and not even two minutes later a white male approached the lady with the same request, her response this time? "why sure let me move my stuff."
Thomas played at Syracuse from 1996 to 2000. He is the school's all-time leading shot-blocker with 424. He also scored 1,340 career points. The No. 12 pick in the 2000 NBA draft, Thomas spent 11 seasons in the NBA. According to his website, Thomas was born in Harlem, New York and raised in Tulsa, Oklahoma, Thomas' childhood was surrounded by books on the civil rights movement, politics and the 1960′s. He was greatly influenced by his mother, Deborah Thomas, a schoolteacher, who instilled in her two sons to think critically and use their platform to make a difference.
The former Syracuse University basketball player who graduated with a degree in business management, published "Fatherhood: Rising to the Ultimate Challenge" in 2012. The book offered Thomas' take on the challenges that fatherhood presents, including stereotypes, anger and finding joy with one's children.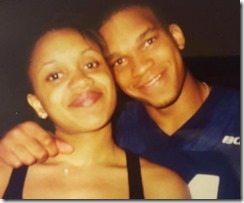 In 2104, in a series of panel discussions across the country, Thomas taked about societal issues, especially ones relating to family and fatherhood.
Thomas has been married to pretty Nichole Thomas for several years, and together are the proud parents of three children, two daughters and a son. ready to know more about Nichole?
Nichole Thomas was born Nichole Oliver, the couple met while attending college and she also happens to be into the sport which made her hubby a famous figure. Nicole Thomas is a former SU women's basketball player.
Nichole Thomas is the Founder and CEO, Virtuous Living.
According to her LinkedIn, she describes herself as a wife, mother, speaker and wellness chef. She holds a Bachelor of Arts (B.A.), International Relations and Affairs from Syracuse University and also attended the Institute for Integrative Nutrition and is an International Certified Health Coach, Integrative Nutrition.
Prior to arriving at Syracuse Nichole Thomas did some modeling and acting. Shortly before her senior year, Nichole underwent her third knee surgery and was told to give up basketball if she wanted to walk without a cane and play with her kids later in life.
You can find lovely Nichole Thomas on Facebook here.