Nicole Banks
Nicole Banks is the lovely girlfriend of professional baseball player, Yoan Moncada. Nicole must be super excited as her MLB stud gets close to make his major league debut.
Nicole's MLB beau is a Cuban professional baseball second baseman for the Chicago White Sox of Major League Baseball. Moncada left Cuba in June 2014 with permission of the Cuban government to pursue a career in Major League Baseball (MLB).
He previously played with the Boston Red Sox before being traded to the White Sox last December. His girlfriend and baby mama Nicole Banks has been key in his career. Read more about her below.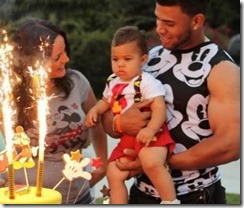 Nicole Banks who is currently a California resident, is also the mother of the couple's only son, Robinson. The boy was named in honor of Robinson Cano, who is Moncada's baseball role model.
Call it faith, or however you want, Nicole Banks actually worked as a player agent with previous experience representing Cubans.
Nicole Banks-Paulino formerly worked for a California sports management agency in marketing. Due to her job, it was believed she could have been involved in assisting Moncada in his departure from Cuba.
During an interview, she acknowledged that she has helped other Cuban players in the past and has traveled to Cuba, but insisted she was not involved in Moncada's case.
Nicole Banks explained how the process worked, saying Cuban players can obtain legal means of arriving in Guatemala by getting
get a " 'Carta de invitación' is basically that someone in Guatemala sent them tourist visas and they left Cuba with that," "The person who sent the visa was responsible for their expenses, etc.
According to ESPN, she is also listed as a managing partner in Baseball Divas, LLC., a Florida corporation.
She is also a lot older than Yoan, 12-years to be exact. Yoan was born May 27, 1995 which makes him 21, while Nicole was listed as a 31-year-old two years ago; that would make her 33-years-old now.
Check out Nicole Banks on Facebook here.