Pat Schottenheimer
Pat Schottenheimer is the loving, caring and incredible wife of former NFL coach Marty Schottenheimer; he served as head coach for the San Diego Chargers, Washington Redskins, Kansas City Chiefs and the Cleveland Browns. Marty was more than an outstanding coach for his players. He was also a brilliant developer of coaching talent.
In other words, he gave several head coaches their first coaching jobs under him, some of these famous coaches are Mike McCarthy (Packers), Bill Cowher (Steelers), Cam Cameron (Dolphins), Wade Phillips (Saints, Broncos, Texas, Falcons, Bills, etc.) Mart is one of the greatest coaches in the history of the NFL, a tremendous teacher and a proud part of the history of an array of NFL teams.
After his retirement, coach Schottenheimer became NFL Insider for ESPN, later for NFL live and SportsCenter. On October 28, 2016, his wife Pat informed her husband was diagnosed with Alzheimer's disease five years ago.
"He's in the best of health. (but) sometimes he just doesn't remember everything," Pat, his wife of 48 years, told ESPN. "He functions extremely well, plays golf several times a week. He's got that memory lags where he'll ask you the same question three or four times.

"He remembers people and faces, and he gets out strange things that I've never heard, but he's doing well. It's going be a long road. We both know that."
Pat Schottenheimer Biography
Marty Schottenheimer's wife Pat was born Patricia A. Hoeltgen on September 22, 1943, in Boston. She is one of three children born to Elaine and Frank Hoeltgen.
Her father was an aviator for the US Air Force that served in WWII, in 1944 his plane was shot, his crew was able to escape, except for Frank who broke his leg and was captured by the Germans.
He was a prisoner in a German POW Camp until May, 1945 when the American rescued him and he reunited with Elaine and Pat in Boston.
Not long after that, they moved to Midlothian, Chicago and Pat's became the big sister of her brother Brian and then to her sister Francee.
Her father died from prostate cancer when they were still pretty;little and Elaine had to take odd jobs in order to support her children. Elaine was a remarkable woman, she didn't care if she had to work as a secretary one day and push the siren buttons at the fire Department the next day.
She would do it with a smile on her face and in the best way she possibly could, after all she was doing decent jobs, so she could put food in her children's mouth.
The hard work paid off, she got a job as a secretary at a local bank and by the time she was 40, she was named vice-president of the same bank.
Pat adore her mom, from her she learn to be independent, resourceful and most importantly how to raise a family by herself, most NFL Wags, found themselves raising their children pretty much on their own, Pat did it and she did a wonderful job.
Spring Break in Florida
She met Marty in Daytona Beach. Florida one Easter Sunday of 1965, at the time she was a twenty-one-year old senior at Millikin University in Decatur, Illinois.
Like Marty, Pat was enjoying sunny Florida beaches on Spring Break.
Late that afternoon on the beach, Marty asked Pat for the address she and her friends were staying, so he could pick her up for dinner, funny thing is that when he showed up at the house, he didn't recognized Pat, even though she was the only girl left at the house and who opened the door for him.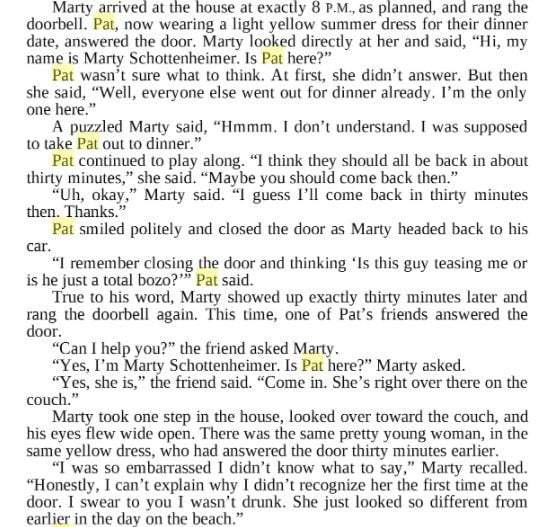 Months passed before they got to see each other again. Mary was playing his last game in college in Chicago, close to Pat, so they planned to see each other. Check out how that story went from Pat and Marty.
After college, Marty went to play for the Buffalo Bills, he planned for Pat to visit him, but there was one tiny problem, he had a girlfriend. Not only was he dating Cathy Polce, but he was also engaged to her.
He was not going to keep dating Cathy, nor was he marrying her, so he broke off the engagement. Pat didn't find out about that until years later.
Pat spent Christmas with Marty's family in Pennsylvania, that Christmas he told her that he loved her, she told him, she loved him too and things pretty much hit it off after that.
Engagement, Wedding and children
Marty and Pat got engaged after Valentine's day the following year, and on February 6, 1967 they got married. They welcomed their first child together, daughter Kristen on February 17, 1970 and their son Brian on october 16, 1973.
Brian is now married to Gemmi Weathers, mother of his two children Sutton and Savannah. Like his dad, Brian became a football coach.
Brian graduated from Blue Valley High School in Stilwell, Kansas, and the University of Kansas, he started his coaching career after that. He has worked for several NFL teams; well, certainly accept the Raiders, and you Chiefs fans know well why that is.
In 1987 Brian Schottenheimer first worked as an assistant coach with the St. Louis Rams, then the Kansas City Chiefs, Syracuse Orange, and the USC Trojans.
Was an assistant under his father, while he was head coach for the Kansas City Chiefs, Washington Redskins, and San Diego Chargers.
He was the quarterback coach for the New York Jets when defeated the Chargers, a game that had special meaning to Pat and her family.
The Chargers did wrong and fired Marty. Some people commented that by doing so San Diego simply put a curse on themselves. Pet's hubby was fired after a 14-2 seasons. AJ Smith (then the changers GM) got what he deserved for firing him; Brian and the Jets worked to ensure of that!
Kristen, their incredible daughter, dreamed of becoming the first NFL coach when she was growing up, she understood football just like or even better than the guys.
She was a graduate of Miami University, worked in marketing for Wells Fargo and is a Crossfit athlete in North Carolina.