23-year-old Missouri quarterback, Matthew Richard Mauk, better known as Maty Mauk, has been indefinitely suspended by Missouri.
A video of the Tigers quarterback allegedly snorting a white powder has surfaced and while college authorities investigate, the program has decided to punish him with the indefinite suspension.
This is  not something new for the potential NFL player, who's off the field programs has gotten him a bit of bad boy reputation.This would be Mauk's third suspension in the last four months.
Missouri suspended Mauk after just four games last year for a violation of team rules. At the time, the team suspended him for the Tigers' game against South Carolina on Oct. 3 and expected to re-evaluate his status, but he never played another down in 2015.
The team reinstated Mauk on Oct. 25, during its bye week, and Pinkel did not comment on the signal-caller's status. On Nov. 1, Missouri suspended Mauk again for the remainder of the campaign for disciplinary reasons.
Mauk posted 654 passing yards and six touchdown throws against four interceptions in those four games following an impressive 2014 campaign in which he threw for 2,648 yards and accounted for 27 touchdowns.
Mauk –whos also been described as the next Johnny football –has also been in trouble with the law. In 2013, the then 20-year-old was arrested on suspicion of four charges including leaving the scene of an accident after a scooter mishap. Campus police said Mauk made contact with two vehicles on his scooter with two female passengers onboard, then refused to pull over and ran a stop sign.
He was transported to Boone County Jail where he posted $1,000 bond.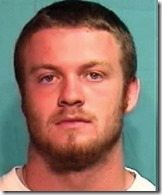 Mauk had a record-setting high school career in his native Kenton, Ohio. Mauk chose Mizzou over Michigan, Notre Dame, Illinois, Vanderbilt and Cincinnati, among many others.
The son of Mike & Gwyn Mauk, has an older brother Ben, –who was a standout quarterback at Cincinnati.
The recent video posted on Monday night to Twitter, shows a male appearing to snort a white powder-like substance and the accompanying tweet mentions Mauk by name:
Matty Mauk missing the line, just like he misses his receivers.#Mizzou#Rocktober#MattyIce@TMAFanpage@TMASTLpic.twitter.com/cAUbMqfkT8

— Ray King (@Ray56King) January 26, 2016
It is not exactly clear whether Mauk is currently dating or not, but to be his on that video, someone is sure bound to be a little disappointed with him.