Meet Candice Johnson
Candice Johnson is the wife of former NFL QB, Vince Young. Candice Johnson or Mrs. Young, must not be very happy about her husband's latest arrest! According to reports, her 32-year-old ,man was arrested for DUI late on Sunday and remained locked up Monday morning.
Austin police say they arrested Longhorn football legend Vince Young during a traffic stop on the Interstate 35 service road.
TMZ reports, Police also described Young as being uncooperative once officers pulled him over. He refused to take a breathalyzer. His bail was set at $2,000. He was charged on a misdemeanor of driving while intoxicated.
As a quarterback at UT, he led the Longhorns to victory over University of Southern California in the 2006 Rose Bowl. He later went on to play in the NFL for six seasons.
The college standout rose to stardom on the back of a scintillating performance when the Texas Longhorns beat vaunted USC in the 2006 Rose Bowl and won the national title.
He received one of the largest rookie contracts in NFL history after being drafted in 2006 by the Titans. The $26million in guaranteed money was the highest of that year's draft class, and he rewarded the team by winning rookie of the year.
It all went downhill from there, including a widely publicized 2008 disappearance during which he left home without his cell phone and police searched for him. He eventually turned up at the Titans team facility.
His Titans contract was not renewed after it expired, and Mr Young went from starter to bench warmer as Donovan McNabb's backup in Philadelphia.
His career free fall continued after he signed contracts with both the Buffalo Bills in 2012 and the Green Bay Packers in 2013 but failed to make either squad. He announced his retirement in 2014.
Young now serves as a diversity and community engagement officer in the Division of Diversity and Community Engagement at the University of Texas at Austin and helps raising money to support the division's many educational programs, according to school officials.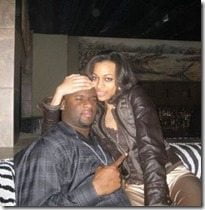 There is probably no one who knows Young as his lovely wife, Candice Johnson. She has been with him since before the fame. The two are high school sweethearts but they didn't marry until four-years-ago.
Candice Johnson also attended the University of Texas. She gave birth to their firs child, a son named Jordan in 2010.
It took two more years for the couple to finally walked the isle. In 2012 they became husband and wife, though their relationship has always seemed strong, many doubted if they would make it to the altar.
Candice Johnson and her man are always seen gracing the red carpets of sporting events. Like in the past, we are sure she'll be there supporting her hubby and baby daddy.