Rachida Brakni
Rachida Brakni is the lovely actress wife of former football star turned actor, Eric Cantona.
Rachida's hubby was born Eric Daniel Pierre Cantona on May 24, 1966, in Marseille,France. Her man is best known for his temperamental style play and for his success while playing with Manchester United.
Eric's career started with the small French side Auxerre, and from there he moved on to first division team Marseille for a fee of £2.3 million.
He then was asked to play once again for Les Bleus. Not long after all this, Eric was loaned to Bordeaux, but he moved on to Montpeiller,where he had one of his best seasons, helping the club win the French Cup.
The following year he returned to Marseille, however injuries kept him sidelined, and once again he found himself at another club, this time Nimes.
Following a series of on the field issues, Cantona decided to retire early from the game that he loved. Retirement didn't last long as Eric was convinced to come out of retirement and move to England. Refusing a tryout with Sheffield Wednesday FC, he joined Leeds, and in his second year with the team helped them win the league title.
He then moved on to Manchester United. He helped lead Man United to championship after championship. But his retirement in 96-97 surprised everyone. Many people felt he could have played many more years. In 2001 he was voted Manchester United's player of the century, and to this day United fans refer to him as "King Eric".
He then embarked on an acting career, starring in movies such as Elizabeth and is is currently playing/managing the French National Beach Soccer team.
Rachida's hubby is widely known for his on the field antics. His temper led him to get involved in a series of problems including being called before the French Football Association for throwing a ball at a referee during a match. Getting banned several times from football, also while with Man United that he made his biggest mistake – the legendary "Kung Fu" kick.
In a 1995 game against Crystal Palace, Eric ran into the stands and kicked a fan for shouting racial slurs at him.
Despite all of the drama, the footballer is considered to have inspired Manchester United's revival in the 90s.
Rachida Brakni was born February 15, 1977 in Paris, France. The 39-year-old actress is Cantona's second wife. Her hubby was previously married to Isabelle Ferrer. The marriage last 16 years and produced two children, Raphael and Josephine.
Rachida and Cantona tied the knot in 2007 after meeting in 2002, on the film set of Outremangeur. The couple also have two children together. Rachida Brakni gave birth to their first child, Émir in 2009 and the couple welcomed second child, Selma in 2013.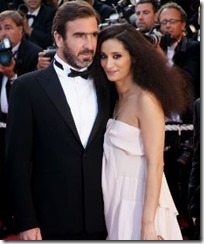 Rachida Brakni is a well known actress in her native France. She has done a number of films. Brakni went to college to become a lawyer however her passion for acting eventually got her to study, from 1996 to 1998 in the studio of Jean-Louis Martin-Barbaz. She then entered the National Conservatory of Dramatic Art where she took classes Jacques Lassalle and Catherine Hiegel .
She made her film debut, appearing in 1997 in a coffee color of Henri Duparc
She received a César Award for Most Promising Actress for her performance in the 2001 film Chaos. She also appeared on Like a plane. Thereafter, she took roles in more sensitive films like the comedy Do not quit! ( 2004) by Arthur Joffé and drama the sleeping Child (2005) and Barakat! (2006).
Rachida Brakni opens to a more mainstream cinema by illustrating two feature films in the teen world – Skate or Die (2008) and Neuilly his mother (2009) – and by playing the card of the action with the thrillers of espionage Secret Défense (2008) and An affair of state (2009).
Rachida and her husband have also collaborated together in a number of projects. Last year, the former Manchester United star and Brakni turned heads in France after posing for a feature in Elle magazine.