Raheem Mostert Wife
Have you met Devon Mostert? She is the stunning wife of NFL player Raheem Mostert, the 5'11" running back for the Miami Dolphins who also played college football at Purdue.
Raheem Mostert High School Career
Mostert, a high school football and track & field athlete from New Smyrna Beach, Florida, was a notable performer in both sports. As a senior, he scored multiple touchdowns, made numerous receptions, and recorded 81 tackles. He was named MVP at the 2010 Central Florida All-Star Game. Furthermore, as a track athlete, he excelled in sprinting, hurdling, and jumping, winning several titles.
In college, Mostert joined the Purdue track team and was recognized as one of the fastest players in the NCAA. He won multiple events at the 2014 Big Ten Indoor Track and Field Championships and qualified for multiple events at the 2014 NCAA Outdoor Track and Field Championships.
On January 14, 2011, Mostert committed to Purdue University, choosing it over football scholarships from several other universities.
Raheem Mostert College Career
Mostert played college football at Purdue from 2011 to 2014, where he made a significant impact as a kick returner and running back. In his first season, he broke the school record by averaging 33.5 yards per return, which included a 99-yard touchdown return in the 2011 Little Caesars Pizza Bowl. His standout performances earned him the title of Big Ten Freshman of the Week, a first for a Purdue freshman since Rob Henry in 2010.
In the 2012 season, Mostert was named to the preseason Jet Award watch list, recognizing top return specialists in NCAA. He also served as a team captain and finished the season with 85 yards and a touchdown on 16 carries, alongside 463 yards on 18 kick returns.
In the 2013 season, Mostert had 11 carries for 37 yards and 11 kick returns for 258 yards, scoring a 100-yard touchdown against Penn State. His role expanded in his final season in 2014, where he tallied 529 yards and three touchdowns on 93 carries, and 731 yards on 34 kick returns. Overall, his 837 kickoff return yards in his freshman year rank second-best in Purdue's history for a single season.
Raheem Moster NFL Career
Raheem Mostert Philadelphia Eagles
Mostert joined the Philadelphia Eagles as an undrafted free agent following the 2015 NFL Draft.
He had an impressive preseason, leading the NFL in yards from the line of scrimmage with a total of 351 yards (157 rushing yards and 191 receiving yards).
In addition to his offensive contributions, Mostert also returned five kicks for 162 yards.
Despite his preseason success, Mostert was cut on September 4, 2015, as the Eagles trimmed their roster to 53 players.
However, Mostert was signed to the Eagles' practice squad just two days later.
Raheem Mostert Miami Dolphins
On September 14, 2015, Mostert was signed by the Miami Dolphins from the Eagles' practice squad. He made two kick returns for 57 yards during his time with the Dolphins.
Mostert was released by the Dolphins on October 13, 2015, with the intention of moving him to the practice squad.
Raheem Mostert Baltimore Ravens
The Baltimore Ravens signed Mostert on October 14, 2015, after a season-ending injury to their third-string running back, Lorenzo Taliaferro. Mostert returned five kicks for 164 yards in seven games with the Ravens.
On December 15, 2015, the Ravens released Mostert with the hope of placing him on their practice squad. However, he was claimed off waivers by the Cleveland Browns.
Raheem Mostert Cleveland Browns
Mostert served as the starting kick returner for the Browns' final three games of the season, returning 12 kicks for 309 yards.
He signed a one-year tender offer with the Browns on March 7, 2016, but was waived on September 4, 2016.
Raheem Mostert New York Jets
Mostert briefly joined the New York Jets' practice squad on September 6, 2016, but was released six days later.
Raheem Mostert Chicago Bears
Mostert was signed to the Chicago Bears' practice squad on September 13, 2016, and was promoted to the active roster on September 21. He played in two games with the Bears in the 2016 season.
After being released on October 3, 2016, and re-signed to the practice squad the next day, Mostert was finally released by the Bears on November 24, 2016.
Raheem Mostert San Francisco 49ers
Mostert joined the 49ers' practice squad on November 28, 2016, and was promoted to the active roster on December 31, 2016. He played in the season finale against the Seattle Seahawks.
In 2016, Mostert finished with 68 return yards and a six-yard carry.
On March 15, 2019, Mostert signed a three-year contract extension with the 49ers.
During the 2019 season, he had notable performances against the Bengals, Panthers, Packers, Ravens, Saints, Falcons, Rams, and Seahawks. He ended the season with 137 carries for 772 yards and eight touchdowns, plus 14 receptions for 180 yards and two touchdowns.
In the 2019 postseason, Mostert rushed 12 times for 58 yards against the Vikings, set a franchise postseason record with 220 rushing yards and four touchdowns against the Packers, and had 58 rushing yards and a touchdown in Super Bowl LIV against the Chiefs.
On July 8, 2020, Mostert requested a trade from the 49ers, but rescinded his request after securing a restructured contract on July 27.
In the 2020 season, he had notable performances against the Cardinals and Jets, but was placed on injured reserve twice due to a high ankle sprain. He ended the season with 104 carries for 521 yards and two touchdowns, plus 16 receptions for 156 yards and a touchdown.
In the 2021 season opener against the Lions, Mostert suffered a significant knee injury that prematurely ended his season.
In the 2017 season, Mostert was placed on injured reserve and finished with six carries for 30 rushing yards and 83 return yards in 11 games.
In the 2018 season, Mostert had increased playing time starting in Week 6, with notable performances against the Packers, Rams, and Raiders. He ended the season with 34 carries for 261 yards and a touchdown, plus six receptions for 25 yards.
Raheem Mostert Miami Dolphins
On March 17, 2022, Mostert inked a one-year contract with the Miami Dolphins.
During Week 5 against the New York Jets, he recorded 18 carries for 113 rushing yards and a touchdown, despite the team's 40-17 loss.
In Week 15's clash against the Buffalo Bills, Mostert logged 17 carries for 136 rushing yards, but the Dolphins suffered a narrow 32-29 defeat.
Over the course of the 2022 season, Mostert participated in 16 games, starting in 14 of them.
He amassed 181 carries amounting to 891 rushing yards and three touchdowns.
Additionally, he made 31 receptions totaling 202 receiving yards and two receiving touchdowns.
On September 24, 2023, Mostert recorded 13 carries for 82 yards and three touchdowns.
Raheem Mostert Contract and Salary
On March 15, 2023, Raheem Mostert signed a two-year, $5.6 million contract extension with the Miami Dolphins. The deal included a $1.3 million signing bonus, $2.2 million guarantee and an annual salary of $2.8 million.
Raheem Mostert Wife
5'5″ Devon, formerly known as Devon E. Beckwith was born on August 2, 1993, in Chardon, Ohio; she is one of two daughters born to Michelle Lee (nee. Hamel) and coach Kevin Beckwith, ages 54 and 53, respectively.
Devon has one sister, named Jenna Hamel
MEET THE SAN FRANCISCO 49ERS' BEAUTIFUL WIVES AND GIRLFRIENDS HERE!
Devon Mostert graduated in 2011, from Chardon High School; in 2015, she graduated with a major in photography and related media from Purdue University, where not only she met Raheem, and also played soccer.
Devon and Raheem Mostert started dating in 2012 after they met in college.
These two dated for a couple of years before he got on one knee and popped the question on November 23, 2015.
Eventually, they tied the knot on March 3, 2017, at The Ancient Spanish Monastery; after the ceremony, Devon and Raheem celebrated their wedding at The Ritz-Carlton Bal Harbour, Miami.
They have since welcomed their beautiful son Gunnar Grey on June 22, 2019.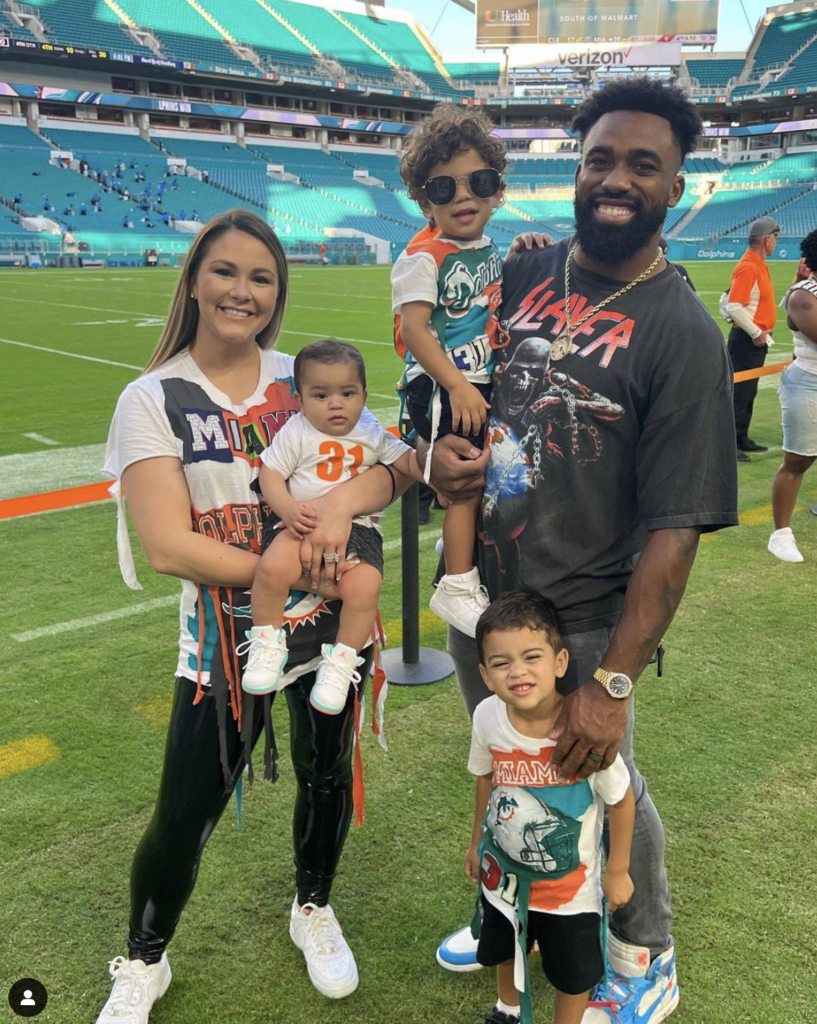 Devon and Raheem welcomed their second son, Neeko Rafe on September 25, 2020 .Their youngest son, Myles Raheem Mostert was born on June 7, 2022
Find Devon on Instagram here.