Meet Regina Hicks
College basketball mom, Regina Hicks, the mother of the Tar Heels junior forward, Isaiah Hicks.
Her son played in 72 games with three starts, all as a sophomore. He is majoring in exercise and sport science in the sport administration program.
Regina Hicks and Thomas Hicks welcomed son, Isaiah Dwayne Hicks in Oxford, N.C. on July 24, 1994. Long before their son became a top player, he only dreamt of becoming a Tar Heels ball player. A number of schools came knocking on his door but his ayes were set on UNC. Despite his efforts, his dream school wasn't paying the attention he wanted.
Regina Hicks then, filled a a recruiting questionnaire in order to help her son.
The Tar Heels eventually discovered him, and on Aug. 8, 2011, Isaiah and his parents sat in Williams' office as the coach offered him a scholarship.
According to the Dailytarheel.com, Regina Hicks had planned on talking it over once the family got back to Oxford, but as soon as she got back in the car, Isaiah told them he had already committed.
At the time, Regina Hicks urged him to weigh his options. It has been five years since the akward mother-son moment, and his son still chooses UNC.
For Isaiah nothing has changed. Even after struggling to adjust and produce in his first season in Chapel Hill, even though he could likely be starting at any other college in the country.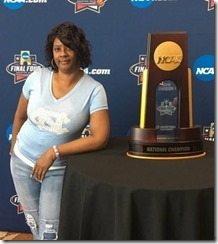 He played limited minutes during his first season with UNC and averaged 1.2 points per game, the fewest by the 24 McDonald's All-Americans who came in that year. It was tough times, but Regina Hicks took over and told him:
"I was like, 'Isaiah, look at yourself on some of those mixtapes and how you were,'" "'That person you were is still inside of you, but once you got to college and you were faced with challenges, you've kind of forgotten who you are.'"
With his mother pep talk and with new attitude, he became the co-recipient of the team's most improved player award a season ago, he has averaged 9.3 points and 4.7 rebounds in 18.4 minutes per game this season — the seventh-most on the team. He also leads the Tar Heels in offensive efficiency at 125.4 points per 100 possessions.
No doubt Regina Hicks has played a big role in supporting her talented son.
Regina Hicks, who also goes by Gina Hicks, is the mother of Isaiah's siblings, including: Latisha, Allen, Josh, Da'Shawn and Thomas Hicks.
You can find Regina Hicks on Facebook here.