Meet Sharon Jackson
Sharon Jackson is the great looking mother of college basketball player, Justin Jackson.
According to ESPN Recruiting Nation, her son was among the top ten best players of his class; coming out of Christian Youth Association (HCYA), He committed to play with the NC Tar Heels.
Sharon Jackson is sure a proud basketball mama –after her son has followed into her steps –and a hot one if we may add.
Justin was voted by both the ACC coaches and media to the league's All-Freshman team (with Duke's Jahlil Okafor, Tyus Jones and Justise Winslow and Florida State's Xavier Rathan-Mayes). He scored in double figures 22 times, including 11 of the last 12 games and six of seven in the post-season. Jackson shot 52.1 percent from the floor (61 of 117) and 44.7 percent from three-point range (17 of 38) in the last 12 games of his freshman season.
RELATED STORY :  Justin Jackson's Girlfriend Brooke Copeland
According to his NC player profile, the 21-year-old made 11 of his first 54 three-point attempts and 17 of his last 38, he als made two three-pointers three times in the first 27 games and at least two six times in the last 11 games and led UNC in scoring six times and UNC went 4-2 in those six games.
Started 37 games, becoming one of six ACC freshmen to average double figures in scoring. Jackson was also fifth among ACC freshmen in assists at 2.3 per game. He earned second-team All-ACC Tournament honors and is Carolina's second-leading scorer in NCAA Tournament.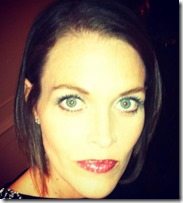 Sharon Skinner Jackson gave birth to her son on March 28, 1995 in Houston, Texas. Justin's parents met while attending Blinn Junior College. At the time Sharon played basketball while Lloyd Jackson, ran track. Both of them shared a love for hoops and great faith.
Blinn was known for its track program, which won nine straight indoor and outdoor national titles from 1987 to 1995—and Sharon was a power forward on the basketball team.
Sharon and Lloyd Jackson are also the parents to Justin's younger brother, Jonathan, and two younger sisters, Jada and Jordan.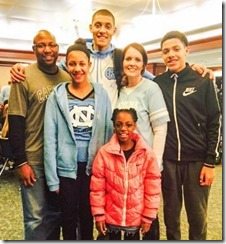 But Sahron and Lloyds' son not only excels in sports but he is also a bright student. Sharon Jackson described in an interview, his approach to learning as innately diligent and focused, as evidenced by his 4.0 GPA throughout his academic career. Both of Jackson's parents have been involved in his education and athletic upbringing.
Jackson's parents, Sharon and Lloyd, started teaching him the proper way to shoot from the time he was a toddler on a Little Tikes goal. When Jackson moved up to a real basket, his parents wouldn't let him shoot outside of his range. If he had to change his form, it was too far out.
The court has allowed Sharon and Lloyd to regularly work out with their children and make sure they focused on the right things.
You can find Justin's lovely mom on Facebook here.