Renee Perkins
Renee Perkins claims that she and former NBA star Magic Johnson had an affair in the early 80's, the affair produced a son, Chauncey now 35. But when she told the former NBA Laker player that she was pregnant, he turned his back on her, but not before asking his basketball doctor Dr. Charles Tucker to talk her into getting an abortion.
Renee, now 61, revealed how the whole thing went from finding herself raising a child alone and how Dr. Tucker told her she had to get an abortion.
"It tore me apart because I really didn't want to have or raise a child on my own. Dr. Tucker told me I really had to get an abortion"
Mrs. Perkins showed Radar Online, the paternity test results that proved Magic is the father of her son Chauncey along with tapes of the phone call from 1985 between Magic and her.
Renee & Chauncey
Renee Perkins Agee, met Magic Johnson in 1981, she said her worked his magic on her, but as soon as she told her she was pregnant, he and all of his magic vanish into thin air. Her son Chauncey Cyrill Perkins was born on November 11, 1981.
Chauncey a US veteran, graduated from Woodham High School in Pensacola, Florida where he also was member of the track & field team. Subsequently after high school attended at Full Sail University. Nowadays, Mr. Perkins now married with a child works in real estate. He is a realtor with Keller Williams Realty Buckhead and is the owner of the Perks By Perk Real Estate Group LLC.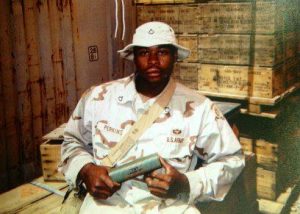 Renee, a relative of former MLB player Tommie Agee is a former Law enforcement officer and dispatching; her job with the force helped paid her way through college. She said her colleges call her Miss Piggy. In our opinion, she did a pretty good job raising her son, and he acknowledges it!