Erin Andrews
Meet Erin Andrews! She is the gorgeous, talented sports presenter, and TV host for Fox NFL. In addition to that, Ms. Andrews is also the girlfriend Jarret Stoll, Canadian center player for the Los Angeles Kings. The lovebirds have been dating since 2012, however, it was until early 2013, that their relationship was confirmed. There are only a few rare cases in which a star hockey player is outnumbered on followers over his girlfriend and this is one of those rare ones.
Erin who works as a Fox Sports broadcaster, is also the Dancing with the Stars co-host, filling in for Brooke Burke. She followed her father's footsteps into her career being the daughter of Steve Andrews –a six-time Emmy Award-winner –a longtime reporter for Tampa Bay TV channel WFLA.
Before becoming the first host of Fox College Football's studio show with Eddie George and Joey Harrington as analysts in 2012; Erin served as a sideline reporter for ESPN College Football Saturday Primetime and Big Ten college basketball games.
She is also a former contestant on DWTS in its 10th season and she was paired with dancer Maksim Chmerkovskiy.
Plus she's got some skills, she was a member of the University of Florida basketball dance team, from where she got her Bachelor of Arts degree in Telecommunications –called the Dazzlers!
The Maine native has had a fun start of the year, as the DWTS co-host but earlier this year there was much speculation on her new gig on DWTS and the way Burke parted ways with the show. Could Erin ditch the locker room talk for discussions of hip thrusts, week after week she got more comfortable and started firing back at anyone who threw a line her way hence winning many fan's hearts?
Jared
However, the hot blonde keeps her broadcasting duties at the top of her priorities. But, we would definitely add to that list her hunky boyfriend! The couple seems to get the most of her time together, whether on dates or romantic getaways it seems logic the sports journalist would end up with an athlete, who cares if he is what? five-years younger right! They look hot!
Stoll is super supportive of her. He often posts things like "Proud of my girl" and "Awesome job @ErinAndrews," definitely not the jealous type; she even has a lot more followers than he does on Twitter.
Andrews went thru an unfortunate event regarding a peeping tom that eventually posted a videos of her online. According to reports, back in 2008, Erin was victim to a stalker who filmed her through peepholes without her knowledge while she was staying at the Radisson Airport Hotel in Milwaukee, Wisconsin.
Andrews then sued her stalker, Michael Barrett, Marriott International, Radisson Hotels, and five other entities for negligence and invasion of privacy in connection with the secret videotaping.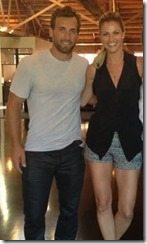 Cancer & Engagement
Jared asked Erin to marry him early on December 2016. The engagement was the second good thing that happened to her during the finals months of 2016. She was cancer-free a month earlier. Erin revealed her cervical cancer diagnosis in September; she underwent surgery Oct. 11 at Cedars-Sinai Medical Center in Los Angeles. But not before warning her doctor that she wasn't planning on watching the Super Bowl at home. She was back on the sidelines reporting at the Packers vs. Cowboys matchup, a week after her surgery.
You can catch Stoll's gorgeous girlfriend on Twitter here.