Todd Gage
Todd Gage is the long time partner of Rick Welts –the president of the Golden State Warriors. The gay couple has been in a relationship for years. Meet Mr. Gage below.
Todd Gage was once a married fella and is also a father from his previous marriage, but since coming to terms with his sexuality years ago, he has been living with none other than sports exec, Rick Welts.
Born in 1953, the Seattle native and University of Washington graduate began his career working with the Seattle Supersonics.
In the early 80's he worked at the NBA's league offices where from 1982 to 1999 he became the executive vice president, chief marketing officer and president of NBA Properties.
Long story short, Welts became a prominent sports executive, wining a number of acknowledgments such as being named Brandweek's 1998 Marketer of the Year for his work with WNBA President Val Ackerman in launching the WNBA.
Welts currently serves as a board member of San Francisco Travel, the Bay Area Council and the Warriors Community Foundation. He is a member of the Basketball Hall of Fame's Direct Elect Committee and the NBA's Team Advisory Committee.
But just as he rose through the ranks of corporate NBA his private life was a big mystery and even bigger secret. The secret ended in 2011 when he came out as gay during an interview with the New York Times.
He revealed his previous relationships had been required on his part, to be hidden from the public eye. But all that changed in 2011 when he revealed his sexual preference and even resigned his job as the Phoenix Suns' president to relocate to northern California, in order to live with new and current boyfriend, Todd Gage.
Todd Gage and Rick Welts met in 2011. He is the father of two children and is a long time flight attendant. When they first met, Todd Gage worked in Oakland and has dual custody of then 7- and 10-year-old children from a previous marriage in Sacramento. It was obvious Todd needed to stay close to his kids, daughter Allyson, and son, Santiago.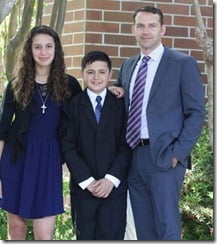 Gage has always kept a close relationship with his kids. He even served as their soccer coach. During an interview Welts described him a a 'great father and absolute soccer nut.'
Nowadays, Welts commutes between the Bay Area and Carmichael, where he shares a home with his companion Todd Gage.
After Todd's notorious partner left the Sun's team he soon landed his current job as the Warriors president and since then has been hailed as a key part of the team's rapid rise.
You can find Todd Gage on Facebook here.