Meet Rona Gonzales
Rona Gonzales is the girlfriend of NFL player, Von Miller. The hot gal and the NFL linebacker were linked romantically since 2011.
According to her social media, gorgeous Rona Gonzales is a model originally from the Philippines and raised in California. In an interview with hotspotsweekly, Rona revealed she comes from a very big family. She is the youngest of 12-children. Rona Gonzales has 6 brothers and 5 sisters.
The 5'8 gal is also a mom to one boy, named Chez. She said about her son, "He keeps me motivated and grounded. Oh, do I love him!"
When Rona Gonzales is not modeling, she works full time for one of the best Plastic Surgeons in LA, Dr. Gary Motykie in Beverly Hills. Rona –a Graphic Artist designs most of Dr. Motykie's promotional/marketing projects.
Rona Gonzales is a big sports fan. She loves Sunday and Monday Night Football. The Miami Dolphins fan is also a big NBA fan with the L.A. Lakers being her favorite team.
At the time of the interview she said she was dating a guy named Drew, and said about him: "He's someone down to earth, smart, funny, responsible, a home body, laid back yet good at taking care of himself, a total Metro but, a great dad!"
She also said she's attracted to the athletic type, that could explain the link between her and Miller.
Von Miller was selected by the Broncos in the first round (2nd overall) of the 2011 NFL Draft. He finished his collegiate career with 33 sacks and 50.5 tackles for a loss in 47 games played. Miller posted 27.5 sacks in 26 starts over his last two seasons at Texas A&M University and won the Butkus Award –given to the nation's best linebacker –in addition to being named a consensus All- American as a senior in 2010.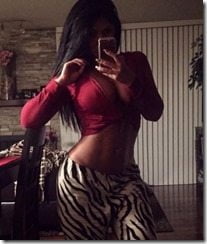 Pin
Miller had a good start in his pro career, he became just the second player in Broncos history to be selected to the Pro Bowl as a rookie. He was named NFL Defensive Rookie of the Year and a Pro Bowl starter in 2011 after tying the franchise rookie sack record and received All-Pro recognition from the Associated Press following each of his first two seasons, including first-team designation in 2012 and second-team honors as a rookie in 2011. The following year he was voted as runner-up for the NFL Defensive Player of the Year. In 2014 he was named AFC Defensive Player of the Month for October 2014 after leading all NFL players in sacks. That same year, he earned his third career Pro Bowl selection to become one of six players in Broncos history to make at least three Pro Bowls during his first four years in the league.
You can find lovely Rona Gonzales on Twitter here.