Meet Linda Rambis
Linda Rambis is a long time NBA wife. She is married to former player turned NBA coach, Kurt Rambis.
Kurt was born on February 25, 1958. He played with several NBA teams but found success with the L.A. Lakers becoming a four time World Champion.
Kurt Rambis was drafted by the New York Knicks in 1980, but joined the Greek League AEK Athens and won the Greek Cup in 1981. Kurt then joined the Los Angeles Lakers in 1981 as a free agent and won championships in 1982, 1985,1987, and 1988. Rambis also played for the Charlotte Hornets, Phoenix Suns and Sacramento Kings before returning to the Lakers in 1993. He retired with the Lakers in 1995 after 14 years in the NBA.
A retired Rambis followed into the natural evolution of many players, he turned to coaching. He was a Los Angeles Lakers Assistant Coach from 2002-2009. He later became an assistant coach under Jackson between 2001 and 2004, helping the Lakers reach the 2002 and the 2004 NBA Finals, with Los Angeles winning a title in the former series. He was hired again by Jackson a few years later, along with former player Brian Shaw, as an assistant coach, helping the Lakers to another pair of finals in 2008 and 2009, winning in the latter attempt.
On August 8, 2009, Rambis was announced as the new head coach for the Minnesota Timberwolves, he stepped down in 2011.
In 2013 he was re-hired by the Lakers but by mid 2014 he was hired as assistant head coach for the NY Knicks. Kurt Rambis has also worked as an analyst for ESPN and Time Warner Cable. In February 2016 he was named the teams Head Coach.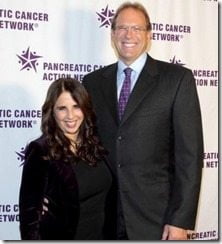 Linda Rambis lives in Manhattan Beach, California. Linda Rambis and her hubby are the parents of three adults. She gave birth to sons, Jesse and Jordan and also to daughter, Ali.
Linda Rambis has always been linked to sports, whether being the wife of a player/coach and the mother of athletes. Her oldest son, Jesse Rambis, was born January 24, 1986 and used to play volleyball professionally. Daughter, Ali is also well known in the volleyball community, she played on the Santa Clara University volleyball team. While second child, Jordan Rambis has chosen the entertainment industry working as a producer.
According to her LinkedIn, Linda Rambis has worked for the Lakers for years. She is the teams especial projects, manager.
You can find lovely Linda Rambis on Facebook here.