Rosangela Santana
Meet Rosangela Santana, the wife of Cleber Santana, Brazilian soccer player and one of the 76 people killed during the crash of the LaMia Airlines Flight 2933 accident flying from Santa Cruz de la Sierra, Bolivia, to José María Córdova International Airport in Medellín, Colombia on November 28, 2016.
Rosangela's husband Cleber was born June 27, 1981 in Olinda, Pernambuco. The 6'1″ midfielder started his career in 1999 playing for Sport Club do Recife.
In 2004, he joined Vitoria soccer team. In 2005 and 2006 he played for Kashiwa Reysol and Santos. Santana signed a three-year contract worth 6 million with Atletico Madrid in 2007.
Was loaned to RCD Mallorca the following season before returning to Madrid in 2009. Real Madrid released him the following year. Subsequently signed with Sao Paulo. Between 2011 and 2013 joined Atletico Paranaense, Aval and Flamengo on a loan.
Santana joined Avai for the 2013-2014 season and Criciúma for the 2014-2015 season before joining Chapecoense in 2015.
Rosangela- The love of his life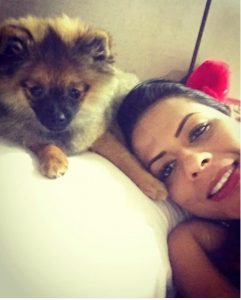 Cleber Santana's wife and childhood sweetheart is Rosangela Santana, born Rosangela Loureiro.
Rosangela lived in his neighborhood. She and Cleber met one day when she walked by his home on her way the local bakery, she was 11 at the time. From that day forward, Cleber would wait for her to take her daily walk to the bakery so he could talk to her at least for a couple of minutes. They started dating three years later.
Angela and Cleber Santana got married in 2001. At the time he was still an amateur player with Sport and earn $600 a month. They lived in a small rented apartment, with little furniture. Things improved when he earned the captaincy. His contract was renewed, hence his paycheck became more attractive.
Rosangela and Cleber welcomed their first child together in 2002, when they son Cleber Junior was born. Their second son, Aroldo Neto born in 2004 around the time Santana was transferred to Victoria.
Their youngest son, was named after a dear grandfather who passed away while Rosangela was pregnant and never got to meet his grandson.