Ryane Barber Shields
Meet pretty Ryane Barber Shields, she is the wife of Kansas City Royals' starting pitcher James Shields. She must have joined Kauffman Stadium, as they let out a scream when her hubby fired strike three past Chris Iannetta to end the sixth inning after the Royals defeated the Los Angeles Angels 8-3 at Sunday's ALDS playoff baseball game.
The couple has been married for seven years and have become a family of four. Ryane tied the knot to her hubby in 2007 during a romantic ceremony in Kauai, Hawaii. She is not only a wife but also a mom of two children, she gave birth to the couple's two children, two adorable daughters.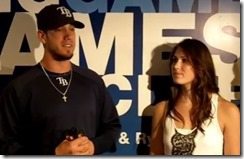 According to her LinkedIn Ryane is a photographer. She has her own business "Ryaneshieldsphotography" where you can find some of her professional work.
According to her website Ryane was born and raised in California. As a photographer she appreciates the nature and reveals she finds peace at the ocean. She feels complete behind her camera, she confesses she is married to her best friend and vows her love to her daughters.
She says she is a morning person and also enjoys ice-cream, collects old cameras, loves to travel and is the owner of two labs. Ryane is an only child and growing up wasn't easy. During the 2010 season while still with the Rays, Ryane and her hubby opened the "Big Game James Club," at Tropicana field. At the time the couple received honor from congressman Bill Young: 2010 "Angels in Adoption" for their outstanding contribution in support of adoption.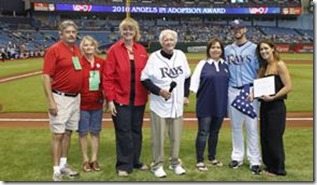 It turns out this is a cause close to the couple's heart; during an interview with MLB.com, Ryane revealed her father took off during her teens and she was left to live with her aunt; therefore she can relate to children not feeling comfortable in their own setting, she was one of them.
According to an interview in 2011 she spoke about families and adoption at a special preschool story time. She and her hubby also contribute time and energy to the Heart Gallery to support foster children finding "forever families."
Her hubby Previously, he pitched for the Tampa Bay Devil Rays from 2006 through 2012.
Ryane's man is certainly good at what he does but she is closely following with her stuff. What do you think of the couple?
Don't miss the video below.