Samantha Bass
Samantha Bass is the NFL wag of wide receiver Dorial Green-Beckham. Her 23-year-old boyfriend and baby daddy, was recently traded to the Philadelphia Eagles of the NFL.
Samantha's beau was born Dorial Isaiah Green on April 12, 1993 in, St. Louis, Missouri. At age 16, he was adopted by John & Tracy Beckham. Dorial and his younger brother Darnell, arrived at the home of the Beckham's in 2006 and were officially adopted in 2009. John Beckham coached him at Hillcrest High School.
He played college football at the University of Missouri –where he won honorable mention freshman All-American honors by College Football News for a year which included 28 receptions for 395 yards and a team-best 5 receiving TDs. He started all 14-games in his second year at Missouri. Dorial led the team with four receptions for 53 yards in the Cotton Bowl victory over Oklahoma State.
However, Green-Beckham was dismissed from the Missouri football team after his sophomore season due to multiple drug arrests. He then transferred to the University of Oklahoma, where he was forced to sit out his junior season due to NCAA rules.
The 6 ft 5 in player was drafted by the Titans in the second round of the 2015 NFL draft with the 40th overall pick. According to titansonline, the 237-pounder is an athletically gifted receiver with a huge frame.  He has rare speed for his size and shows excellent concentration when the ball is in the air. His body control and athleticism shine when he's tracking the ball or making a play in the end zone.
As a rookie in 2015 Green-Beckham finished the season with 32 receptions for 549 yards and a team-best average of 17.2 yards per reception, which also ranked sixth in the NFL (first among rookies).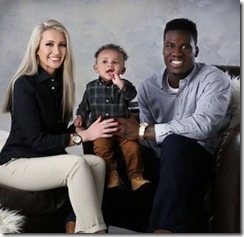 Green-Beckham seems to have learned his lesson and left his bad-boy days in the past. He has been focusing on his career and at 23, he is a family man along with lovely Samantha Bass.
Together they are the parents of one child. Their adorable son, Drelyn Isaiah Green-Beckham. Samantha Bass and her man welcomed him on June 30, 2015.
Samantha Bass and Dorial are college sweethearts. The couple met while attending the University of Missouri. She used to be involved in track and field during her high school days.
She and her baby daddy have gone through a lot together. In 2014, Dorial was involved in a burglary investigation.
According to the police report, Green-Beckham forced open an unlocked front door as a resident tried to keep him out. He then pushed an 18-year-old woman down the stairs before leaving with his girlfriend, Samantha Bass, then 20. Bass told police she was in the bathroom and "didn't hear or see anything."
According to social media info, the pretty mom of one works at Wilson's Fitness Centers.
You can check out the blonde on Twitter here.