Liliane Maestrini
Liliane Maestrini is a professional beach volleyball player, she also happens to be the wife of another beach volleyball player Larissa Franca.
Liliane's wife, Larissa was born April 14, 1982 in Cachoeiro do Itapemirim. At the present time Franca is Talita's partner, prior to their partnership in July, 2014, she teamed up with Juliana Silva and Ana Richa.
Larissa's enthusiasm for volleyball started when she was in high school. After all it was thanks to volleyball that she received a scholarship that got her into in Tuna Luso Brasileira.
She didn't stick to indoor volleyball for long and by 2001 she switched to beach volleyball. Her partnership with Ana Richa started in 2002, together they won bronze at the 2003 Pan American Games in Santo Domingo.
Consequently, Larissa forged a partnership with Juliana Silva, with whom she won the silver at the 2005 and 2007 World Championships in Berlin and Stavanger correspondingly.
Bronze in Gstaad, gold in Rio in 2007. Another gold at the 2011 Pan American Games in Guadalajara and the World Championships in Rome.
Juliana suffered an injury before the 2008 Summer Olympics, therefore she teamed up with Ana Paula Connelly.
She had a short retirement in 2012, after the London Olympics. She came back stronger in 2014 with new partner Talita Antunes.
They won the gold medal at the 2015 Swatch FIVB World Tour Final. And earned their place at the 2016 Rio Olympics.
Larissa Franca came out as gay in July, 2013. A month after that announcement and after two years dating Liliane Maestrini yet another big news was reported.
Larisa and Liliane got married on August 3rd on the beach of Porto das Dunas.
Liliane Maestrini was born October 26, 1987 in Vitoria, Espirito Santo, Brazil. Maestrini also a beach volleyball player teamed up with Bárbara Seixas.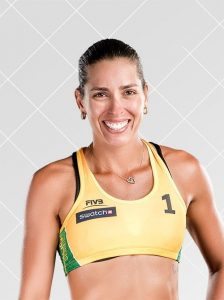 Together they won the gold at the Youth World Championships in Modena, another gold at the 2009 CEV Challenge & Satellite in Vaduz and yet another gold medal at the 2011 World Tour in London.
They won the silver at the 2013 World Tour in Gstaad. Bronze medals at the 2013 world Tour in Rome and World Championships in Stare Jablonki.