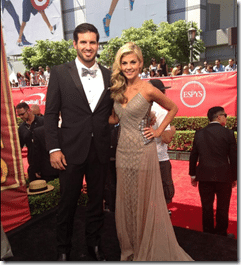 Meet gorgeous Sam Ponder, she is the sportscaster wife of Minnesota Vikings quarterback, Christian Ponder; now don't they look like the ultimate portrait of "quarterback" and "prom queen." Well in this real life couple they almost are! Only the couple make it all the way to the altar! So there is a happy ending.
Samantha's hubby is a lucky guy, after a brief courtship he knew she was the one, and we couldn't agree more, what can get better than her looks matching her sports knowledge! Specifically football and basketball! They tied the knot on December 17, 2012 in Hudson, Wisconsin.
She was born Samantha Steele but started appearing on ESPN/ABC broadcasts by her married name, starting with the January 1, 2013 broadcast of the CapitalOne Bowl. The 27-year-old is a couple of years older than her man but who cares they make such a lovely couple.
Samantha was born December 11, 1985; she is currently a host and reporter for ESPN's College GameDay, Thursday Night Football and Super Tuesday college basketball. Steele formerly worked as a reporter/host forLonghorn Network and Fox Sports.
The ESPN personality attended Liberty University where she was a sideline reporter and host for all of the football and men's and women's basketball games. As an intern at ABC Sports Television and ABC Sports Radio for three years in New York City, Samantha worked for the Saturday College Football Studio show.
Her passion and interest for sports might be linked to her childhood, being the daughter of a coach the Phoenix native attended Central High School where she was encourage to play volleyball, softball, tennis, track and basketball!
When she is not busy bringing us the latest details on College GameDay or with hunky hubby, she spends her little free time with her family's non-profit organization geared towards inner city youth, M.A.D. (Make A Difference) Ministries in Phoenix, Palestine and Zimbabwe.
You can follow Samantha on twitter here.