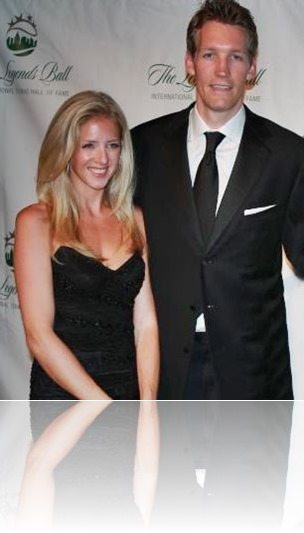 Meet Sarah Dunleavy, she is the Fab NBA wag married to Mike Dunleavy, the basketball player currently playing for the Chicago Bulls.
33-year-old Mike Dunleavy son of the  former and  amazing NBA player and coach Mike Dunleavy, the younger Dunleavy is a  Jesuit High school graduated who was a student at Duke University when he was selected in the 2002 NBA Draft by the Golden State Warriors.
Mike left the team in 2007 to join the Indiana Pacers and then in 2011 signed with the Milwaukee Bucks, in July, 2013 Dunleavy signed a two-year-deal for nearly $6 million with the Chicago Bulls.
Mike as we know is happily married to his beautiful wife Sarah Dunleavy, but let's go back on time for a bit, when 33-year-old Sarah Dunleavy was known as Sarah Elizabeth Crotty the  second eldest child of Mr. Gerald  and Lucille Crotty. Sarah has 4 siblings older sister Alexandra who was the only Crotty children who attended Georgetown, her younger sister is Martha who like Sarah is a Duke Uiversity graduate lass of 2006, then Virginia who graduated from Duke in 2011, and brothers Joe also from Duke in 2006 and Ned in 2010.
Sarah who graduated from Duke in 2002 met and started dating Mike while both were attending at Duke, they got married on June 28, 2008 in New Jersey,  Sarah and Mike Dunleavy are the proud parents of a 2-year-old daughter and 1-year-old son. Sarah and her fab NBA stud are annual donors to the United Way and they sponsor United Christmas Service families each year.