Kim Holloway is the stunning and loving wife of college basketball coach Shaheen Holloway, head coach at Seton Hall; he previously served as head coach for the St. Peters Peacocks at Saint Peters University in New Jersey. Before joining St. Peters, Coach Holloway spent eight seasons as an assistant coach at Seton Hall, he also worked at Iona.
Shaheen Holloway is a former point guard who played for the Hapoel Holon, Chicago Skyliners, London Towers, Marineros de Puerto Plata and the Pennsylvania ValleyDawgs among others.
Shaheen Holloway Playing Career
5'10 Shaheen Holloway played college basketball at Seton Hall from 1996 to 2000, recorded 1,588 career points and 681 assists in 116 games; he wasn't drafted by any team during the 2002 NBA draft, received Summer League invitations from the Wizards and the New York Knicks.
Coach Holloway was subsequently drafted by the Israeli basketball team the Hapoel Holon during the 2000 USBL draft. He averaged 15.5 points and 4 assists in 4 games. He later played for the American Basketball Association team the Chicago Skyliners for the 2001-02 season.
From 2002 to 2003 played for the Chester Jets, London Towers in 2003 and İstanbul Teknik Üniversitesi in 2004. Coach Holloway played for the German team the Ratipharm Um between 2004 and 2005. In 2005 joined the Dominican team Haracanes de Puerto Plata; played for the Jersey Express of the ABA League in 2005 and 2006 and spent his last two seasons with the Pennsylvania ValleyDawgs. He retire after the 2007 season ended.
Shaheen Holloway Coaching Career
Shaheen Holloway had the choice to join Seton Hall's coaching staff in 2007, but he opted to transfer to Iona instead under head coach Kevin Willard.
The St.Peters Peacocks announced they hired Shaheen Holloway as their new head coach on April 10, 2018. Shaheen Holloway and the Peacocks the third #15 seed advance to their first Sweet Sixteen in March 2022, facing Matt Painter and the Purdue Boilermakers.
The St. Peters Peacocks lost to Hubert Davis, Armando Bacot, and the Tar Heels at Elite Eight, 49-69.
On March 31, 2022, Coach Holloway was introduced as the new head coach at Seton Hall.
Shaheen Holloway Salary
St. Peters Basketball coach Shaheen Holloway's salary is unknown. In 2019, he earned $266,344 in 2019, including bonuses paid and value of benefits
Shaheen Holloway Wife
Kim Holloway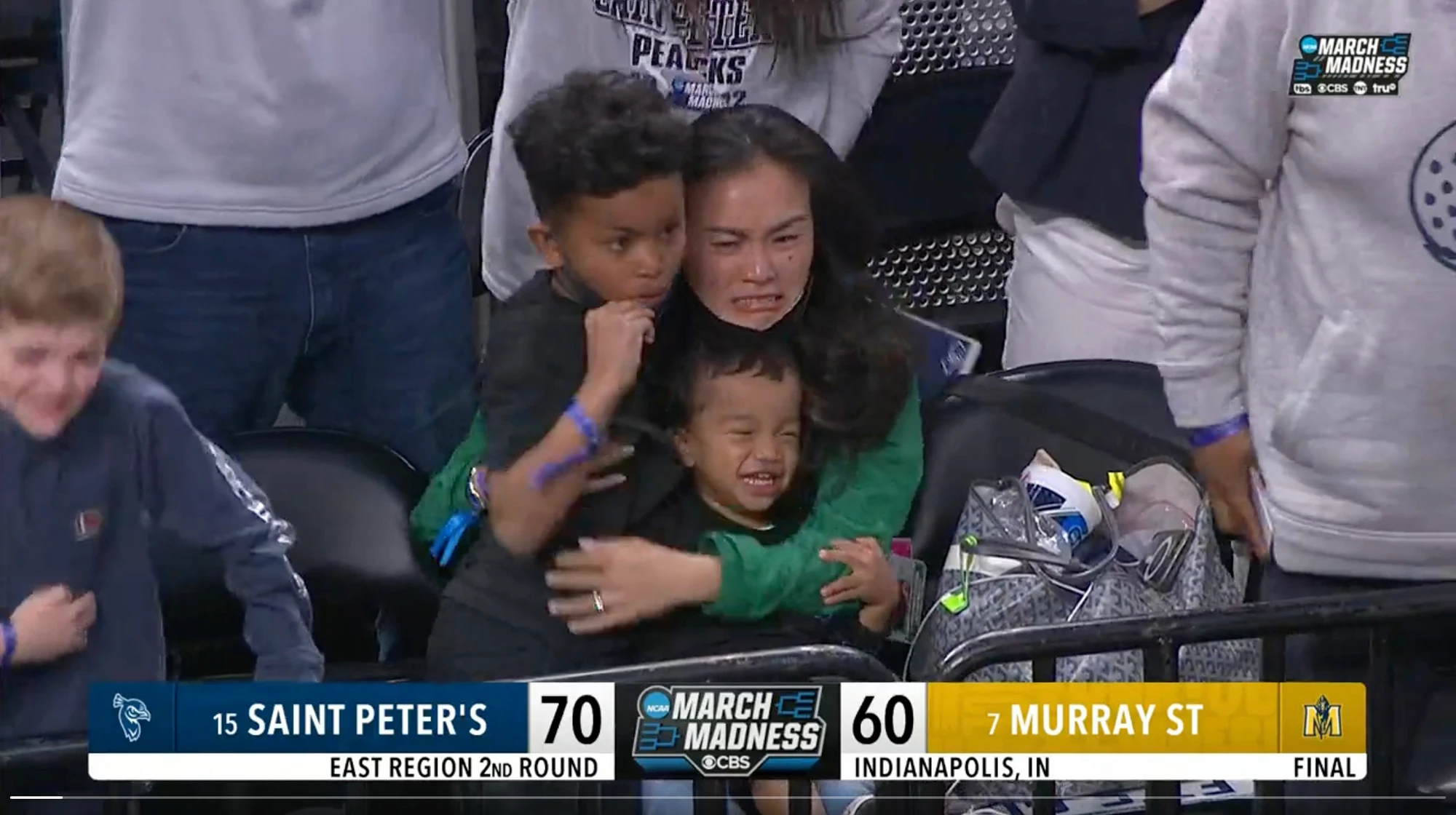 Pretty Kim Holloway born Kim Le Nguyen on October 7, 1979, and coach Shaheen Holloway have three beautiful kids together, daughters Shatanik and sons Xavier and Tyson, who were with her when St. Peters advanced to the Sweet 16; her reaction was epic.
First Sweet 16 in program history for No. 15 Saint Peter's. This is what it's all about 🙏 pic.twitter.com/xiVw9K3sEa

— Bleacher Report (@BleacherReport) March 20, 2022
Kim and Shaheed Holloway, 42, met while they both attended Seton Hall, she also studied at the Fashion Institute of Technology. From 2004 to 2008, Kim Holloway was a marketing, retail Business developer for the NBA.
Later on, she was a consumer marketer for Conde Nast in New York; she also was an analyst for the Madison Square Garden Company in 2010-11; between 2011 and 2013 was an event marketer for Game Seven Marketing; took care of all business operations for buybuy BABY, and later returned to the Madison Square Garden Company as a Sports Marketer and sports consumer.