Have you met Leslie Davis? She is the pretty wife of college basketball coach Hubert Davis, head coach for the North Carolina Tar Heel Men's basketball team who replaced Roy Williams after his retirement in April 2021. Hubert Davis had been serving as an assistant to coach Willians at North Carolina since 2012.
"He said, 'Hubert, I just wanted to let you know, I would love for you to be the next head coach at the University of North Carolina, and Coach Smith, the idea of that happening, would put a smile on his face,' " Davis said, choking up. "And I just immediately started crying. I gave the phone to my wife and I said read this. And I said, 'I thought he didn't like me.' And to me that's just the perfect example of what this place is all about."
Hubert Davis Parents
6'5 Hubert Davis was born on May 17, 1970, in Winston-Salem, North Carolina; he is one of the children born to Hubert Davis Sr. and Bobbie Webb Davis, who died of oral cancer when he was 16.
Hubert Davis College
Former NBA shooting guard Hubert Davis attended Lake Braddock Secondary in Burke, Virginia before attending North Carolina. He averaged 21.4 points per game in his senior year and graduated in 1992with a degree in Criminal Justice. Coach Davis and the Tar Heels advance to the Final Four in 1991, the first since their last appearance in 1982.
Hubert Davis Playing Career
Hubert Davis was selected by the New York Knicks in the first round (20th overall) in the 1992 NBA draft; he played in New York until 1996 when the Knicks traded him to the Toronto Raptors.
In 1997, signed with the Dallas Mavericks and joined the Washington Wizards for the 2001-2002 season; Davis played with the Detroit Pistons in 2002 and with the New Jersey Nets in 2004. He was a member of the U.S. Men's Basketball team that won the gold at the 1991 Summer Universiade in Sheffield.
Hubert Davis NBA Stats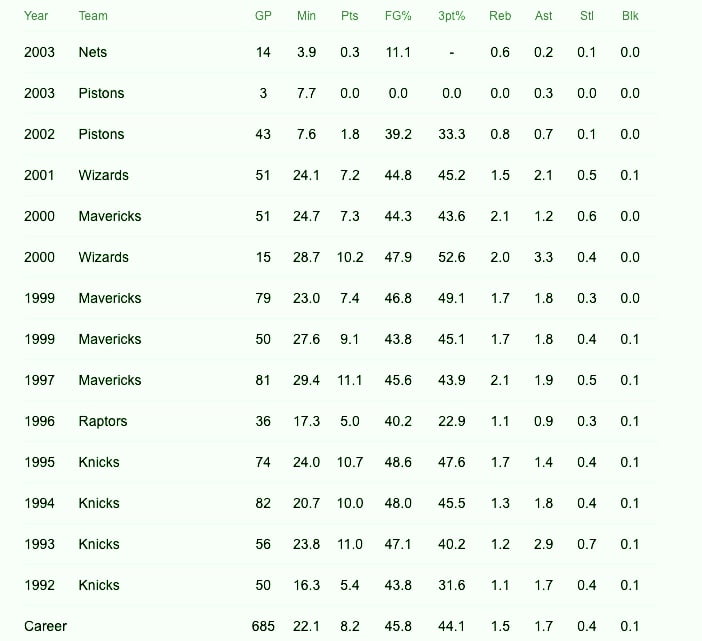 Hubert Davis Coaching Career
Before getting his coaching career started Hubert Davis worked as a sports analyst for ESPN. In 2011 left ESPN for an assistant coach position at the University of North Carolina.
On April 5, 2021, he was named head coach for the Tar Heels four days after Roy Williams retired. The Tar Heels advanced to the Sweet Sixteen, where they played against Mick Cronin and The UCLA Bruins.
On April 2, 2022, The Tarheels lead by Armando Bacot and Caleb Love defeated Coach Mike Krzyzewski and the Duke Blue Devils lead by Paolo Banchero. at the Final Four.
On March 4, 2022, The Tar Heels Basketball team will fight for the NCAA Championship against Bill Self, Ochai Agbaji and the rest of the Kansas Jayhawks basketball Team which also includes David McCormack and Remy Martin.
Hubert Davis Net Worth
North Carolina head coach Hubert Davis' net worth has been estimated at $14 million. He$ earns a base salary of $400,000 and $750,000 per year from his agreements with Learfield IMG College and Nike.
Hubert Davis Salary
Coach Hubert Davis signed a five-year, $10 million contract with the Tar Heels in April 2021. The deal included an annual salary of $1.8 million, a supplemental compensation that begins at $600,000, a $100,00 annual increase, and a $50,000 expense allowance and annual bonuses.
Hubert Davis Wife
Hubert Davis wife is Leslie Davis, the mother of their three children, sons Elijah and Micah and daughter Bobbie Grace.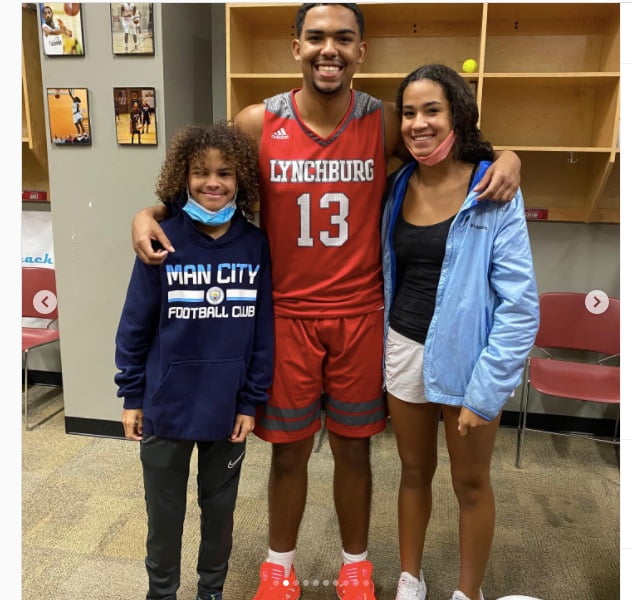 When Coach David had his first interview after he was named the tar Heels' new head coach was asked about the significance of being the first black in UNC.
"It is significant. It's significant that I'm African American, and I'm the head coach here. It's significant. I know that in terms of Division I head coaches all around the country, only 26% of the head coaches for Division I basketball are compromised (sic) by minorities."
"I know that it is significant," Davis continued. "I know that it is significant that I'm the fourth African American head coach in any sport in the history of the University of North Carolina. I'm very proud to be African-American. But I'm also very proud that my wife is white, and I'm also very proud that my three very beautiful, unbelievable kids are a combination of us."
Leslie Davis
Leslie Davis was born Leslie Nelle Seigle on November 3, 1971. According to sources, Leslie'sdad encouraged Hubert to go to Duke, but he opted to go to UNC instead. After dating for several years Hubert and Leslie Davis got married in 1992.
Leslie and Hubert are involved with the StrongKids Foundation as well as  The Hubert Davis Basketball Camp, which teaches kids basketball and in live a life with integrity.
Leslie Davis and her famous husband are the proud parents to their children Elijah, Bobbie Gracie (named after his mom) and Micah.
6'4 Elijah is a basketball guard at the University of Lynchburg, he is pursuing a major in business and a minor in education. Micah and Gracie are studying at Jordan High School. 5'8 Gracie is a member of the girl's lacrosse team