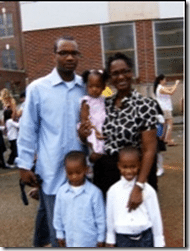 Sharette was born in Brooklyn on Aug 17, 1970, raised in California and attended California State University at Fresno, where she was a McNair Scholar and earned her Bachelor's and Master's degrees in English. She married coach Kimani Young, the former athletic director of the New Heights AAU program who is now an assistant basketball coach at Minnesota under new head coach Richard Pitino.
Dixon became the mother of the couple's three children. She unfortunately died on Mar 23, 2009. Dixon dedicated her life to educating young people. She was an instructor of English at Kingsborough Community College in Brooklyn and was particularly interested in African-American literature. She lost her  life at the young age of 38 due to a cardiac arrest following a bout with pneumonia.
In 2010 her husband organized the event The Sharett Dixon Classic, saying
"She enjoyed what I did for a living, using basketball as a vehicle for getting kids into college, but she was always concerned about how our kids are doing academically and how they would do in college. So I know she'd be happy about this."
Kimani Young who is originally from Queens, NY., is currently living in Minneapolis, Minnesota with his three kids.
Proceeds from the event go toward an education and child-care fund being established for Dixon's children; now 11-year-old Kamaal, 9-year-old Khaliq and 7-year-old Salimah.
The Sharette Dixon Classic is a one-day event featuring the top high school basketball talent across the states of New York and New Jersey.
The format of The Sharette Dixon Classic will feature two premiere contests, a girls' game and a boys' game. The games will feature top-notch coaching and emphasize teamwork and sportsmanship.
There is also an award with her name; "The Sharette Dixon Academic Excellence Awards" which will be given to players from each team who have demonstrated consistent academic excellence throughout their high school career and have maintained a cumulative GPA of 3.5 or better, according to a press release sent out Tuesday.
This year is the 5th Annual Sharette Dixon Classic which will take place Saturday October 19th at the Gauchos Gym. Best of NY vs. NJ Sophomore. Unfortunately Kimani isn't allowed at the showcase because of NCAA recruiting restrictions.
You can find Dixon's twitter account here.