The College football community was shocked today to learn a very sad and tragic news, a college player named Demarius reed described as a standout player at Simeon Career Academy and a starter at Eastern Michigan University Demarius Reed prayed NFL would be the next step in his football career according to his father.
But his dreams were shot down literally. Friday morning, the 20-year-old Reed was found shot to death in his apartment complex near the campus in Ypsilanti, Mich., the apparent victim of a robbery, according to police.
Demarius' girlfriend, Chanda Blackamore is also a student at Eastern Michigan, she was the one who contacted his father, Carl Reed from a hospital, saying something was wrong.
No doubt a great loss for this girl, her talented boyfriend was a communication, media and theater arts major. Reed was originally from Chicago. He played high school ball for Simeon Academy.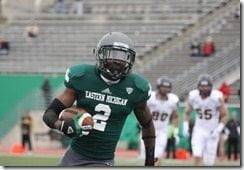 Chanda Blackamore's boyfriend a kind young man with a promising football career had started all six games for Eastern Michigan this season and was the team's fourth-leading receiver, with 15 catches for 185 yards and a touchdown, according to the school. While at Simeon, Reed had played receiver and defensive back and returned kicks.
His beautiful girlfriend Chanda Blackamore, originally from Indiana, has been filling her Instagram profile with the most loving and heartbreaking messages to her King!
Chanda graduated from EMU this Summer.
Demarius made his loved ones and those close to him truly proud, and was highly popular among his peers, with over 900 followers on twitter he writes
Truly Blessed n Humbled Individual Strivin for Greatness.
Some of the people who knew him well have had nothing but great things to say about him;
"He was the life of the party. There was never a dull moment when he came around. He had a spark, he was a very happy, bubbly young man."

"He was always a joy to be around,'' "He was smart, intelligent, athletic. He was a good son. . .He was my best friend. He was developing to be such a positive young man.''

"Demarius was an influential leader who thrived in the classroom and on the field.
Our thoughts go out to this girl and Reed's family and to his beautiful girlfriend Chanda Blackamore. RIP Demarius Reed.