Sharon Snyder
Sharon Snyder is the second wife of legendary college football coach, Bill Snyder. Her husband has been caching at Kansas State for over two decades.
Sharon's husband was born October 7, 1939 as William David Snyder. The Missouri native received his B.A. from William Jewell in 1963; he also holds a M.A. from Eastern New Mexico in 1965.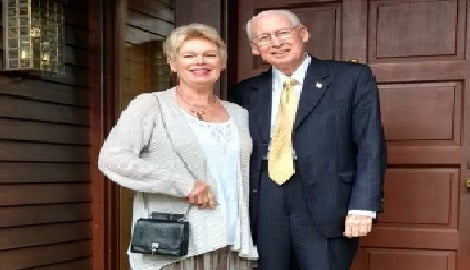 As a player, he was a three-year letter winner as a defensive back at William Jewell.
Through out his long career first as a player, and later as a coach, Snyder has won several accolades. He has snatched a number of conference and national coach of the year awards. He is also in the College Football Hall of Fame. In recognition to his contribution, the school named its stadium in honor of him and his family.
Snyder also comes in third place as having the most wins out of any active NCAA Division 1 head coach.
Snyder began his full-time coaching career in 1964 as an assistant at Indio High School in California. In 1966 he served as a GA at USC under John McKay before becoming head coach at Indio High in 1967. He accepted the same position at Santa Ana Foothill High School in 1969, where he stayed until 1973.
In 1974 he moved on to the offensive coordinator and swimming coach position at Austin College in Sherman, Texas.
Snyder debuted as a head coach in 1989 for Kansas State. When Snyder took over, the program was in the midst of a 27-game winless streak and turned it into a national contender that advanced to 11-straight bowl games and tallied six 11-win seasons over a seven-year stretch. He also led Kansas State to Big 12 Championships in 2003 and 2012.
Sharon Payne became Mrs. Snyder in 1984. Her husband had been previously married to Judy Snyder from 1964 until their divorce in 1979. Bill and his first wife, Judy, were married in 1964, while Bill was coaching at Indio High. They had three children: Sean and daughters Shannon and Meredith. From his first marriage he was quoted saying
"I was a faithful husband, but a bad one. You could certainly say that football was a part of it."
Sharon Snyder is the proud mother of two. Her son Ross is from a previous relationship. She and Bill have one daughter together, Whitney.
Aside from their children, Sharon Snyder and her long time husband are also the grandparents to Sydney, Katherine, Tate, Matthew, Alexis, Gavin, Kadin and Tylin. They also have one great-grandson, D.J.
Needless to say, Sharon Snyder has been a great source of support for her husband, even when they thought his coaching days were over. Of her husband three years break from football, she said
"It hurt him to not be involved, " "…You're giving up part of your identity."
Bill recently made of public knowledge, he is battling throat cancer and said about his wife of 33-years:
Sharon has made great sacrifices to help me through this and the kids are there every day with their love and encouragement.
Check out Sharon Snyder on Facebook here.