Stacy Sager
Stacy Sager; the lovely second wife of TNT and TBS sportscaster, Craig Sager; her hubby became known for his colorful sideline wardrobe, Sager and his wild suits, actually started his broadcasting career as a weatherman in Tampa.
Stacy Sager's amazing husband has previously covered sports for CBS and CNN. His nickname is "America's Sideline Reporter". According to online sources, he and wife are co-owners of Jocks and Jills Sports Grill.A native of Batavia, Illinois, he graduated from Northwestern University in 1973, earning a bachelor's degree in speech.
Craig Sager was born 1949 in Batavia, Illinois. Although Sager has said before his pretty wife does not watch sports, she actually started in the industry, she is a former Luvabulls Chicago Bulls dancer.
Is not hard to imagine the couple met at one of Craig's many games and we all know his outrageous attire will not let him go unseen. He proposed to Stacy at the 2000 World Series and since the couple has become proud parents of two children, Riley and Ryan Sager. Daughter Riley, helps her famous dad pick out his on-air ties — "and she likes purples and pinks."
Stacy's hubby has a total of five children, three from a previous marriage. That makes her the stepmom to Craig Jr., a walk-on wide receiver at the University of Georgia. Stacy is originally from Arlington Heights, Illinois but the family of four lives in Atlanta, Georgia.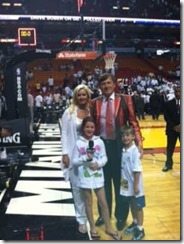 The former dancer for the Chicago Bulls was born Stacey Jo Strebel 41-years-ago, she was a regular Luvabulls during the Michael Jordan dynasty years.
According to her LinkedIn, she attended the University of Illinois at Chicago gaining a BS in Biology from 1990 – 1994. She has worked for Healthpoint back in 2000; at Boston Scientific Corporation as a Field Clinical Sales Representative for seven years; Sweet Peas and most recently she is listed as the owner of Fairway Vacations LLC –a Vacation Rentals located in Reunion Resort & Club for the past four years.
Stacy's hubby fought bravely with acute leukemia. Her hubby came to prominence way back in 1972 while covering the Atlanta Braves on the club's Sarasota affiliate when Hank Aaron was on the verge of breaking baseball's home run record.
Craig had two bone stem cell transplants, twice gone into remission, but cancer resurfaced each time, in March 2016 he announced his cancer was back, adding that his doctor told him he may only have "three to six months to live."
"I've already had two stem-cell transplants. Very rarely does somebody have a third," Sager told Goldman. "So I have to maintain my strength so I can go through this."

"Well, you've got normally three to six months to live. But somebody may only have a week. Somebody may have five years. You could be the first one to five years,"

"Still kicking, still fighting. I haven't won the battle. It's not over yet. But I haven't lost it, either," Sager said. "There have been some victories and some setbacks, but I still have to fight it. I still have a lot of work to do."
Prior to his marriage to Stacy, Craig married first wife Lisa Gabel, mother of his three older children; Craig Jr., Kacy, and Krista.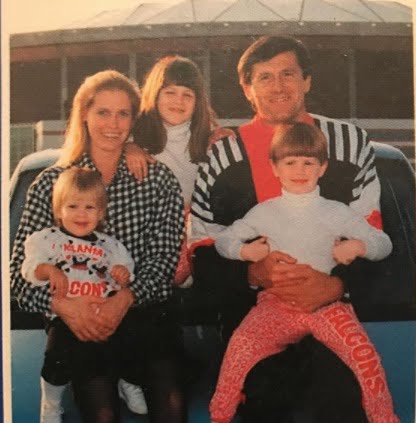 You can find the beautiful wife and mother of two on Facebook here. You can also find an interview she did on her hubby's famous outfits here.