Susan Holder Burns
Susan Holder Burns, this lovely and stunning NHL Wag is the wife of Brent Burns, the Canadian NHL defensive player who currently plays for the San Jose Sharks. Would you like to know more about Brent and his pretty wife Susan? Keep reading and don't forget to check the photos and video after the jump.
Susan Holder Burns aka Susan Burns' NHL stud was born on March 5, 1985 in Barrie, Ontario. He started playing with OMHA that stands for Ontario Minor Hockey Association where he played for the Barrie Icemen and the Ajax Knights, he then played for the New York Canadiens of the Greater Toronto Hockey League until he was drafted by the Minnesota Wild in the first round (20th overall) in the 2003 NHL Draft. After playing for 7 seasons for Minnesota he was traded to the san Jose Sharks in 2012.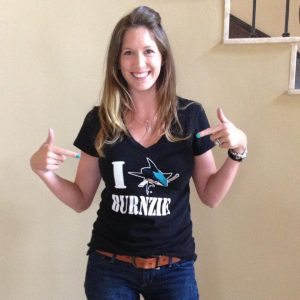 31-year-old Susan Holder Burns a graduate of Sam Houston State University got married to her longtime boyfriend in July, 2009, she gave birth to their first child, their daughter Peyton Gabriann on March 31, 2010 and to their son Jagger Stephen Patrick on June 23, 2011. According to records online Susan Holder worked at eBay.
Follow Brent Burns' wifey Susan Holder Burns on Twitter here