Taylor Cain
Taylor Cain is the beautiful and very talented girlfriend of Steven Matz, the MLB player who is currently the star pitcher for the New York Mets. Would you like to hear a little bit more about Metz' GF Taylor? Keep reading.
Taylor Cole's boyfriend Steven Matz was born on May 29, 1991 in Stony Brook. New York, he is one of three children born to Lori and Ron Matz; he has one older brother Jonathan and Jillian his younger sister. Matz attended Ward Melville high School and committed to attend Coastal Carolina University playing with the Coastal Carolina Chanticleers. He was selected by the New York Mets with the 72 overall pick in the 2nd round of the 2009 MLB Draft. Steven made his MLB debut on June 28, 2015 at Citi Field against the Cincinnati Reds.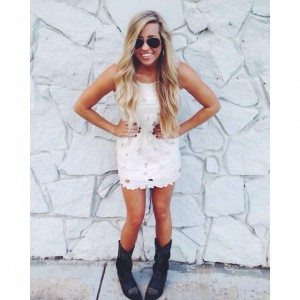 Matz' girlfriend is Taylor Cain, 26, a beautiful country singer born December 3, 1989 in Hartselle, Tennessee. Taylor one of three children born to parents Teresa Michelle and John Cain attended Hartselle high School and studied music production at Troy University; she developed an interest for music at an early age, she was 5 when she learn hot to play her first song in the piano, quickly her siblings Madison and Logan became involved. Taylor performed at the World Harvest Outreach.
Taylor was an intern at Colton Entertainment Group before founding her band The Cains with Logan and Madison. They wrote and recorded tracks for Bravo T.v's reality series Southern Charm.
They have played in several venues in London and all across the Nation in the U.S. we added the video below, so you can get the know Taylor and her siblings, as well as check out how talented these young artists are.
You can follow Taylor Cain on Twitter here.