Heidi Bomberger Bruschi
Heidi Bomberger Bruschi is the proud wife of former NFL legend, Tedy Bruschi -a three time Super Bowl champion known for his time with the England Patriots.
Heidi's 46-year-old husband is said to have suffered a stroke on July Fourht, this is not the first time the NFL champ has a stroke. Bruschi, had previously suffered a stroke in February 2005, a few days after playing in the Super Bowl. He was just 31 years old at that time. He went onto author the book "Never Give Up: My Stroke, My Recovery, and My Return to the NFL" -a book about his experience with his stroke and his recovery. He returned to the Patriots and won the ESPY Award for Best Comeback Athlete in 2006.
Born Tedy Lacap Bruschi on June 9, 1973; the San Francisco, CA; native attended Roseville High School where he was on the wrestling, track and football teams. He was an all-conference selection as defensive tackle while at Roseville. After playing college football at the University of Arizona he was drafted by the Patriots in 1996.
Bruschi played for the New England Patriots from 1996-2008, the entirety of his NFL career. He was inducted into the Patriots Hall of Fame. Following his 13-year career in the NFL, he worked for ESPN as an NFL analyst.
He's been happily married to wife Heidi for over two decades.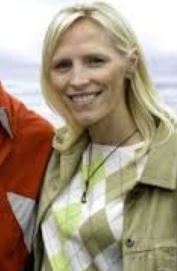 Heidi Bomberger met her husband while attending the University of Arizona. Heidi became Mrs. Bruschi in 1997; she and her husband are the proud parents of three sons, Dante Bruschi, Tedy Bruschi Jr. and Rex Bruschi.
Heidi who is a Nebraska native who moved with her family to Tucson at age nine -is a former volleyball player. In fact, an athlete in her own right, she went to the University of Arizona on a full scholarship for volleyball. Heidi was not only a member of the women's volleyball team but also the National Champion women's softball team.
Sher served as the girls' volleyball team coach for Walpole High School from 1997-2000.
Following her husband's first stroke, she became an outspoken advocate for stroke survivors and caregivers. The former NFL wag and mother of three works for Tedy's Team -which was created by the couple in order to spread the word about the warning signs of strokes. Since 2005, it has raised more than $5 million to support the American Stroke Association, according to its website.